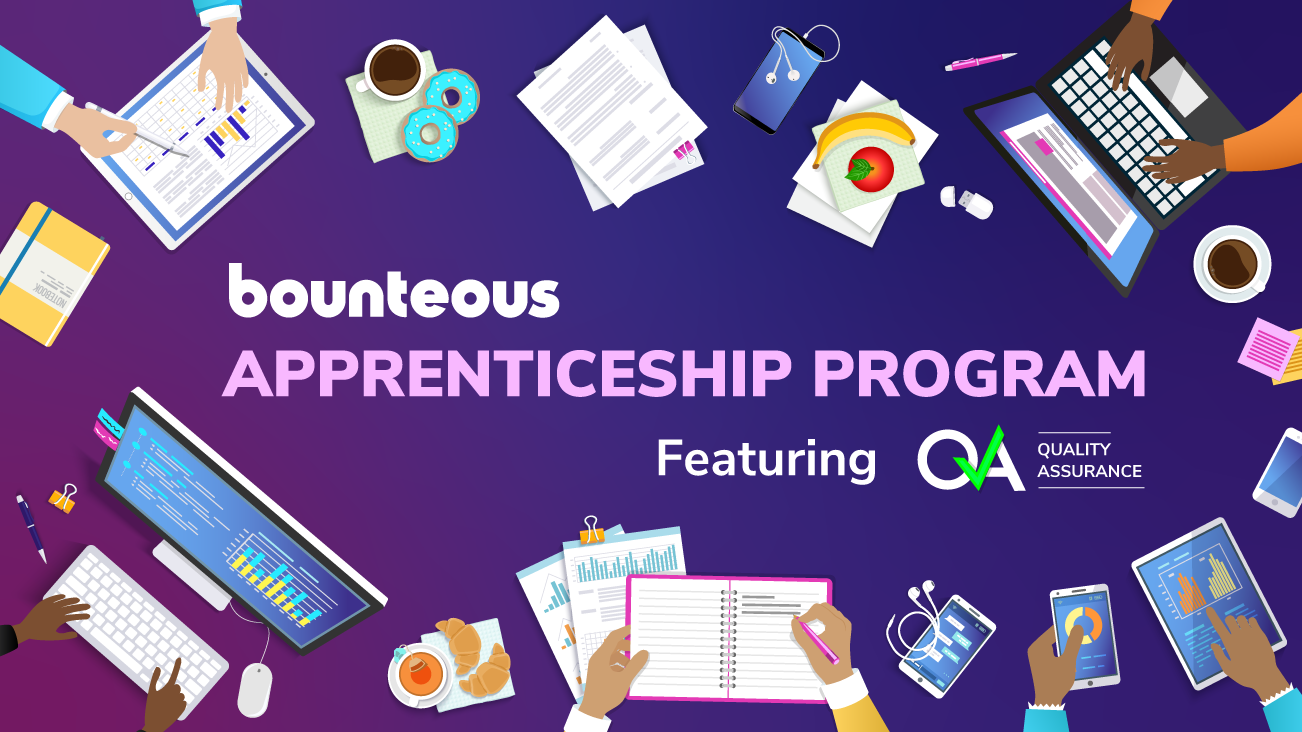 Bounteous is excited to announce our inaugural QA Apprenticeship Program for up-and-coming QA Analysts.
Our QA Apprenticeship is founded on Bounteous' collaborative and client-focused approach. From day one as a QA Apprentice, you will be immersed in our digital transformation agency, building real digital solutions for real clients. Your three to six months with Bounteous are designed to engage, energize, and drive your personal and professional growth by working alongside our world-class development team.
How will you know that this Apprenticeship is right for you?
We're searching for a highly detail-oriented, organized, motivated individual who has a passion for learning new technologies. You'll learn industry-leading testing techniques and how digital applications are built in Drupal, AEM, Magento, Shopify, and more!
During the interview process, you can expect to connect with our Talent Team and QA experts as well as complete a short coding assessment.
We invite you to submit your application here!
Our Custom Web & Product Development Practice
At Bounteous, technology solutions are part of our DNA.
We began as a software development agency, and over the years we've built deep expertise in platform engineering services as a discipline. We execute our client's digital vision by building great experiences through tech strategy and solution engineering.
Community
When you join our Quality Assurance Technology Team, you'll learn from an experienced group of over 40+ QA professionals who are respected thought leaders and experts. We work together to provide independent performance, accessibility, and automation testing for industry-leading global brands and products that impact customers' lives.
Learn & Grow
We invest in our people and give individuals ample opportunity to upgrade their skills. From gaining practical knowledge and experience to acquiring resume-building certifications, our teams are amongst the most credentialed in the industry.
Intern to Full-Time Testimonial
Did you know we've hired 100% of past apprenticeship program participants? 
While joining our team as an Apprentice doesn't guarantee you'll be hired at the end of the program, we encourage participants to communicate regularly with their career coaches to explore the path to a full-time position.
Here's what one of our former interns, who was eventually hired to work at Bounteous full-time, had to say about the experience:
Join Our Team
We come together with a vision and commit to doing the right thing. Not to mention, you'll be joining a development team to learn all about how digital transformation agencies work.
Office Vibes
We foster an inclusive, authentic environment that promotes growth and development. Whether you're located at one of our 10 collaboration centers or working remotely, you'll be surrounded by mentors and dedicated team members! We also offer a wide range of employee resource groups, book clubs, hackathons, volunteer programs, and company-wide celebrations.