Elevating Community-Supported Content to Increase Organic Traffic & Reach
Summary
KQED is the country's most-listened-to public radio station, covering news, arts, science, and life in North California. The NPR affiliate delivers interactive content for digital platforms and mobile devices, and an Education Network that reaches more than 200,000 Bay Area residents a year. Through quality content created locally, KQED relies on an active readership to visit, engage, and donate, and seeks to convert readers into sustaining members.
Armed with sustainable SEO best practices that stem from years of experience working with publishers, Bounteous was able to guide KQED on site-wide technical improvements that made their content crawlable and digestible for search engines. After new pages were surfaced to and indexed by search engines, KQED experienced their largest growth in returning users from SEO versus the previous four months.
Challenge
In a world of fast-moving news cycles and budgets from competing publishers, it's especially imperative for community-supported radio stations like KQED to be viable contenders. Great, independent journalism is the first step, and a focus on technology is the second. Making content available and accessible across devices and optimizing site set up for search engines helps grow organic site traffic.
As part of an ongoing relationship across many capabilities, KQED came to Bounteous to improve their Search Engine Optimization (SEO). Their goal was to ultimately increase their site traffic, grow their returning users, and encourage more on-site donations.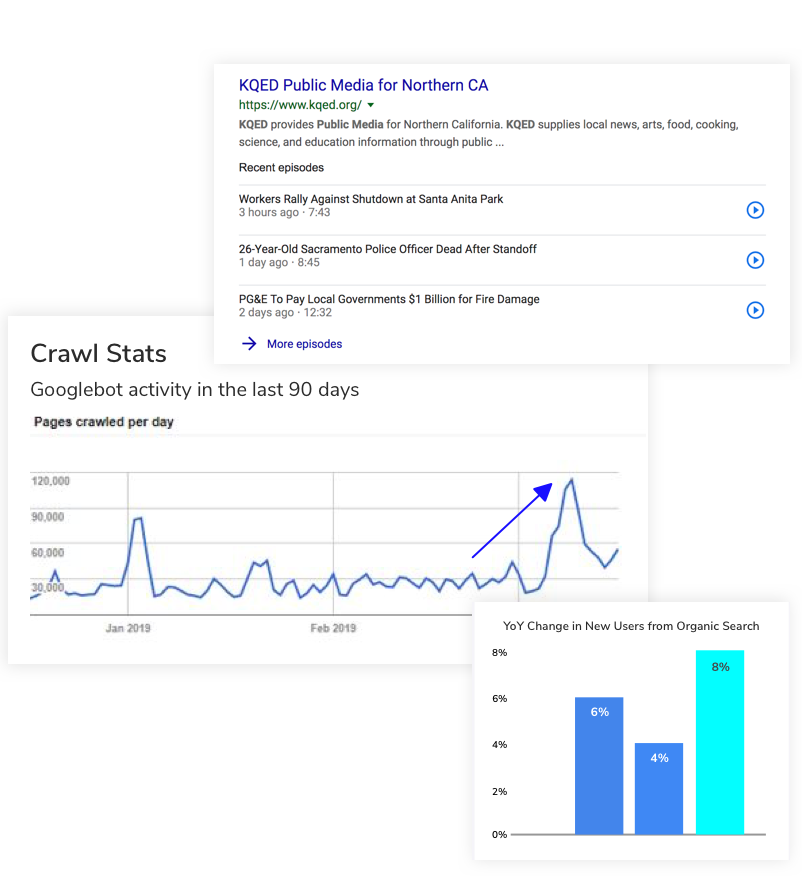 Solution
As an extension of the KQED product team, we worked hand-in-hand to explain the importance of these technical changes and verify their implementations.
Once these changes were made, KQED's Google Crawl rates increased by +250% from their average crawl rate—from 31,685 pages crawled per day to nearly 1.4 million.
Results
A fast timeline, coupled with team members eager to collaborate on both sides, allowed Bounteous to help KQED design, implement, and validate technical SEO best practices that began showing immediate results. Executing changes on the back end allowed search engines to find, understand, and index more pages than ever — resulting in more organic traffic and an increase in the number of unique landing pages on the KQED domain.

As a result of Google crawling and indexing more of their fresh content, KQED saw a +8% growth in new organic users, month-over-month. This growth represented the largest growth in new users from SEO versus the previous four months. This growth is expected to continue and grow with the execution of additional technical and content enhancements.
Bounteous was so instrumental in making some big technical changes to improve SEO at KQED. We were able to implement their recommendations quickly to make immediate fixes. In addition to the technical work, our SEO training session was well-received by many colleagues and teams left feeling empowered to implement SEO best practices.

Nicole Barton

Audience Development Associate, KQED