Conversion Analysis: Directions
I just couldn't resist showing this tiny piece of a non-profit website.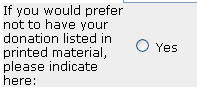 Wouldn't a check box next to "Please don't show my name in your printed thank you material?" do a better job? Now that I've looked at it 15 times, it makes perfect sense but when I first read it, I felt like I had to parse all the negatives.
Robbin Steif
LunaMetrics