What Makes A Successful Facebook Ads Campaign?
Prices of Facebook advertising have risen 40% in cost-per-click, according to a marketing report on the first quarter of 2011. This clearly shows that the rise in the cost of Facebook advertising is attributed to the growth of the popularity of using Facebook advertising overall. With the introduction of sponsored stories, it appears Facebook truly feels it has the room to raise the cost of its social ads. Since the prices are rising, it's important to get the most bang for your buck. Begin by understanding what the best practices are for a Facebook ad campaign. What's better than seeing examples from who's doing it right?
7 Best Practices for Facebook Ad's Campaign
1. Social ads work 3x better than traditional Facebook ads. With the addition of Sponsored Stories, many advertisers have seen higher click-through-rates, brand lift, ad recall and increased likeliness to recommend due to the social aspect of these new ads. Users can Like the content of the ad directly on the ad, comment, share, see which of their friend's already likes the ad's content and more. In the end, these ads make it easier for word of mouth to spread via the recommendation of friends and for users to interact with and share their content.
Example: Express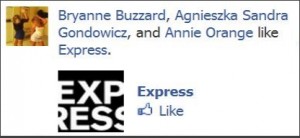 2. Re-targeting existing fans helps increase acquisition and engagement. If you've already gotten an existing fan base that's the size you're looking for, but wish for more engagement, then using ads to re-engage your audience is a wonderful way to help raise the overall visibility of your Page. By increasing your engagements with fans, you will naturally increase the number of fans that like your Page. It's also helpful to target your existing fans with ads that sent them to your website or product pages because they've already indicated they like your Page. 70% of the time when people like a Page, they truly like your brand and sending traffic to your website in this instance will work much more effectively.
Example: Kreayshawn
3. Simple no brainer copy is the best way to go. Facebook users love to browse through their profile and don't have time to stop and read extensive content with a confusing message. Keep the copy of the ad short, sweet and relevant for the best CTR.
Example: James Hardie
4. Start wide with your demographic targeting, than alter the focus based on the resulting interest the ad receives. Many advertisers make the mistake of using very specific targeting in the beginning of their Facebook ad campaign. Starting much broader, then focusing the targeting as you proceed has shown to be much more successful overall. In this example, RadioShack has added people's interest in cycling to the ad's copy. They are running a different campaign involving cycling right now, so they focused their ad campaign to include the right age range and interest groups for ads involving cycling.
Example: RadioShack
5. Avoid ad blindness by rotating ad images and copy often. This is one of the most important things you can do to ensure that Facebook users continue to see your ads among the plethora of other information thrown at them on every page. Different combinations of copy and eye catching imagery will work to help your ads standout from the crowd and continue to spur engagement.
Example: FIAT USA
6. Promote Facebook contests and campaigns with ads to help encourage increased engagement.This technique can help bring more Facebook users to enter your contents or interact with your other promotional campaigns on the network. This will increase the conversions you're looking to achieve with this original campaign or promotion (like email sign-ups or more Fans) by echoing it through Facebook ads.
Example: Wicked Lasers
7. Similar to the suggestion to use social ads vs. traditional ads, use Like buttons on ads often. It's super simple for someone to like something and why make them visit your Page to do so, when it can be done with the same effect on the ad they saw first.
Example: HTC Sensation 4G