INFOGRAPHIC: The Complete Social Media Sizing Cheat Sheet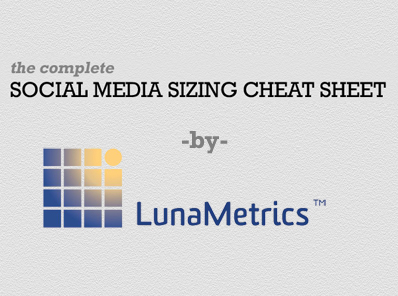 We've all been there – hastily combing through SERPs, looking for the correct sizing for your new Google+ cover pic or the appropriate sizing for the branding and text in the background of your new Twitter profile. Fortunately, we've got you covered with a one stop shop for all of your social media sizing headaches – just go ahead and right-click save this bad boy into your documents and never get stuck with pouring through search results for the correct Facebook cover photo size again.

Embed this image:
Prefer text for easy copy-pasting reference? No problemo – here's all of the sizing information written out for you to see.
Facebook Image Sizes
Cover Photo
Profile Picture

160 x 160 pixes

Must be uploaded sized at least 180 x 180 pixels

Distance between left boundary and profile picture
Distance between top boundary and profile picture
Profile Picture border size
App Preview Image
Distance between App preview images
Total length of adjustable app preview images, with gaps
Shared Image size on Timeline

403 x 403 pixels

Up to 960 x 720 pixels in lightbox, can be uploaded up to 2048 pixels

Status Update
Link Preview

90 x 90 pixels

Both Title Tag and Meta Description can be edited by clicking on the preview text

Highlighted Post/Milestone
Profile Picture In Stream
Shared Image In Stream
Profile Picture on Facebook Sponsored Story Ads
Sponsored Story Body Copy
Sponsored Story Image Size
Album Image Preview type 1

129 x 129 pixels

Can show either 6 or 9 photos at this size

Album Image Preview type 2

398 x 264 pixels

Three 129 x 129 pixel boxes underneath

Album Image Sizing type 3
Facebook Ad Image Size
Facebook Ad Title Copy
Facebook Ad Body Copy
Shared YouTube Video Preview
Shared Facebook Video preview
Twitter Image Sizes
Profile Picture

128 x 128 pixels

Must be <700kb when uploaded, resized to 48 x 48 pixels in stream

Brand Banner

835 x 90 pixels

Only available to select Twitter partners

Tweet Length
Background Sizing (Visible space between left side and content)

90% see 71 pixels
65% see 199 pixels
40% see 242 pixels
20% see 279 pixes
Google+ Image Sizes
Cover Photo

940 x 180 pixels

Can be animated using a .gif

Profile Picture
Profile Picture border size
Ribbon Photo

5 x 110 pixels each

Can be animated using .gif's

Profile Picture In Stream
Shared Images

497 x 373 pixels

Up to 2048 pixels in lightbox

Post length

100,000+ characters

Cannot edit link Title Tags or Meta Descriptions
Pinterest Image Sizes
Profile Picture

49 x49 pixels

Resized from 160 x 160 pixel profile picture

Pinned Images
Pin Description Length
Miss one you needed? Want more social profiles? Let us know in the comments
.