Hashtags are pretty neat things. Anytime anything major happens in the world, you can bet a hashtag will be trending on Twitter just a few minutes later. They also can serve as tools to coalesce communications. For instance, #ppcchat is a hashtag used to facilitate the spread of news about the pay-per-click world as well as creating a place for PPC folk to get together and talk every week. Hashtags can also serve as useful tools for amplification. By using hashtags that are popular with your potential audience, you can gain incidental exposure to users monitoring those tags who can help share your content.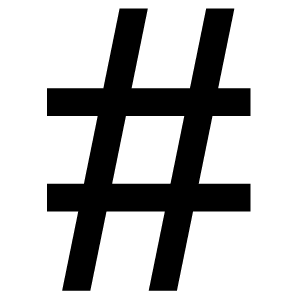 Our best practice recommendations to clients and trainees is to include two to three relevant hashtags per tweet. Often, we find that marketers are hesitant to use hashtags, thinking that frequent use will bother their following or discredit their content. This, they believe, will hamper and stunt their growth on social platforms, despite our advice that it will do exactly the opposite.
Now, I manage the @LunaMetrics twitter updates, and I sympathized with those views. Although I've always been an avid hashtagger, I usually would forgo tagging our tweets for fear of coming across as spammy. However, I'm also a big believer in doing as you say. So, in order to reconcile the two, I decided to start tagging all of our tweets with at least one hashtag and shoot for our recommended 2-3 if at all possible. I was a little anxious – what would happen?
So we started using those hashtags, specifically on August 13th. I did a little research and discovered a few hashtags relevant to types of content we shared regularly – specifically stuff about SEO, Google Analytics, Social Media, and PPC advertising. Then I started either appending them at the end of messages or, if possible, incorporating them into the tweets themselves, always aiming to include two.
I'm pleased to say the results have been pretty fantastic. Comparing the period of August 13th – October 30th to the previous period of May 27th to August 12th, some pretty big differences stand out. Let's take a look at the final numbers.
5/27 – 8/12

8/13 – 10/30

Retweet

113

Retweet

211

Reply

57

Reply

47

Mentions

455

Mentions

1161
As you can see, the number of retweets we received almost doubled, and our mentions almost tripled! Of course, there are potential confounding variables, and this is not a very scientific study. However, the increase in retweets is substantial and in my personal opinion a direct effect of our use of hashtags. I'm confident in this analysis because of the nature of our content strategy and of RT's in general.
The only disappointing figure at first glance was our follower growth – just about dead even for the entire period (meaning we grew by 600 followers, not that we were flat). However, I would argue this is actually another indicator of success – we've become more efficient in creating reach with the resources allocated to us.
More anecdotally, I can say I never saw someone refuse to tweet something or complain to us because of a hashtag. Of course, we were also careful to make them as aesthetically pleasing as possible and not stuff our tweets with them. I think it's safe to say you can put those hashtagging fears to rest! If you're looking to jump in, check out our resources on finding hashtags to discover some great communities to connect with.
How has your organization used hashtags? Tell us your story in the comments!