A PPC Retail Advertiser's Guide To The Holidays
Ah…the holidays. Countless hours of precious time spent with family, friends and if you manage a retail account – Google AdWords. Knowing what I know now, however, there's lots of prep work that I'd recommend implementing up front to streamline budgeting and flipping creative so that you can spend more time managing and making decisions to result in a profitable holiday season.
I'll outline four strategies and tips to keep in mind as you finalize plans around Black Friday, Cyber Monday and the entire month of December. Here's the goal for your sanity during holiday PPC management:
Not this: Rather, this: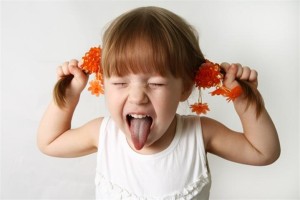 1.) Budgeting
Budgeting is one of the most stressful and time-consuming elements to running a Paid Search account, especially during peak season. Here's what I recommend for budgeting during the holidays:
Create a budget calendar that contains the following information for every day during the month of November (or start the week of Thanksgiving) & December

Planned Spend
Actual Spend
Revenue
Last Year's Revenue
Yes, it's a ton of information to record daily, but it will keep you honest knowing revenue YoY as well as spending to pace and spending to the planned budget. In deciding what to spend every day, run a daily spend report of the same time frame last year to gauge the trends of how much Cyber Monday spent vs. Black Friday vs. Thanksgiving.
Beyond analyzing daily spend, break it down to look at brand vs. non-branded. That way, on lower-spending days, you may just want to allocate enough to cover brand. Also note how much brand costs YoY. It's possible (and highly likely) that bidding on branded keywords is more expensive this year than last and the same amount spent last year may not cover your bases.
Allot more than what you think you'll need for the day before Thanksgiving and Thanksgiving Day. I was shocked last year to analyze the vast improvement of Thanksgiving Day YoY and looking back on it, would've have allocated more budget to that day. The great part about this strategy is that you can re-allocate unused dollars from Thanksgiving to Cyber Weekend, if necessary.
Lastly, give yourself more than what you think you'll need for after Christmas Day. Given the growth of eCommerce, many searchers will want to spend their gift cards online to take advantage of after Christmas sales. Don't go "lights off" but rather, "dim the lights" instead and consider still keeping top-performing non-branded campaigns live, if budget allows.
2.) Ad Copy Labels
Do you have daily promos? Or perhaps a promo for Thanksgiving vs. Black Friday vs. Cyber Monday? Upload all promo copy into AdWords and give em' a label! If you haven't used labels before, the beauty is that you can create automated rules. Here's what it will look like once you create labels:

Then, click on the "Ads" tab and create an automated rule to enable the selected ad on the time and date of your choice: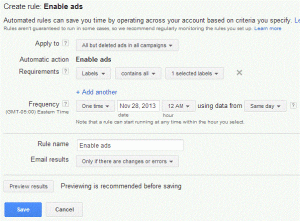 Lather, rinse and repeat to pause once the promo expires. Same rationale applies to other holiday promos. While you can automate everything and preview rules before they run, for sanity, double check that the rule ran…then go back to sleep. Lastly, prior to uploading new ad copy, label existing copy as "Legacy" or "Standard" and schedule those to pause once promos kick in.
While this recommendation focuses solely on ad copy, don't be afraid to use labels for campaigns to turn off and on, especially if they are time-sensitive.
3.) Sitelink Scheduling
As you may or may not know, one of the largest benefits to Enhanced campaigns (seems forever ago, doesn't it?) is granularity in scheduling Ad Extensions. Sitelinks can now be scheduled to turn off and on and in intervals of 15 minutes!
Prep sitelinks, include text in Description Lines and upload everything into AdWords Editor (the most recent AW Editor update makes this possible). Once everything is pushed to the UI, schedule sitelinks by clicking on the "Ad Extensions" tab, selecting the "Sitelinks Extensions" drop down and then start scheduling. While this process can be very tedious, once completed you don't have to worry about waking up (or staying up) to odd hours to push everything live.
Here's a snapshot of what sitelink scheduling looks like: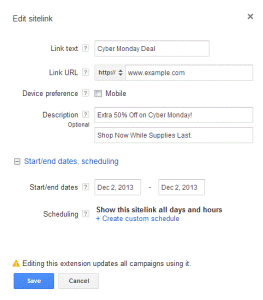 4.) Holiday Keywords
Depending on budget, you may not purchase general keywords like "black friday deals" and I don't blame you, given that the Google SERP is already saturated with deals from Best Buy to Target to Lord & Taylor. These generic deal keywords are incredibly competitive. Thus, expensive. Instead, purchase keywords with promo intent + product. For example, if I was a handbag retailer potential keywords may include [black friday handbags] or [black friday handbag deals]. Volume will be much lower than [black friday deals] but if you can capture those searchers, likelihood of them converting is pretty high, especially when combining specific keywords with tailored copy.
Also consider purchasing [brand + black friday] or [brand + cyber monday]. I was surprised last year to see on Search Term Reports incredibly high volume for those types of queries. Purchase these keywords on Exact (and mirror Modified Broad) and isolate into their own campaign so that you can track the traffic from those types of keywords.
Aside from promo-focused keywords, there's the "gifts for…" strategy. This is another tricky area because of the general nature of these keywords. A search on Google.com for [christmas gifts for women] currently results in ads for Macy's, Tiffany & Co., LL Bean, Godiva and Amazon. That's a pretty broad range and depending on the woman you are shopping for, it's possible that none of those brands are relevant.
To get around the general intent of these keywords, take a similar approach to the beginning of this strategy and add product modifiers. When searching [jewelry christmas gifts] I get a few results – some relevant and others, not so much (probably because "christmas gifts" is purchased on broad match). That confirms that these keywords while low in volume, have more opportunity for relevant advertisers to enter the space.
Any other retail PPC tips and strategies for the holidays that you'd recommend? Share your thoughts & experience with us!
Happy planning & happy holidays!