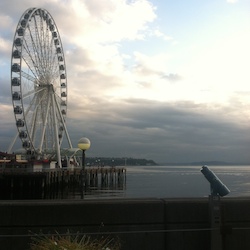 The SEO sessions at SMX Advanced 2014 were filled with great wisdom and advice from several of the industry's most authoritative thought leaders. After attending two full days of back-to-back sessions, the multitude of topics discussed in-depth can make it challenging to distinguish the key takeaways.
I reviewed my notes and live tweets and found a few quotes that stuck with me following the conference. Here were the most intriguing thoughts at SMX Advanced 2014:
"Mobile is important, and coming faster than most people in this room realize."
Matt Cutts is the head of Google's Webspam team, but by the way the attendees hung on every word during the "You&A With Matt Cutts" session, one could have easily confused him for a superstar of sorts. Throughout the session, Matt's tone of speech stayed uniformly mellow with the exception of a few statements, like the one above. When this simple sentence was delivered, it struck me as warning.
Perhaps I read too far into it but for a moment I had a glimpse into the future, a wake-up call. My thinking shifted from seeing mobile optimization as an important aspect of SEO to what is the future of search. If your business, website, or team doesn't have a mobile optimization strategy in place by now, you're already late to the game. Heed Matt's warning and realize today and now that mobile IS important and its heyday may have already dawned.
"People want the story, not the data."
Sometimes it's easy for us to get lost in the sea of numbers and charts we digest on a daily basis as analysts of one thing or another. Kerry Dean reminded me during his energetic and hilarious presentation that a data analyst's job is not just spitting out charts and tracking growth. We're employed to tell the data's story, and that's what makes us valuable.
We answer the who, what, when, where and why when few others can. We turn data into insight and that's what people and organizations want, not just the numbers. Tell the story.
"Publish data that has meaning to machines, beyond keywords."
If you work in search marketing, keywords are your currency and cash is king indeed. Publishing data that has meaning to machines beyond keywords, however, cannot be discounted as means of increasing a search engine's understanding of your site's content. Jay Myers of Best Buy was referring to structured data, more specifically, when he summarized his presentation's message with this statement.
Because of opportunities like rich snippets in search engine results and Google's progressing ability to understand and use structured data, it's becoming increasingly beneficial to publish structured data markup. Marshall Simmonds (@mdsimmonds) added the following adage, "If you see rich snippets in SERPs, that's usually a strong indicator of a healthy site."
"Consider rewriting your title tag to what Google is changing it to in the SERPs."
Upon first hearing this tidbit of advice from Greg Boser, I was skeptical. I believe the operative word in his statement is consider. I tweeted the quote just moments after he said it, however, and Matt Cutts favorited the tweet. That gave me enough confidence to deem the suggestion kosher.
Greg also stated, "Google is rewriting your title tags in SERPs far more than anyone realizes to get you a better CTR." So it only makes sense that if Google's intention is to increase your CTR for any given keyword, then their altered title tag must perform better than your custom title tag. Otherwise, Google wouldn't change it. The difficulty is knowing which keywords cause the title to display differently for each page on your site. Still, the idea is worth mulling over.
"Everybody thinks their website is above average."
Lastly, another perspective shift with Matt Cutts. Whether this was said jokingly or not, it made for a great reminder that every website can be improved. If you spend a lot of time working on one website, it's easy to rest on your laurels. You see the progress that you've made and you are satisfied, but this could be a costly mistake.
Matt is right. Everybody does think that their website is above average. It's your job to keep everyone grounded, and constantly be in the pursuit of excellence for your website. So shake things up, make a change, try something new – and you might just end up with an above average site after all.