3 PR Tips Every Digital Marketer Should Know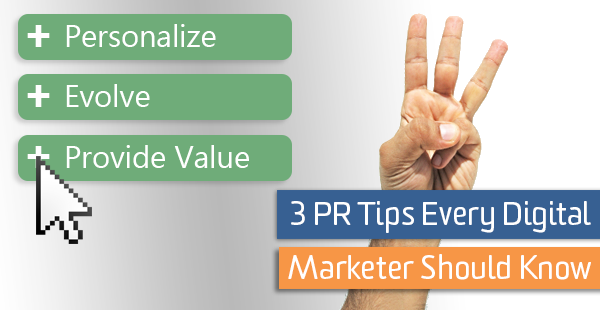 Every discussion about the importance of specialization in marketing comes with a disclaimer: it cannot come with the risk of total tunnel vision. Digital marketers must maintain a broad understanding of each channel in their marketing mix, applying lessons and strategies from one to the others.
This article provides a brief overview of public relations (PR) and the three things that we should all learn from publicists: Personalize, Evolve, and Provide Value.
Quick PR Overview
Just to make sure we are all together, let's cover some basics. If you feel fairly comfortable with these concepts, scroll ahead.
PR has several functions that we'll discuss. A company or organization has a variety of relationships, called stakeholders, and must communicate with all of them in some capacity to be successful.
Companies have internal communication, like employee handbooks or investor newsletters, and that is a whole different conversation. Today we are focusing on external communication, which is broken into paid, owned and earned.
Paid media is created any time you have to pay to get it in front of the audience. Think banner ads or a full-page spread on the back of the local sports section. It would also include paid promotion on social media or a sponsored blog post.
Owned media is controlled. You or your company can carefully craft the message, edit it as things change and guide distribution. Our LunaMetrics blog is an example of owned media.
Earned media comes from an independent third party that is unpaid, although those lines can be uncomfortably blurry at times. The best example of earned is a news story by a trusted publication.
Why Do We Like Earned Media?
1. Independent sources carry a lot of weight because it is less likely that the subject (of the story) controls the message. For example, Forbes naming Twitter a top company for employees means a lot more than Twitter calling themselves a top company for employees.
2. The Code of Ethics by theSociety of Professional Journalists (SPJ) is a set of guidelines to which many top reporters and publications adhere. It promises the things that news consumers want from a trusted source, like honesty, integrity and accountability.
3. The reach of a publication like, say, Mashable has obvious opportunities for us at LunaMetrics. Mashable reaches more people and different people than this blog, which would expose new potential customers to Google Analytics training.
4. The authority passed through links from leading publications can have a tremendous impact on SEO performance. It might not be the top reason for everyone at the company, but it is a solid #4.
Lessons to Learn from Digital PR
Personalization is key.
It used to be that people rewarded personalization. Now they expect it and penalize standardization, especially from corporate communication or digital curation. Successful publicists tailor their pitch letters to each recipient. At this point, the idea of mass distribution of press releases is laughable.
Questions to Ask Yourself about Personalization:
Which corporate communication channels have been automated or standardized?
Among those channels, is there an opportunity to increase engagement or effectiveness?
Are there ways to test a more personalized approach?
Evolve to survive.
The best way to #FAIL in PR is to follow the best practices outlined by textbooks and professors. Fax a press release to the managing editor? Forget successful campaigns — I had to purge everything I learned while getting a master's in PR to even keep a job.
Questions to Ask Yourself about Evolving:
What marketing practices are done out of habit or legacy?
Are they providing a return that is greater than their investment?
How can you test tactics so each piece of the marketing mix is earned?

Provide value immediately.
The inverted pyramid is perhaps the most basic concept of journalism. It places the most important information first so readers get information and value as quickly as possible. For a journalist, it means front-loading a story with the things that are most important to the reader or community. For PR outreach, it is brevity and respect for other people's time.
Questions to Ask Yourself about Message Value:
Do you quickly and efficiently provide value to your reader or visitor?
Is there a way to make your message easier to digest?
Can you use tools like Google Analytics to test your performance by assessing drop-off rate or bounce rate?
This short list is not everything that we should learn from PR, but it does include things that every marketer must know: Personalize when possible, always evolve and  focus on offering immediate value.
---
Are there any other PR lessons that marketers should keep in mind? Please share in the comments.