AdWords Training: Are Online Or Offline Courses Better?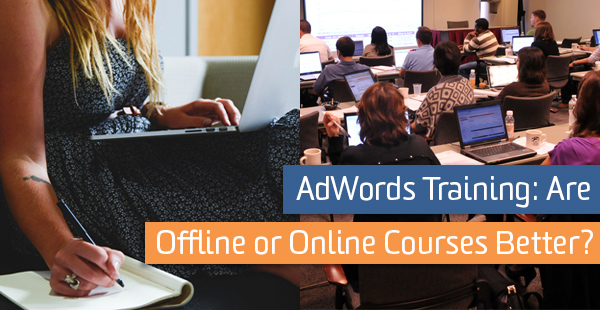 Let's start by clarifying that neither option is better than the other. It's all about which is better for you and your learning style. I am simply here to help you make that decision by outlining the advantages of each.
Admittedly, I will confess my personal preference early and often so you know where I stand, as both an AdWords trainer and attendee, but you may disagree. For some, note-taking in a bath robe trumps face-to-face Q&A. I totally understand that, especially if you have one of those plush terry cloth robes that feels like being hugged by a cloud on a sunny day.
Both online AdWords training and offline courses have clear advantages. Let's discover which ones are best for you.
Online Training
It can be tough to lead an online training because I cannot see the attendees and when something like Quality Score or Ad Rank has really confused them. Despite those challenges, I am always amazed that many are able to grasp complex topics by the end of the day.
Some people are simply cut out for online learning. They can supplement the course with other resources to answer questions or fill in blanks so that they receive an equal level of understanding and knowledge.
They make me extremely jealous.
But if that description sounds like you, here are several reasons that you should definitely consider an online program.
Advantages of Online:
Cost is generally lower for online-only sessions because trainers do not have to travel or provide lunch or arrive early and stay late to answer questions. There is a lot that goes into an in-person training.
Convenience is undeniable because attendees do not have to travel. Roll out of bed, connect to WIFI and you are ready to learn about bid strategies and ad extensions in AdWords.
Being able to pause to answer a call is a nice feature. Occasionally my phone will ring while I am watching a live webinar and I will scour the screen for a pause button, remembering that one does not exist just in time to miss the call. Sigh.
Geographically-challenged audiences obviously gravitate toward digital formats. Several years ago, I led a private search marketing training for an association that had people in 10 states. Shipping people to a central location and paying for hotel rooms was out of the question for this organization. Last year, I was able to do an in-person refresher course for the same group and was pleasantly surprised by webinar retention rates. Some groups can make that work well.
In-Person Courses
Not surprisingly, I prefer to both train and learn in a face-to-face environment. I'm sure that explains part of the reason why my MOOC dropout rate is so high. Unless I have a someone in my life who is patient enough to answer questions or correct lines of code, I almost always end up stuck or bored, and that does not bode well for course completion.
Advantages of Offline:
"Wait, how'd you do that?" is the most commonly asked question at our AdWords 101 and 201 sessions. Somebody looks at the AdWords Cheat Sheet or gets caught up picking call-to-action verbs and misses how to navigate to the Google Keyword Planner. "Show me that one more time" keeps everyone in the room on the same page without having to use a chat box or email the trainer later.
One-on-one consulting is where attendees get a lot of value. There are opportunities to pull aside the trainer—before, during breaks, or after the session—to say, "Hey, what would you do if this was your account?" At LunaMetrics, we consult with clients all week so you might as well pick our brains about AdWords or Analytics strategy and implementation, too.
Making buddies isn't just for summer camp. I urge attendees to network and sit with other, say, e-commerce companies. It is invaluable to hear how related businesses organize branded campaigns or perform competitor research. At almost every training, someone says, "Here's a free tool that I found that makes life so much easier!"
Crowdsourced motivation is a thing. When it would be easier to skim through the AdWords Shared Library or tend to your email inbox, being surrounded by others can be enough to keep you focused. There is always something else that you could be doing or learning. If you want to learn AdWords, show up to a class, focus and learn AdWords.
–
I confessed in the beginning that I prefer in-person training and so does LunaMetrics. That's why you won't find an online option anywhere on our AdWords course list. If you feel a certain way about it or I missed anything along the way, please let me know in the comments.