Testing The Mighty SEO Mobilegeddon ‑ Part 1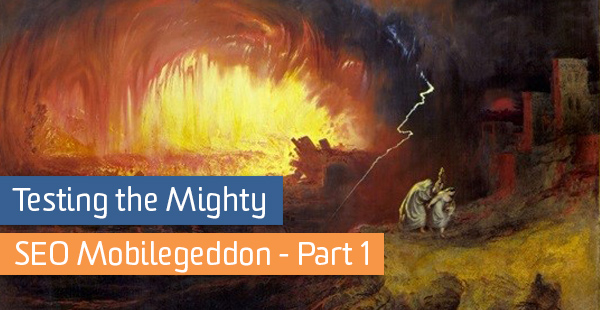 SEO-pocalypse. Mobilegeddon. Today's algorithm update from Google, announced back in February, has been called many things. Will it live up to the hype? Ask me tomorrow.
Even better, ask me in a week.
Our fantastic search marketing intern, Nick Eppinger, has been pouring over client sites to benchmark performance before and after the algo update. A week from today, we will release the results of that study: analyzing about 3 million organic search sessions for about 20 websites of various size and volume.
We here at LunaMetrics love to run tests. It's in our blood. And we'd be remiss if we missed this golden opportunity. We looked at each website design, noting whether responsive, adaptive, an m.site, or non-mobile-friendly. In addition, we checked to see if the "Mobile-friendly" text appeared under their search result and noted any discrepancies. We then ran each site's homepage through the Developers Mobile-Friendly Test three times, noting down the score each time.
In order to determine the effect the algorithm change had on each site, we will be using Google Analytics to review total and mobile organic search traffic a week before the update and a week after. We'll show you how much of a hit sites that were not mobile-friendly took and if there were any benefits for our mobile-friendly clients.
This should give us a good picture of whether this algorithm update was a Chicken Little scenario or a genuine Mobilegeddon. Either way, we recommend that you take shelter. It's going to be interesting.
Quick Mobilegeddon Refresher
There are two components to Google's update. First, mobile-friendly websites, or at least sites Google considers to be mobile-friendly, will rank better in mobile search results across all languages. Google stated that the impact will be "significant" and has recommended using the Google Developers Mobile-Friendly Test to see if a website is mobile-friendly. You can also use the mobile section of the PageSpeed Insights report. However, these will only analyze one page at a time. To test your entire site, use the Google Webmaster Tools Mobile Usability Test.
Note: There are discrepancies in how these tests run, and you may receive contradictory results between tests or even on different runs of the same test. To learn more about why these tests are confusing, read this post.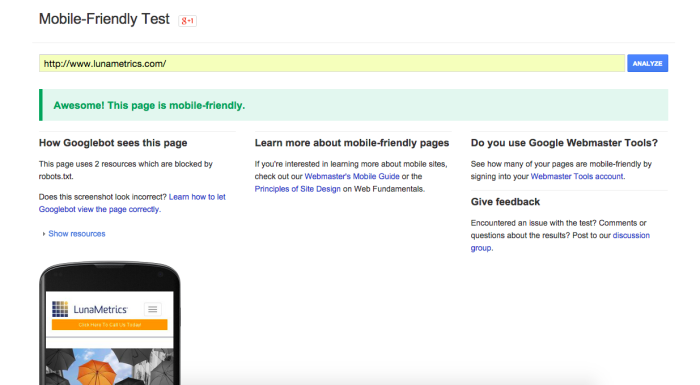 Secondly, this algorithm update affects mobile app indexing. Android apps indexed via App Indexing will rank higher in mobile search results, assuming that the user has the app installed on their device and is signed in to the app. If you have an app, it will be worth indexing it to gain that ranking boost.
But most people are concerned with the mobile-friendly website part of the update, and that's where our experiment comes in.
Check back in a week for the results!