Basic Reporting Automation With Google Analytics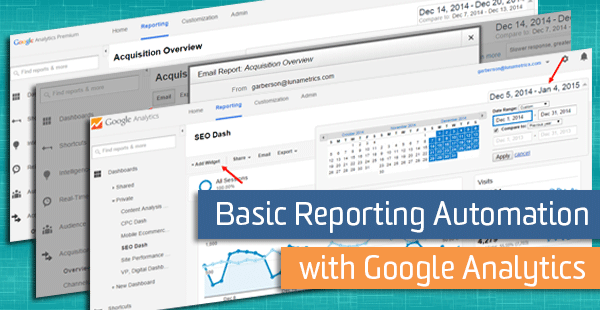 I am not a data scientist. I don't even like statistics. That puts me in the extreme minority at LunaMetrics, a company comprised of people who ruined grade points in undergraduate statistics by setting test curves beyond the reach of their mere mortal peers.
That's why I like Google Analytics. I don't need to understand a theorem on binomial sum variance inequality to do fairly complex digital marketing analysis. The product is easy to use, even for me, an adult who could not tutor a 9th grade math class. In other words, Google Analytics is not the problem for me or any of the marketers with whom I work.
This post is constructed on the premise that the biggest barrier to routine marketing analysis is reporting. Reporting is time consuming. Reporting is monotonous. Reporting is that thing that most marketers need but (very!) few marketers want to do.
Please note that this post assumes your organization has already overcome the most common analytics hurdle of confident, reliable tracking. It also assume that you do not have the experience, interest or patience to do it programmatically with the API. (Hint: That's when you call us!)
Here are several built-in Google Analytics features which, once combined, can be used to take back some of your reporting hours.
Emailed Reports
This one is elementary, but I am always surprised by how few marketers take advantage of it. Most standard and custom reports in Google Analytics can be emailed on specific times or intervals. If a busy schedule is one of your biggest barriers to analysis, use emails like push notifications to remind yourself and demand your attention.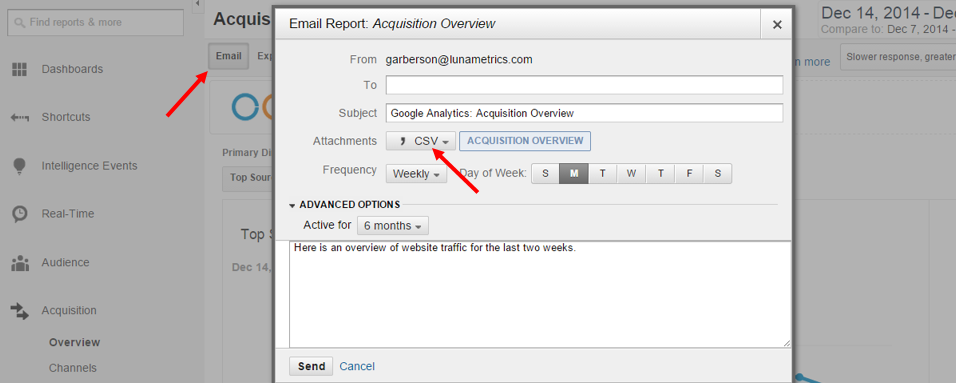 Want a weekly review in your inbox of AdWords spend or monthly traffic overview? They only require several clicks.
How about a list of your top blog articles from the past week? Again, easy to set up and send.
For more information, here's the Google Documentation
Dashboards
Dashboards combine all of the greatness of standard and custom reports into one larger report that saves time and clicks. We can send these super reports to our inbox, too.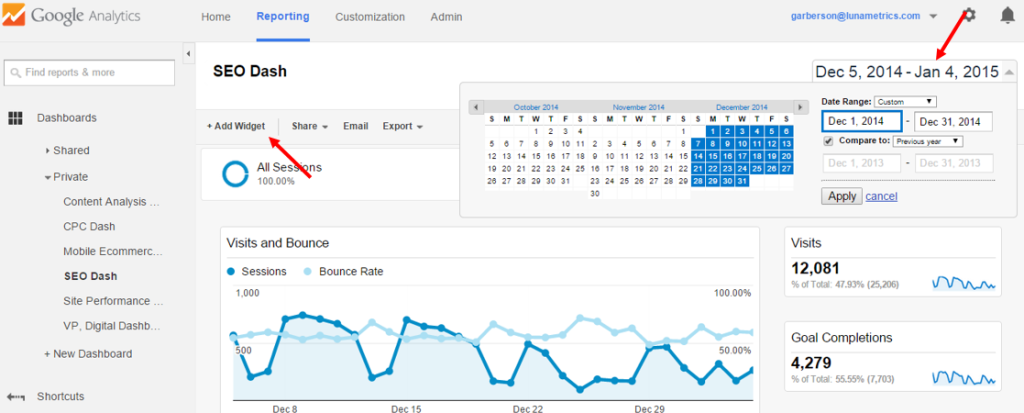 Want an overview of AdWords clicks, costs and conversions? A dashboard is for you.
Dashboards can also be shared and added via the solutions gallery, which means you have access to dashboards created by some of the brightest minds in the industry. For instance, here is a handy paid search dashboard by the ever-so-wise Stephen Kapusta.
For more information, here's the Google Documentation
Custom Alerts
Marketers can receive automatic notices of account performance changes with custom alerts. Sayf Sharif wrote a wonderful post with 55 custom alerts that you can essentially drag and drop into your account.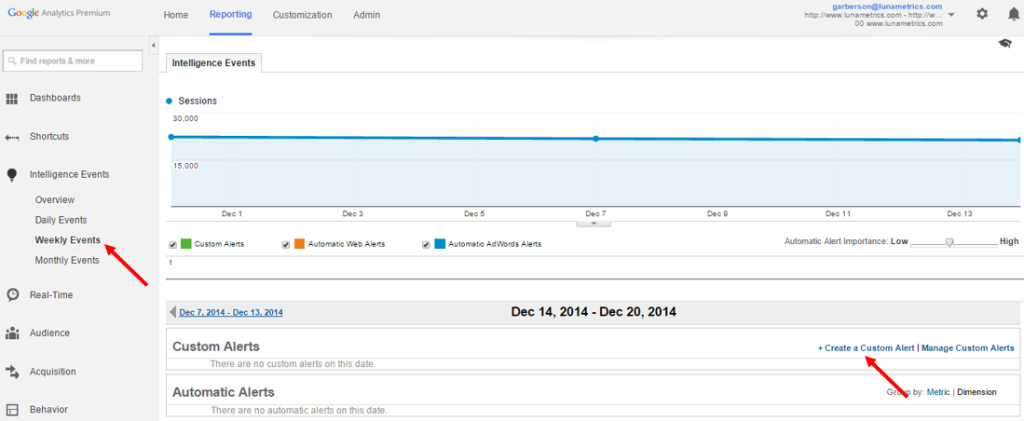 Is a Facebook post going viral or traffic suddenly pouring in from a New York Times mention? These will keep you current.
Want to keep an eye on major issues that affect user experience? Custom Alerts can save the day. For instance, here's a post about tracking your 404 errors with custom alerts.
For more information, here's the Google Documentation
---
Once you have crossed these basic automation tactics off your list, the sky is the limit. Google Analytics offers API access to almost any report you can imagine. You can work with your developers to bring in your data programmatically, check out Sam's post on pulling Google Analytics data into Drive, or see Sean's post about using a third-party tool like Shufflepoint.