Announcing New Resources For Google Tag Manager
We've embraced Google Tag Manager as an excellent tool to help companies and agencies correctly implement Google Analytics and other third-party tracking. We use Google Tag Manager (GTM) daily with our clients, helping to manage their implementations from afar, responding to urgent updates, or helping to train key staff on how best to utilize the tool.
From these interactions with GTM, we've written a ton of blog posts about GTM (over 60 to date!) and love sharing tips, tricks, and our lessons learned.
We're excited to announce our two latest initiatives to help others learn about Google Tag Manager and Google Analytics! We've published a book about Google Analytics implementations through GTM as well as launched a new GTM Recipe Section.
Practical Google Analytics and Google Tag Manager for Developers
Our book has been in the works for a while, you've probably heard us mention it once or twice! Jonathan Weber, our Data Evangelist, and resident GA/GTM expert wrote the book with contributions from the entire team. It's packed full of best practices, step-by-step instructions, and careful explanations of some of the most complicated GA/GTM topics.
Jonathan comes from an information architecture background and started with us over 6 years ago, back when there were just 4 employees.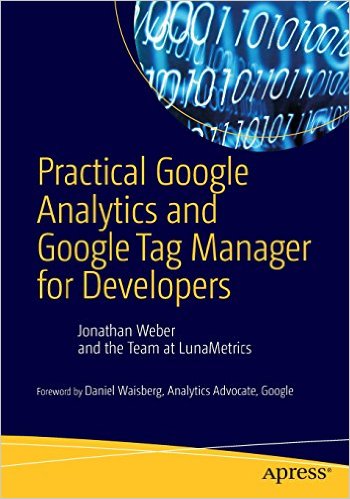 He heads up our Data Science services, working with clients on the fun but difficult analysis projects that follow excellent implementations.
As a trainer, he's helped to craft our Google Analytics trainings and Google Tag Manager workshop with the most important information possible, traveling the country to lead seminars.
So what can you expect from the book?
Google Analytics fundamentals and basic measurement strategy
How to Implement and Test Google Tag Manager
Tracking Interactions (Downloads, Forms, Emails, etc.)
eCommerce and Enhanced Ecommerce
Additional Information using Custom Definitions and Data Import
Cross-Device Measurement and Mobile Apps
Information about GA's Measurement Protocol
Bonus: BigQuery and Big Data Analysis
Practical Google Analytics and Google Tag Manager for Developers is available in both print from popular retailers including Amazon.com, as well as an eBook online from Apress.
Google Tag Manager Recipe Section
In addition the book, we've launched a new Google Tag Manager Recipe section our site. We've created "recipes" or GTM Containers to address some of the most common requests that we've gotten for Google Analytics implementations through GTM.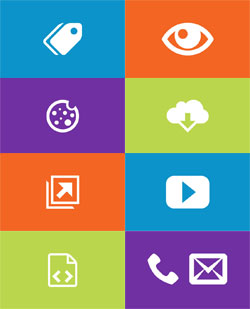 Each recipe contains all of the necessary Tags, Triggers, and Variables to add functionality to your site, like File Download tracking, Outbound Link tracking, as well as more advanced solutions like YouTube and Scroll tracking.
You can download these container files and import them into your container and hit the ground running with just a few minor tweaks.
Sound like a dream come true? You betcha!
We've written about some of these recipes before, while others we've been using internally but haven't shared with the public yet. As part of LunaLabs, we'll continually be adding to this section, adding more of our own experiments with Google Tag Manager and recommended solutions for common issues.
To get started, here's a list of our current recipes:
For brand new implementations, check out the Google Analytics Starter Pack, which includes the following individual recipes:
We also offer some more advanced Recipes, like:
You can download everything we've got in the GA Complete Pack, which includes all of the above!