SX ‑ The Initiative Missing From Your 2016 SEO Plan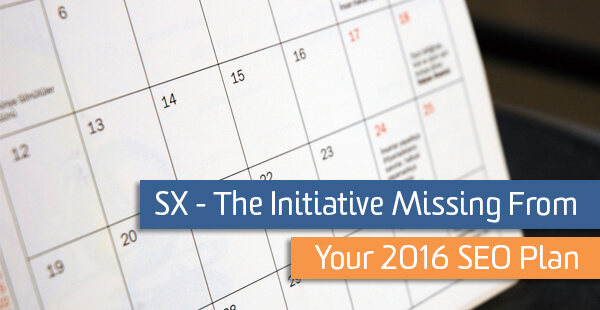 It's that time of year. We've just budgeted, strategized, and been in a dozen meetings to establish strategy & KPIs for the new calendar year.
Here's how some past Search strategies may have looked:
1999 – Buy links, win internet.
2005 – Stop buying links, start trying to trick Google with link wheels. Try that new Local SEO we've heard so much about.
2010 – CONTENT. Content. content. Content will solve all of our problems. Potential customers will read words we wrote and throw money at our faces.
2012 – It's alllll Social Media. Let's link our posts to our tweets and our tweets to our pins and really encourage that word of mouth! It's no longer about what they say, but where.
2015 – Our nuanced and integrated strategy will require Technical Competence, Cross-departmental Synergy to align Measurement with Marketing Actions, and a system that will handle lead-scoring for maximum ROI and increased Customer Lifetime Value.
As you can tell from the timeline above, SEO and Digital Marketing have entered a new integrated, sophisticated life stage. Think of yourself as baby. Now think of yourself as a college student, in a smoking jacket, slowly toking on an old-timey pipe while drinking espresso and referring to your binge-drinking roomies as "philistines" while the sounds of Thelonious Monk, on vinyl of course, play tinkly notes in the background of your spotless dorm room.
Many of us have lived this in one way or another. I'm sorry I had to make you dredge up that painful memory, but you get the point.
Here's what my 2016 Search plan looks like:
2016 – The principles of UX, Lead-Gen, CX (Customer Experience), Paid, Social & Analytics meet under SX – Search Experience.
We can no longer think of the puzzle pieces that make up Search Marketing as separate. For years we marketers have picked and chosen based on budgets, bandwidth and buy-in and our results have been a la carte meals, filling but poorly plated.
Any 2016 Search Plan has to take this into account. We can no longer choose the things. Moving forward, we must work on and improve all of the things. I give you: Search Experience (SX).
Here are 3 major reasons Search Experience needs to be the center of your 2016 Search Plan:
1. Changing Roles
As we have matured as marketers, our strategies have ascended the corporate ladder. Once, a Director of Marketing was responsible only for initiatives under his or her halo. Initiatives didn't need to play nicely with other departments. Now, a CMO (Chief Marketing Officer) is responsible not just for strategy, implementation & results, but also integrations within existing company structures and synergy with cross-departmental efforts.
2. Everything is Search.
SX covers everything. Asking your smart car for directions? SX. Building out Remarketing Lists to leverage a user's search behavior? SX. Placing a native ad on content a user searched for? SX. The future of all marketing activities is Search. Your 2016 SEO plan should reflect the future. To whit, Google has tested out a Star-Trek-ish pin that you tap and ask questions or give commands to. It's in testing, but this too is Search.
Search is outgrowing its marketing bucket. I see this when strategizing with clients. I'll often be on the phone with multiple departments at a company at any given time. In the past, it used to be one person. Search affects everything across organizations now, and will continue to affect our entire lives in ways we've seen but a glimpse of.
3. Post-Optimization
Optimization is old news. Everything is optimized now. We are tracking it all and improving it constantly. The giant shift from single tactics to integrated strategies above wasn't brought about by marketing innovation, it was brought about by data tracking. Think about it. When was the last time you were on a call or working on a search project and you didn't look at the past results and devise a way to improve outcomes? It's in our DNA now.
Everyone Optimizes. Everyone tests. Humans search for "Best toothbrushes" online, lest we be stuck with a less than optimal oral-care device. Marketers optimize Email Open Rates, Content Libraries, you name it. Our vacuuming of data has profoundly changed what digital marketers do.
We need to focus less on connecting data streams and more on building the infrastructures that leverage and act on this data in 2016. Creating organization-wide buy-in, Training, Strategic Company-wide Campaign Design – thhese are the responsibilities of a 2016 SEO Plan. Search & Digital Marketers are the Jedi of this process and we need to elevate our strategies accordingly.
The New Reality
SX provides a comfortable umbrella for all of these activities. What are potential customers searching? It's not limited to search engines, because Facebook, Quora, Amazon, Yelp and more are all types of search behavior. Paid advertising is often filed into Advertising department budgets, but of course, it too is triggered by search.
Conclusion
We've done the work. Content and Editorial teams have been built, Developers have been trained, Salespeople have been briefed. What's missing is the strategy that takes Search across all marketing channels and company departments to make it a holistic way of life. Search Experience can be that strategy.