Google Analytics Power Reporting For SEO And PPC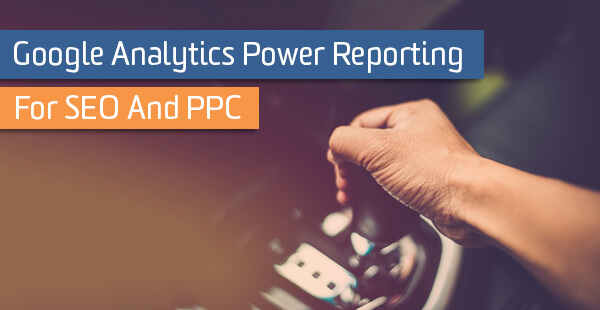 Your neighbor tells you he is thinking about buying an electric car. Avoiding fossil fuels is important to him, but he is getting older—his 80th birthday is next week—and his kids don't want him riding a bicycle any longer. Forget Uber, he doesn't have a mobile phone. Plus, his barber moved across town and he needs a monthly trim of the few remaining hairs on his head.
He returns the next day with a Tesla S, the zero-emission sports car that goes 0 to 60 (mph) in 2.8 seconds, faster than a Porsche 911 Turbo and nearly every other street-legal car on the planet. The old timer wanted an electric and his new Tesla S meets the criterion.
Enter Google Analytics.
At some point, we told coworkers that we wanted a web analytics tool and create a Google Analytics account because it did all of the things we needed. And for years we (figuratively) drove that bad-ass sports car to the barber at 22 mph. We are the old man!
Let me be clear, I am the old man, too. I have a turbo-grade tool in Google Analytics, but each year I do an industry scan for the perfect search marketing reporting provider. I compare features, sit through sales demos, subscribe to 30-day trials. As trials expire and shoulders shrug, I continue driving Google Analytics in first gear.
That stops this year.
Search marketers at LunaMetrics are using Google Analytics the way it's designed to be used. Here are some of the ways that we are doing weekly monitoring and monthly reporting without totally overwhelming our people or our clients.
Daily Monitoring
Google, Adobe, Hubspot… most analytics providers have apps that allow digital marketers to monitor performance from anywhere: your bed, your birthday party, your wedding. That doesn't necessarily mean that you should.
Goal: Reacting to an extreme shift in any search channel.
Challenge: Keeping a finger on the pulse while still having enough time to eat, sleep, and bathe.
Solution: Alerts in Google Analytics
Alerts act like push notifications. "Hey, healthy person enjoying their Sunday morning, your conversion rate tanked yesterday so you should probably finish your breakfast and check on it."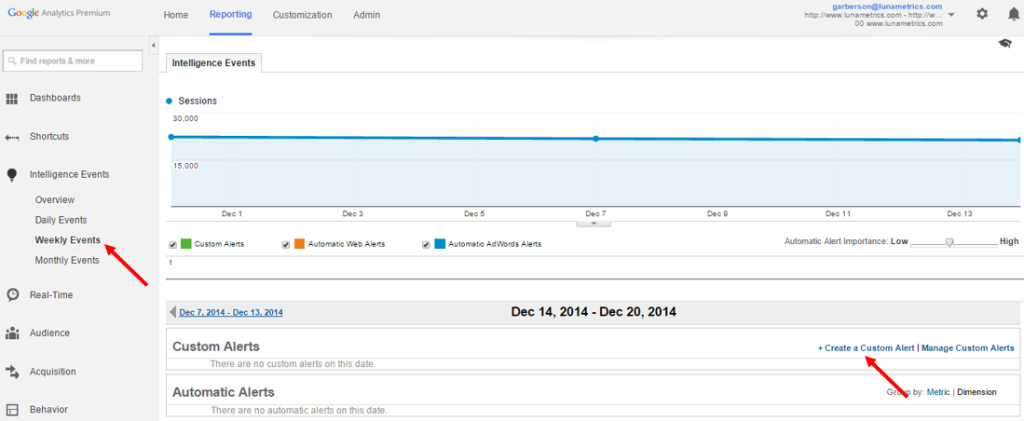 Keep in mind that these alerts are not always real time. They will not let you know the moment Kanye takes a selfie with your product and your server buckles under the weight, but you are more likely to know before Monday morning when your boss is waiting by your parking spot. Here are 55 Google Analytics alerts for your account.
Weekly Monitoring
Spotting trends save lives. Okay, that might be a touch extreme for your industry. Maybe spotting trends saves dollars and bonuses. Throwing yourself in front of something trending downward or maximizing the effects of something trending upward makes bosses and clients very happy.
Goal: Spotting trends in the act stage instead of the react stage.
Challenge: Knowing where to look and, well, remembering to look there.
Solution: Custom reports and dashboards in Google Analytics.
The guide to basic Google Analytics automation reviews dashboards with custom reports, which are wonderful ways to monitor performance without losing your life to it – see the Daily Monitoring section above.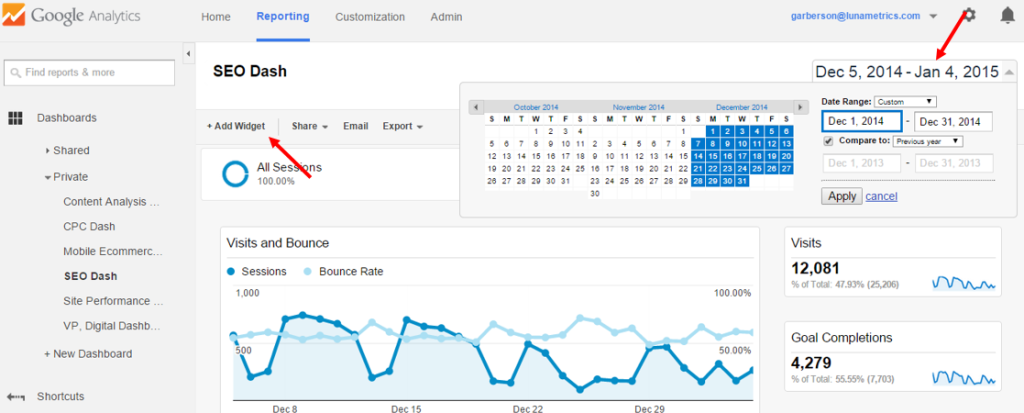 Google Analytics dashboards are perfect for 60-second reporting and analysis: a summary of search conversions, revenue, return on ad spend, etc.
Monthly Monitoring
This is the big one. We do the bulk of our reporting at the monthly level, and the demands are higher.
Goal: Finding a tool that is easy to access, affordable to use, and broader than several channels.
Challenge: Having all of it in one place.
Solution: Google Drive integrations with Google Analytics.
Google Drive reports are not the prettiest girl at the dance – other platforms have cleaner interfaces with interactive charts – but she is the best dancer, and isn't that most important? Read-only logins for bosses/clients, automatic daily refreshes, and the opportunity to fetch data from AdWords, Bing Ads, Search Console, social advertising, and more. You can even create handy tools like ad budget trackers to maintain monthly pacing. Looks like I need to apply the brakes!

A coworker tackled the how-to side of this topic far better than I can. Check out Sam's post on connecting Google Analytics to Drive and supercharging reports with filters and segments.
Taking a Test Drive
Google Analytics can be your Tesla. Or your (more modest) Nissan. It has all of the things you need and many of the things you want. The SEM power reporting muscle is there; you just need to know how to unleash it.