Press Release: The Timmy Awards Name Seth Dobbs Best Technology Manager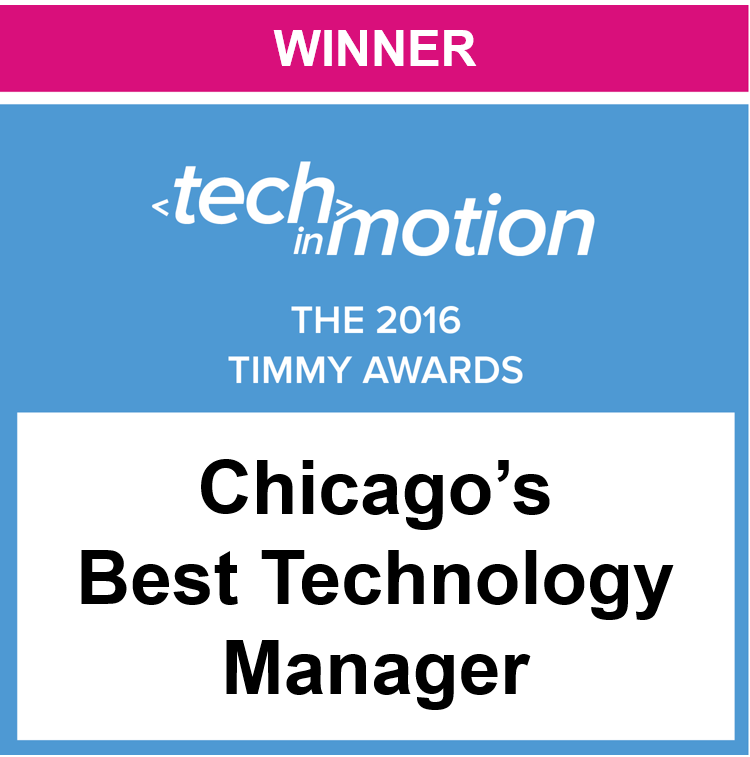 Tech in Motion recognizes the top tech workplaces and managers in Chicago at the 2016 Timmy Awards.
Chicago (August 26, 2016) – Tech in Motion has announced Seth Dobbs, Vice President of Engineering, as the "Best Technology Manager" at the 2nd Annual Chicago Timmy Awards, which recognizes the top workplaces for technology professionals to work. The Chicago tech community chose Dobbs from a field of 10 finalists, including Dan Rumney, Bob Hannon, and Ayo Jimoh and runner-up Susie Jendro. Tech in Motion recognized Dobbs and Bounteous, a full-service agency that delivers end-to-end products, in front of an audience of more than 250 of Chicago's tech community last night.
"After tallying over 11,000 votes from the local community, it's a privilege to name Seth Dobbs as Best Tech Manager in Chicago," said Tech in Motion organizer David Belsky, Regional Director of Jobspring Partners and Workbridge Associates Chicago. "The goal of the Timmys is to recognize innovators like Seth who create work environments where IT professionals thrive. We're looking forward to celebrating local leadership like this at the Chicago Timmy Awards for years to come."
According to his coworkers, Dobbs is driven to help everyone around him be better at what they do, from mentoring employees to helping clients solve complex business problems, he believes in the power of technology to improve the world and that there is no one-size-fits-all career path. Dobbs handpicks team members who thirst for knowledge, never settle for mediocrity, and are eager to innovate.
"Seth continues to uphold the vision of our founders, Keith Schwartz and Phil Hollyer," said Leah Weyandt, Director of Talent and Culture at Bounteous. "He provides multiple avenues for team building and camaraderie through continual learning. Whether roundtables, lunch and learn sessions, career mentoring, study groups, book clubs, community meetups, or the annual hackathon, he creates recurrent opportunities for team members to be nurtured, energized, challenged, and motivated."
As the community grows, the Chicago Timmy Awards have as well, expanding this year to include local celebrity speakers like Founder and CEO Howard Tullam of 1871, Chi-town's famous tech accelerator, and Andy Boyle, writer, comedian and web developer cited in the 2012 Pulitzer Prize for Breaking News.
The Timmys are presented throughout the year in cities across North America, including Boston, San Francisco and Toronto. Previous winners have included innovators such as Jet.com, LearnVest, Venmo, Trip Advisor, Gilt, Constant Contact, Casper and Instacart. The next Timmy Awards ceremonies are the Silicon Valley's Inaugural Timmy Awards in September and Orange County & San Diego's 2nd Annual Timmy Awards in October. Please visit techinmotionevents.com/awards for more information.
About Tech in Motion Events
Tech in Motion is an international events series that brings local tech community professionals together to connect, learn, and innovate. What started as a collaborative project between IT recruiting firms Jobspring Partners and Workbridge Associates in 2011, grew into an organization of over 70,000 members across 11 chapters in North America including Boston, Dallas, NYC, DC, Philadelphia, Chicago, San Francisco, Silicon Valley, LA, Orange County, and Toronto. Please visit www.techinmotionevents.com for more information about our notable speakers, sponsors, and events.