Integrating Google Analytics 360 With DoubleClick Bid Manager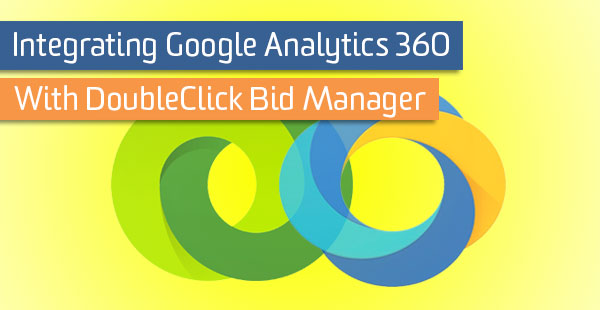 Among the many great features of Google Analytics 360 (GA 360) is the ability to to share data with other Google products. Among them is the DoubleClick Bid Manager (DBM) integration. You may not have expected it, but they were made for each other. They go together like peanut butter and chocolate.
What's more, underneath those smooth textures is an AMAZING crunchy candy center that will affect the reports and likely the way you report. It can be a bit jarring if you are not expecting the changes, but that is true with any Google Analytics (GA) integration.
Let's walk you through the changes and get you set up correctly!
Insight Through Integration
Prior to bringing these tools together, each gave you insight into your site, but only in part. Both GA360 and DBM become more powerful together. You can now see steps beyond each other's prior limitation. These tools together give you the vantage point necessary to make you a powerhouse decision maker, an unstoppable reporting juggernaut or maybe something more awesome than that!
The Benefit of the View-Through
Pre-DBM, we only knew where users came from when they clicked/tapped something that led to your site:
They clicked a link.
They tapped an ad.
They keyed in that ridiculously long URL.
You could gain a little more detail through UTM parameters, but that was about it.
Now, through the power of DBM, not only do we see the touches prior to your site… WE ALSO SEE THE AD IMPRESSIONS THAT LED TO YOUR SITE. This is huge. Without any interaction, we get to see what site they were on and the ad that impressed them to hop over to your corner of the web. I'm sure your superior analyst mind is spinning at the possibilities for reporting.
Shiny New Reports!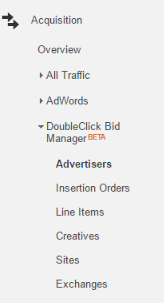 You'll find a brand new section of reports in the interface. These data points should line up closely to what you see in DBM. The main reports you will find are view through and click through data for:
DBM Advertiser – The Main DBM Account that contains a campaign.
Insertion Orders – The commitment to run a campaign.
Line Items – The Specific aspect of the Insertion Order.
Creatives – The ID associated with the particular ad.
Sites – The website that displayed the ad.
Exchanges – The specific ad network that served the ad.

DBM Data In Standard Reports
What's more, is that each of these values are available as secondary dimensions on the other reports! Now, you can pull in other data from GA and truly see the efforts of your advertising.
Want to see which external DBM sites brought sessions to your shopping page? Now You Can.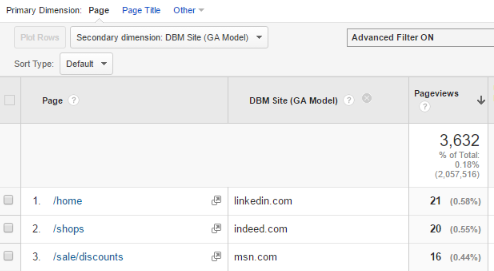 I Want To (Re)Use My AdWords Audiences!
Say you have a bunch of audiences already set up in GA going to your AdWords Campaigns. It would be great if you could just add those to DBM, but unfortunately it's not just a simple checkbox. Instead, we will need to replicate the same parameters in a new audience and then link that one to your shiny new DBM connection to start collecting users.
Fortunately, GA makes this relatively easy with the ability to share audiences and reapply them, similar to sharing other report/configurations in GA. While maybe not the most intuitive, it's still pretty easy to reuse all of the Audiences you've already created, without having to start from scratch!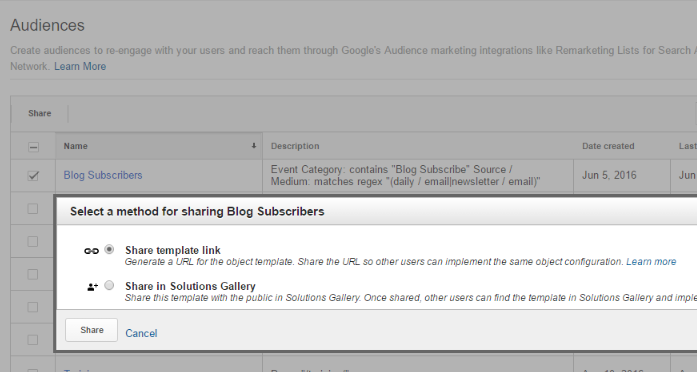 Creating New Audiences from GA for DBM
Tired of those old audiences? You can create new custom audiences based on the actions they take on your site. This information is easier than ever to get into DBM and can, ultimately and hopefully, help you target your advertising to help you increase your targeting and make more money.
Here's an example of how L'Oreal used the Google Analytics 360 Suite and integration with DoubleClick Bid Manager to do exactly that.
L'Oreal doubles anticipated revenue with the Google Analytics 360 Suite and DoubleClick Bid Manager
New Traffic Source = Different Analysis
With the integration, you get a new source of 'DBM' and a medium of 'CPC'. Now, you know when a user was exposed to an ad and then came to the site. As I am sure you can imagine, suddenly exposing a new source of sessions, causes a seismic shift in reporting on user acquisition. Direct traffic to your site, previously attributed to the last known non-direct source, could now be DBM source sessions.
Be prepared. You amazing killer email campaign that was once responsible for driving many conversions just may now be overshadowed by view-through sessions. This could be a game changer, but be prepared to communicate the change to any necessary stakeholders.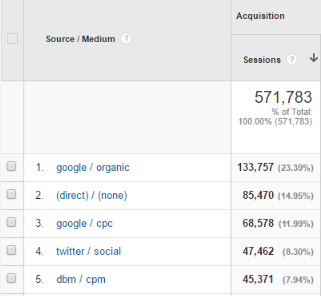 What Happened To My Multi-Channel Funnel reports?
In similar fashion, the multi-channel funnel reports can now show this DBM source and become more necessary than ever, especially if you're trying to show the value of traffic-driving interactions vs impressions off-site.
This will show both view-through and click through DBM sessions. The biggest insight, again is this new view-through data. When we previously saw just multiple direct visits, we now see the multiple times users saw ads and then came back to the site.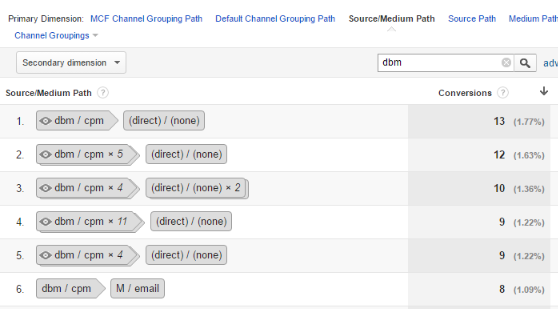 To be sure, the DBM/GA 360 integration does comes with some caveats. The reports in GA are flagged as 'beta' and they do tweak the DNA of the standard reports. However, now you know what and how it affects the data, and the new insights can prove to be groundbreaking.
As you integrate, consider how the new feature will impact your existing reporting and data collection. Consider duplicating your main view within Google Analytics and linking DBM to just one view, until you're certain that the new traffic sources and view-throughs can be handled in your reporting.
Keep in mind, that this integration is a Google Analytics 360 feature. If you are interested in this integration don't hesitate to reach out to us today!