How & Why Do We Track Outbound Link Clicks In Google Analytics?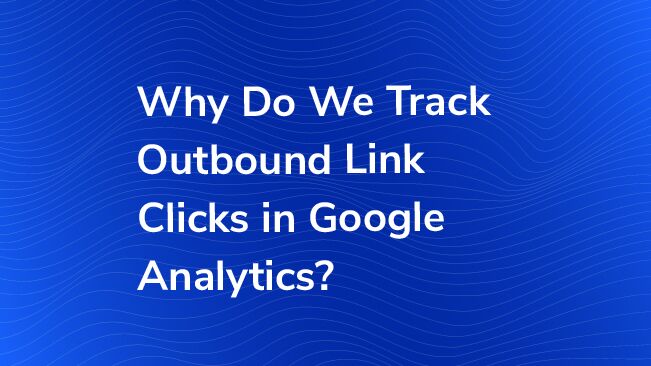 Everyone will leave your website at some point – whether they close their browser, hit the back arrow, or click on another bookmark. Often, we have no insight into exactly why someone leaves, however, for some users, we can get an idea of where they go. I'm referring specifically to outbound links, which are links on your site that take a user somewhere off your site.
It may seem counter-intuitive to add links to your site that could take them away from your content, but almost every website has them to some extent. Some of those outbound links may belong to other places where you actively control the message, like your social media pages or related department or product sites. Other links might be used to enhance your content with deeper content, allowing users to investigate and explore resources that complement your own. Even further, some websites will contain ads, partner links, or affiliates that you have agreed to help send traffic to someone else's site.
Let's explore the various ways tracking these clicks can help us make better decisions and understand our users.
Why Do We Care About Outbound Links
I'll make a few generalizations here, and a lot of this is based on our own observations with clients and training attendees, but most website owners have two to four possible ways that they can benefit from understanding the links that their users are clicking on that lead them off their websites.
Outbound link tracking can help us have better insight into our user's behavior and get a glimpse into their intent. We may not know exactly what they're thinking, but we can identify trends and popular destinations pretty easily.
Outbound link tracking can help us better measure the behavior of our users inside of Google Analytics. Knowing how outbound link tracking can affect the numbers you record can help you have more granular and accurate detail about your visitors.
Importing goals from Google Analytics to Google AdWords can be tricky for sites that don't have a clear purchase or action that a user can take. For sites like this, outbound links can be the key to proving the success of our advertising.
Lastly, depending on our setup, we may need to quantify to our partners or affiliates how much traffic we're sending to them and which links are most popular. Depending on your arrangements, this might be a way to generate additional revenue, or this might be a benefit that you've offered to others and need to show how much you're helping.
How Do You Track Clicks on Outbound Links?
Before we dive deep, let's talk about the many ways that you can add outbound link tracking to your site. There are many options available, from straight JavaScript on your page to pre-packaged solutions that do the dirty work for you.
We can use Google Tag Manager to track outbound link clicks pretty easily! If you use Google Tag Manager, then you should hopefully already know about our Google Tag Manager Recipes that we've cooked up to make your life easier. Our Outbound Link Clicks Recipe is a quick and easy solution that can import into your Google Tag Manager container and will get those external links tracked so you know where you are sending users.
Google Analytics Autotrack plugin will also help track this for you, though we'd almost always recommend Google Tag Manager for the added flexibility.
Many platforms like Drupal and WordPress offer features or plugins that make tracking these events as easy as pushing a button.
How you do it doesn't matter to us, just get those links tracked!
Understanding User Behavior
Let's take a minute to think about the user behavior on your particular site. Are clicks on outbound links good or are they bad? You'll need to think about your website and decide for yourself. Does a click off your website indicate interest or does it indicate lack of interest? Ultimately, it will come down to what links you have on your site that lead off the site.
Do you have links to your social media accounts? Sure, everyone does! That sounds like interest to me!
If you have a blog like us, most of the links we embed in our posts go to Google.com for support docs or developer documentation. For us – that's great! We're helping connect people to the information they need. An informed reader is more likely to continue reading.
Google Analytics already tells where people enter our website (Landing Pages) and how they got there (Source/Medium.) We can see what pages are the last pages of the session, but now with Outbound Link tracking, we can also see where they're going!
Having Better Measurement
Events are a great way to capture more information about actions that users take after the page loads. By default, GA only tracks Pageviews, but we can add more detail to our Google Analytics using events that measure actions that users perform on our website.
Any time we talk about event tracking in Google Analytics – we have a decision to make. Should this event affect our bounce rate and our time metrics? Was this a deliberate action that a user took that indicates engagement? Or that they've at least been engaged up until that click?
The specific wording that we need to use is: "Should this event count as an interaction?"
Interaction events count as purposeful user interactions, and just like Pageviews, influence metrics such as bounce rate. Non-interaction events do not affect metrics like bounce rate. You'll still see the information recorded in Google Analytics, and you'll be able to accomplish the above objective of learning more about your users' behavior, but your metrics won't be affected.
Often, I recommend using outbound link events as interaction events. Depending on the links you have on your site, the user has been on your site, clicking around, reading, looking at information leading up to the, hopefully, related, click. So, let's count all of that behavior towards your measurement.
Remember – we use Bounce Rate to help measure whether or not a person is engaged on your site. Lower bounce rate is meant to indicate increased interest. You have great power in determining what should count as a Bounce, so make sure you're making that metric meaningful to your organization.
Keep in mind, it is completely up to you and your team to strategize how to use outbound link tracking to meet your objectives.
By default, our Outbound Link Clicks recipe create events that are set to count as non-interactions. We want people to purposefully decide if they would like to affect those metrics. If you do, simply import our recipe, then change this setting.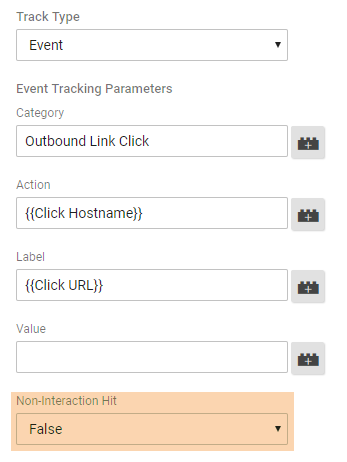 The impact on your metrics will be a lower Bounce Rate and high Average Session Duration. Remember, you haven't changed user behavior – you're just doing a better job of measuring it. Read more about the non-interaction parameter here.
Example of Using Outbound Links to Influence Metrics
The diagram above depicts a user who arrives at your site, sending in a single Pageview on Page A. They stay for 5 minutes before exiting your site, via an outbound link that takes them off site. If you were not tracking that outbound link as an interaction event, you will not have a clear understanding of whether they just left the site because the content wasn't relevant, or that they left after noticing an interesting link after reading content on the page.
Because we only have one data point, the single Pageview, their time on site will show as 0. This session would be tracked in Google Analytics as a bounce.
Let's try a slightly different scenario. As you can see, the user does the same thing as in the previous session. Only this time, because you are successfully tracking outbound link clicks, there is one last event that takes place before they are swept away to another site. This event is marked as a non-interaction, so it hasn't changed our bounce rate or average session duration. However, we do have insight into how the user left the page and where they were heading!
Lastly, the exact same behavior pattern. Only this time, we have a successfully tracked outbound link click that is marked as an interaction. This session is no longer considered a bounce, because it has two interactions (a Pageview and an Event) and their Session Duration is recorded as 5 minutes. Plus, we also have insight into how the user left the page and where they were heading!
Proving Value of Our Advertising
To go back to the book example, if we were running ads for our books, we would find ourselves in a tricky situation where we'd like to determine which campaigns were the most successful. Unfortunately, all of the transactions take place on an entirely different website, like Amazon.com. What do we do?
In this case, we have to make do with what we have. Certainly measuring the ultimate conversion, whether that's a lead form or purchase, will be the best scenario, but that may be tricky to implement or downright impossible. Rather than measuring purchases as conversions, we can do the next best thing and begin measuring certain outbound link clicks as an indicator of interest to purchase.
We can narrowly define our Goal to include only events that were marked as Outbound Link clicks, and only those that went to Amazon.com.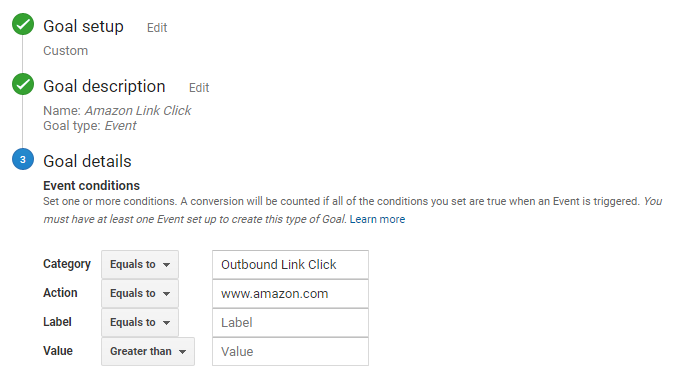 We can now use this Goal Conversion as a success indicator from our advertising efforts, even importing back to Google AdWords to help better understand the campaigns and help influence future spend. There are a lot of concepts at play here, so I'll recommend another blog post: A Plea for Using Google Analytics Goals.
Proving Value to Others
Not everyone will need this section, but sometimes we want to quantify how much traffic we're sending to our partners or affiliates. This can be for a monetary arrangement, or to just measure traffic between our sister sites or products on other websites.
Take our website for example. We wrote a book called Practical Google Analytics and Google Tag Manager for Developers. (Psst – it's a pretty good read!) We don't sell this directly, but we have links to the major websites that carry it. Here, we can use outbound link tracking to see which sessions indicated interest in purchasing our book by clicking through to the links we've provided. It's not a guarantee that people will purchase – but it's the best indicator that we have available to us on our website. No surprise, Amazon.com is the big winner there.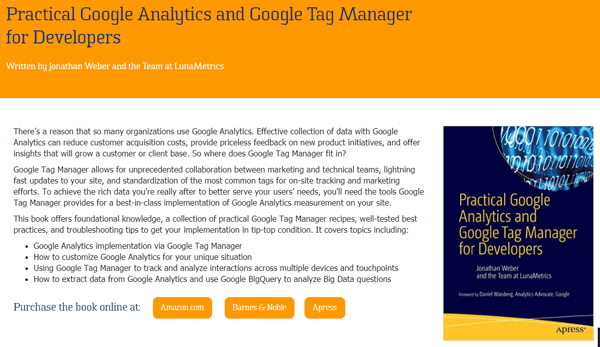 If you're in a large organization, educational institution, or company with many departments or products, you may need to show to others how traffic is being sent. This is helpful for proving how important your particular site is or helping to illustrate the path users are taking.
Sometimes, you'll work with a partner who puts links on your site. Think about publishers who work with sites like Outbrain or Taboola. These tools add "suggested" articles somewhere on the site. The articles and links may change person to person, and almost certainly won't be considered as part of your web ecosystem. This might be a case where you'd like to see where people are going, without having this change your metrics. Are people using this tool? Do you numbers match what your partner is telling you? These links are a little tougher to make decisions on.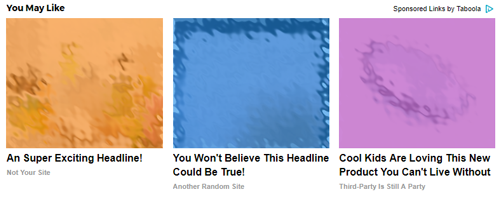 A Note About Hosted Advertising
Remember, Google Analytics can only track what's on the page. Often, tools that place advertising on your website, like DoubleClick and Adsense, will place ads inside of an Iframe. This essentially means that the links are on a different website entirely. You won't be able to track these with basic Outbound Link tracking. Not sure if that applies to you? Test it and see!
Outbound Link Takeaways
Outbound Links are one of the easiest events to begin using – almost everyone has them and there are many tools to help set up tracking.
Outbound Link click events inside of Google Analytics can help you in many ways:
knowing where users leave your site
how long users stay on your site and when they leave your site
measuring off-site affiliate and partner links
measuring sister sites and products you may have on other sites
measuring outbound social properties
measuring outbound app links
I hope this encourages you to pay more attention to your Outbound Links, and consider using our Outbound Link Clicks recipe to track them, which will hopefully save you time and effort that you can put towards other tasks.