20 Underused Features In Google Analytics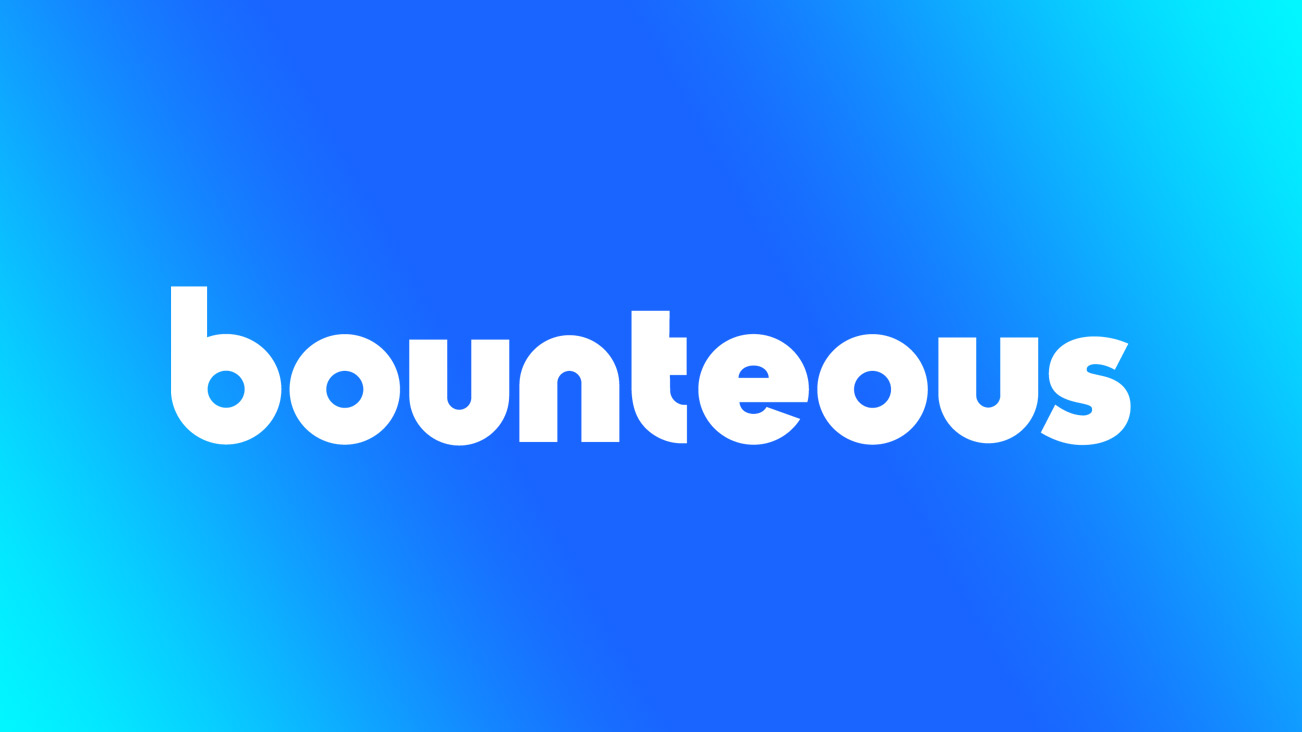 So you've already installed your Google Analytics and maybe you've even been using Google Analytics for years. By now, I hope you've managed to cover the basics improvements to Google Analytics that can improve your data. Now that you have that done, let's think about ways to enhance your reporting or how you use Google Analytics. Use these ideas for inspiration and get more out of your data!
Google adds so many new features and updates to its Analytics platform each year, it can be hard to keep track of them all. Are you using GA to its full potential? Google Analytics has A TON of potentially useful hidden gems of features and reports waiting to be used by beginners and veterans alike. Let's take a look at these tools to help us in our data analysis and decision making.
Underused Reports
There are a lot of great reports in Google Analytics with useful information, but sometimes people avoid reports because they're just not sure how to use them. Here are three reports that just don't get enough credit.
Content Drilldown Report
The Content Drilldown report is organized by your site's URL structure. The Content Drilldown report groups together sections of your site based on the page path levels, and rolls up dimensions like Pageviews and Bounce Rate for an entire section. Your website URL probably already looks something like www.example.com/products/scarves/winter-scarves. In this example, all product pages are grouped together. You can then drill into the product pages to look at your most popular categories within the product pages. While this is a standard report in GA, make sure your URL structure makes this report useful!
Here's an example with our site's address structure and some (slightly fudged) rolled up numbers.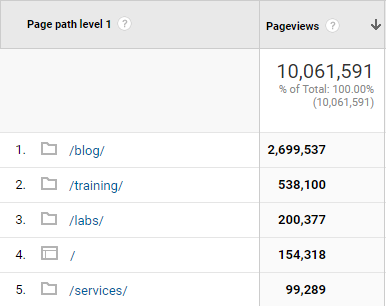 Search Console Reports
Search Console reports give insights into metrics like click through rates and average position for landing pages and queries. You can even view these reports by device type and country. These reports are great for improving landing pages and SEO. To set this report up, you'll need to link Search Console in the Property panel in the Admin tab. Check out Michael's post on Search Console reports to make sure you are using them to their full potential.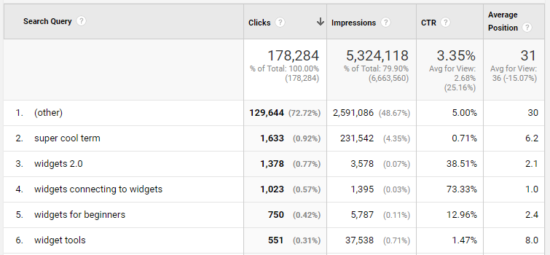 Network Report
The Network report is often used to see leads and prospects to your site. Not only can use this report for lead generation, but you can also use this report to check out which competitors are coming to your site. Apply advanced filters to see traffic from leads (or competitors). Jim already has some great ideas on how to make filters work for you.
Enhance Your Reports
You've gotten familiar with the reports in Google Analytics, now how can you make standard reports work for you? These features are hidden gems that can definitely pack a punch!
Save & Edit Reports
These toolbar features are often forgotten about. The Save Report feature (formerly Shortcuts) allows you to easily save a report in it's current state, including any applied secondary dimensions or filters. You can easily reference the report in your Saved Reports under the Customization tab. The Edit icon allow you customize the built-in reports, which is useful if you want to quickly add or remove metrics from a report. You can then save as a Custom Report.

Annotations
Annotations are great for keeping track of your site's history, or anything that could cause changes to your data. Having a flash sale? Add an annotation so that the spike in traffic makes sense when you look back on the data next year. Annotations are also a good way to make sure all of your GA users have visibility into your historical data. To add annotations, simply go to the View panel in the Admin tab and create one. Check out Robbin's post on when to use annotations.
Pivot Tables
Take a look at the top of the table portions of your reports and you'll find a lot of great features tucked away behind icons and hidden buttons. Pivot Tables can be useful for taking a deeper dive into acquisition or Ecommerce reports. They're a way to apply a third dimension to built-in reports. Once you've applied your secondary dimension, use the pivot feature to add a third dimension, such as user type or device category. You can switch your pivot dimension from the "Pivot By:" drop down menu, and can apply two pivot metrics for comparison.
Weighted Sort Type
Another simple reporting feature, Weighted Sort Type is a useful tool for looking at page bounce rates. When we sort pages by bounce rate, we see all of the pages with one pageview and 100% bounce rate. Using Weighted Sort Type allows us easily see relevant pages with the highest bounce rate. To use this feature, just selected "Weighted" from the "Sort Type:" drop down menu, right next to your secondary dimension. This doesn't work with every metric, but try it with your Landing Pages and the Bounce Rate metric!

Sequence Segments
We often use segments to filter for sessions where a specific page was viewed or event occurred, or users with a particular browser or operating system. But the sequence option in advanced segment building tends to get overlooked. With sequence segments we can string together a series of conditions for analysis, such as behavior following landing pages, or goal completions from a particular traffic source.
To create a sequence segment, use the advanced segment building option. Determine if you want your session or user to start with this specific sequence, or if the sequence can occur at any point in the interaction. You'll also need to decide if the conditions must immediately follow each other, or happen at any time. Go to Dorcas' post for more on how to build some awesome sequence segments.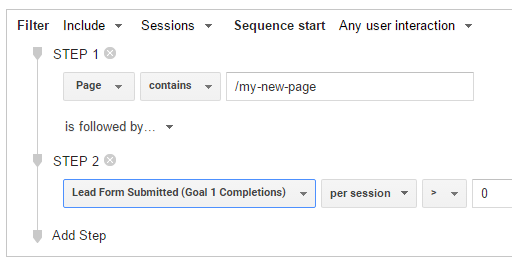 Underused Metrics
These metrics are often underused because people aren't exactly sure what they mean, or because they're not standard KPI's that your boss is asking you to report on, but they still give great insights!
Page Value
Page Value gives you a high level view of important pages that impact your conversions, which can be useful for a site redesign or migration. You can also use Page Value to look for unusual pages contributing to conversions. Page Value is calculated by summing transaction revenue with goal value, and dividing by the number of unique pageviews. All you need to start seeing Page Value in your reports is Ecommerce-enabled or goals configured with a goal value. UPDATE – We just added a new post about this topic!
A Guide to Page Value – The Undervalued Metric
By: Donovan Ayon
Published: February 22, 2018
Site Speed & User Timings
Site Speed reports give us data on average load times, which can help identify long load times on a particular page or browser. User timing metrics allow you to measure load times for specific requests by creating custom timing categories and variables, which can be useful for testing. Sam has already defined all of the site speed metrics for us. GA calculates site speed metrics based on a sample of 1% of users to your site, or 10,000 hits, whichever you reach first. Luckily, Dan's written about a way to increase your page speed hit limit.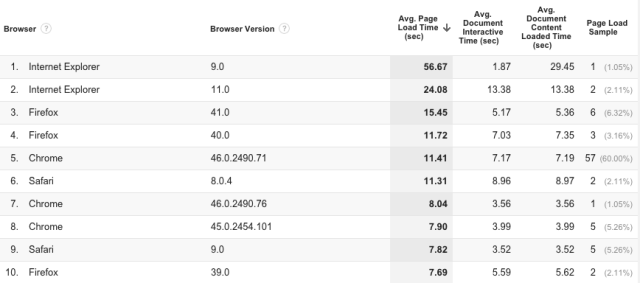 Automated Emails & Alerts
Did you know about these report automation features? Set up automated emails and custom alerts to let Google Analytics do the work for you.
Email from Custom Reports & Dashboards
We often create custom reports and dashboards to view data exactly how we need. But we can get even more out of these reports by scheduling automated emails to share them. To setup automated emails for custom reports, click the "Share" icon in the top right, list the email addresses of everyone who should receive the report, and select the attachment type and frequency. The steps are similar to share custom dashboards — just begin by clicking the "Email" icon. To learn more about reporting automation, check out Andy's blog post.
Custom Alerts
Custom alerts are another great way to automate reporting. You can set up custom alerts to let you know if there is no data reporting to your Google Analytics view, or if there are abnormalities in your revenue. In fact, we've come up with 55+ Custom Alerts that can help monitor your data.
You can create custom alerts either in the View panel in the Admin tab, or under the Customize menu in your regular reports. Just select which views you want to apply your custom alert to, and set your alert conditions. For the truly dedicated analyst, you can even sign up for text messages.
Custom & Calculated Metrics
These features take a little bit more work, but are well worth it. Personalize your GA data by utilizing custom and calculated metrics.
Custom Metrics
Custom metrics work similarly to custom dimensions. custom metrics are a way to calculate data specific to your organization, and can either be hit-level or product-level. For example, a hotel company could use a product level custom dimension to track rewards points redeemed during booking. You can then add your custom metrics to custom reports for enhanced reporting. Similar to custom dimensions, you'll need to add the custom metric to your GA property. You can either use Universal Analytics tracking code, or push the custom metric and value to the data layer and send the data to GA using GTM. To do this, you'll need to create a data layer variable in GTM, and configure the custom metric in your GA Settings variable. For more information, you can reference this post on custom metrics.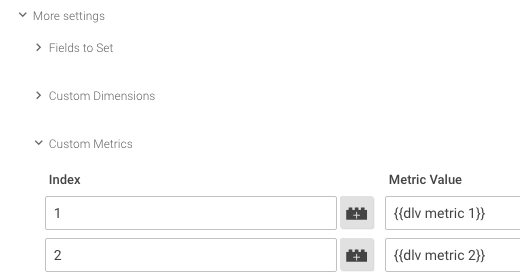 Calculated Metrics
Calculated metrics are different from custom metrics in that you can use metrics already in GA to create a new calculated metric. For example, calculate your average sessions per use by simply dividing sessions per user, or create your own conversion metric by dividing transactions by users. We've already come up with a few ideas for calculated metrics in this post. Once you've set up your calculated metrics, create custom reports to view the results. You can create calculated metrics in the View panel in the Admin tab. You'll need to determine the format type and the formula for your calculated metric. Keep in mind you can only have five calculated metrics.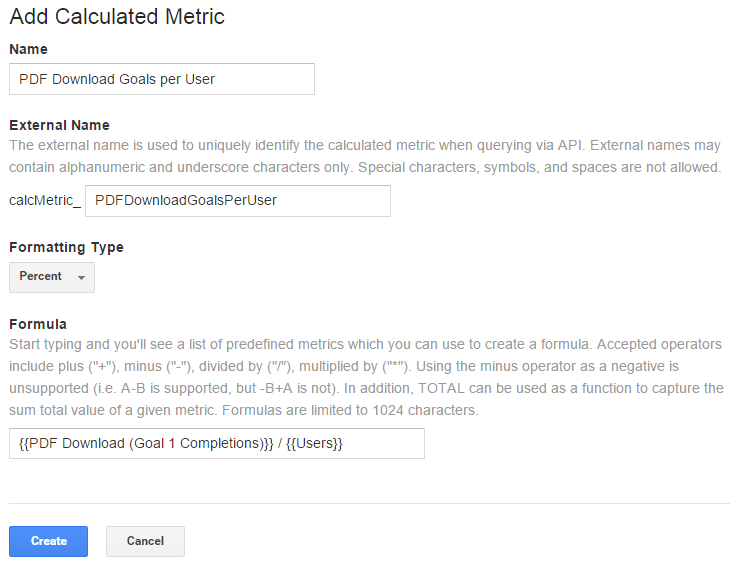 Attribution & Multi-Channel Funnels
Attribution can be intimidating at first, but these tools will give you a great understanding into user behavior.
Custom Channel Groupings
Custom Channel Groupings allow you to modify channel groupings for existing data without changing the definitions for the Default Channel Groupings. For example, you can use custom channel groupings to distinguish between types of social media links. To view your Custom Channel Groupings, just apply your custom channel grouping as the primary dimension in the Channel report. You can define custom channel groupings in the View panel of the Admin tab. Only the user who sets up the Custom Channel Groupings will see them. Read this post to learn more about Custom Channel Groupings.
Model Comparison Tool
Multi-Channel Funnel Reports tell you how channel groupings translate to conversions. The Model Comparison Tool allows you to see how channel groupings lead to conversion with several different attribution models, including Last-Click, Time Decay, and more. This report is useful for planning how to reach your customers, and there's no setup required!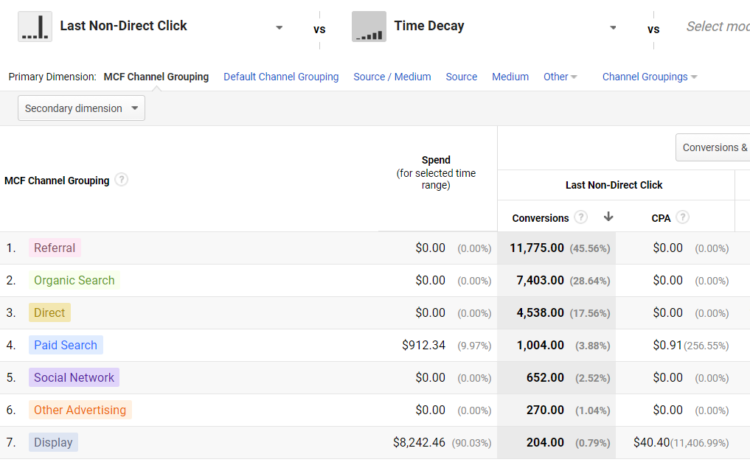 Cost Data Import
Anytime you pay money to drive traffic to your site, you can import cost, clicks, and impressions to see that in your attribution reports. Cost Data Import makes your advertising reports useful, or you can use this data for custom reports and Data Studio. GA360 even provides an ROI Analysis and a Model Explorer tool that create models to help with spending.
To get the cost, click, and impression data for paid traffic from sources such as Facebook or Twitter, you can use a Query API or third party tools like Supermetrics. You can import Cost Data through Data Import in the Property panel in the Admin tab. You can read more about Cost Data Import in this post.
Google Analytics 360 Underused Features
You may have seen these features in your GA360 account, but aren't sure where to start. If you have GA360, you should be using these awesome features!
Custom Tables
Custom tables are much like custom reports in that they allow you to combine your own dimensions and metrics, and even apply filters and segments. However, with custom tables, you can pull 1,000,000 unique rows unsampled data every day. You can also use custom tables with the Google Analytics Management API or the GA Core Reporting API for your reporting needs. To set up custom tables, just go to the Property panel in the Admin tab. You can create up to 100 custom tables per property, but be careful, because custom tables can't be modified once they are created! Get more information about custom tables in the post.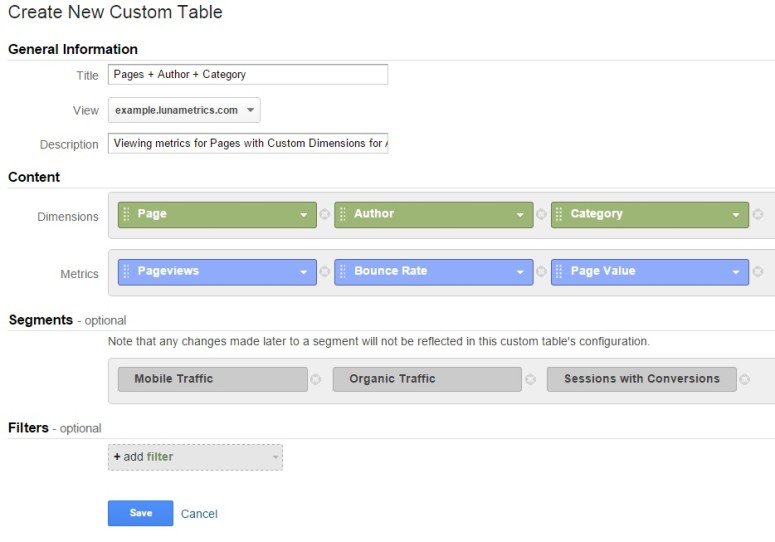 Custom Funnel Reports
Custom Funnel Reports are great because you can visualize sequential steps. While your goals have logically consecutive steps, like a checkout flow, custom funnel reports allow you to analyze any path you want. You can set all stages to occur within the same session, or look at funnels that occur over multiple sessions. You're limited to five stages per funnel, however, you can set multiple dimensions for the criteria of each stage. Custom Funnel Reports are great for combining stages with dimensions such as pages and events. Begin by creating a custom funnel report just as you would create any custom report, but choose the "Funnel" type. Then list out your steps and save! Want to read more? Check out Sam's post on creating Custom Funnel Reports.
Query Time Data Import
Query Time Data import allows you to enhance your reporting by adding data from outside sources to GA. For example, import data from your CRM to learn even more information about your customers and their behavior. Query Time Data allows you to join data retroactively, and you can change or delete the uploaded data. Jim has detailed instructions on data import, but you'll essentially need to create custom dimensions in GA for the data you want to import, and then import the data set through Data Import in the Property panel of the Admin tab. Kristen also has some great tips for Query Time Data Import in her recent blog post.

---
Hopefully these features will encourage to dig deep and get more value out of Google Analytics. Be sure to take advantage of these tools and figure out how to work them into your reporting. The more you put in, the more you get out!