How To Connect Google Analytics And Search Console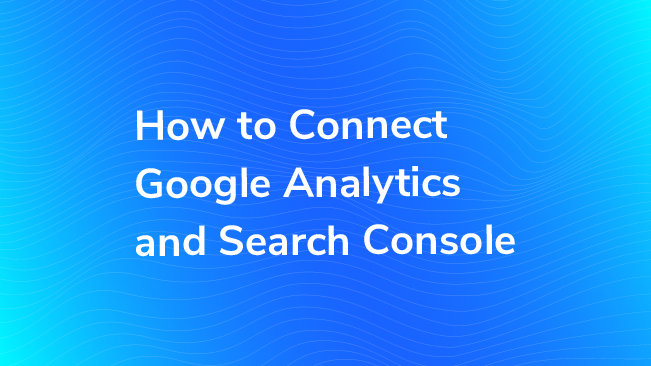 The Google Analytics and Search Console integration makes it easy to see your organic ranking data from Search Console merged with page-level data from Google Analytics, and only takes a few minutes to connect. Often though, we find many businesses still don't link their accounts.
The more data you can get in one place, the better, right? Absolutely! Time for you to check to see if this is linked for your site.
This integration allows you to pull Search Console data into your Analytics reports. Behavior metrics, including goal completions, for landing pages, devices and countries from Organic search are in one place. For example, you can look at landing pages or queries with a low CTR and make better decisions on how to improve your pages in SERPs.
Follow the steps below to integrate Search Console and Google Analytics.
Set Up a Search Console Account
If you already have an account, you can move on to the next section: Enable the Search Console Data Import in Google Analytics.
To create an account, go to Search Console and click Add Property. Then add your site.
Next, you'll have to verify that you own your site.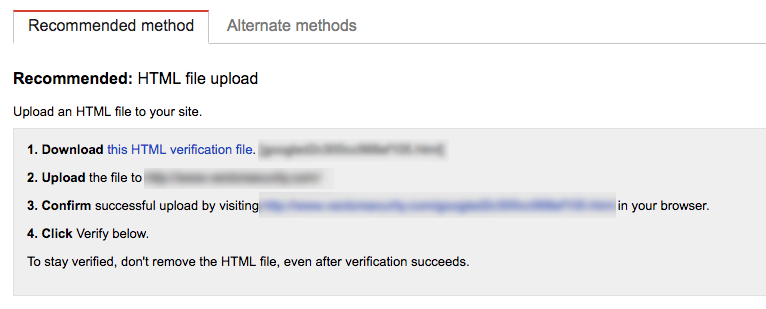 In Search Console, you will need to verify that you own your website. You can do this a few different ways:
HTML file upload
HTML tag
Domain name provider
Google Analytics
HTML file upload (Google's preferred method): Google provides a file you need to upload to your site. You'll then confirm the upload and verify your ownership. The only problem with this method is that the file can easily be removed by anyone who has access to your site. One of your developers might accidentally delete it.
HTML tag: Search Console gives you a tag to add to your website. Once in place, Google can verifying your ownership. The same issue is possible here. Someone could accidently delete your HTML tag when making site changes and you'll lose the connection.
Domain name provider: You'll choose a provider from a large dropdown menu. If you're not sure how to find your domain host, Google has documentation to walk you through it.
Google Analytics: Your tracking code has to be in the right location and you need "Edit" permissions for this to work. If that's all in place, you can just click verify and your Google Analytics and Search Console accounts will be linked.
Google Tag Manager(my preferred method): You need to be using the container snippet and have "Manage" permissions in GTM for this to work. If so, you can click verify and you'll be good to go.
Enable the Search Console Data Import in Google Analytics
Go to your Google Analytics account
Go to Acquisition (left sidebar) > Search Console
Click the Set up Search Console data sharing button
Choose your Search Console account
That's it!

With this integration enabled, you'll now be able to start seeing data from Google Search Console right inside the Google Analytics interface.
Search Console Reports in Google Analytics
By: Michael Bartholow
Published: July 6, 2016
What If I Want to Link a Different Search Console Account?
It's easy to swap Google Search Console accounts, but unfortunately, you can only link one.
In Google Analytics:
Go to the Admin section (gear icon at the bottom left)


Under Property, click All Products


Scroll down to Search Console and click View Link


Choose to delete the connection, change the view or replace the Search Console account that's linked
What You Need to Know About Your Integrated Data
Currently, Search Console keeps data for the last 90 days. As a result, SEO reports in Analytics also include a maximum of 90 days of data.
NOTE: The new Search Console is in Beta right now. With this version, you can see 16 months of data (YAY!) but, you still can't see all of it in Google Analytics.
Search Console data is available in Search Console and in Google Analytics 48 hours after it is collected by Search Console.
The data you see is affected by 2 things, so keep this in mind when you're looking at the reports
The data will not be retroactive in GA, even if you set up Search Console well before. That means you will only see Search Console data in that view from the time it was created (assuming your Search Console account was created before the Google Analytics view.)
If you just created your Search Console, you won't see any data immediately, so you won't see Search Console data in your Google Analytics view before the date you created your Search Console account.
This data gives you the same information from Google Search Console. It does not replace/fix the (not provided) issue.
This integration makes it easier to connect organic information about pages, countries, and devices are performing organically in Google Search Results, with the performance of those categories on your site. So it will make it easier to spot specifics like pages that rank well organically, but perform poorly on your site. This information does not connect on the individual user or keyword, which means we won't be able to see which keywords
(Other) in your queries report is not a big deal
This is data that is typically removed from Search Console, but here is shown with the (other) line item. Read more about other in Google Analytics Search Console reports here.
Happy integrating and reporting!