Phil Hollyer Honored in Daily Herald's C‑Suite Awards, Uses Platform to Encourage Women in Tech
Phil Hollyer, co-founder and CEO of Bounteous, was honored at the 2018 C-Suite Awards hosted by the Daily Herald Business Ledger. The C-Suite Awards recognize top C-level executives who contribute to the success of the Chicago region's economic growth and stability.
Hollyer has been instrumental in moving Bounteous from a start up to a full-service digital agency, thriving with a 25 percent compounded average growth rate, and has earned a reputation for exceptional client service delivery across the full spectrum of marketing technology platforms.
"A natural leader, Hollyer empowers his employees through mentorship, transparency and respect," the presenter read prior to Hollyer receiving his award. "His ongoing mission is to help people understand that varying opinions and perspectives will lead to good work, but you need people to work well together. He believes with conviction, that it's not about what you can do as an individual, it's about what your team can do."
Keynote speaker Brian Blaha of Wipfli CPAs and Consultants stressed that business leaders embrace the increasing disruption of technologies and set the tone for long-term growth of their staff, businesses, and industry. In his acceptance speech, Hollyer built on Blaha's notion, adding that with all of this change, we should work to lessen the gap between women and men in engineering.
"Thinking back, my business partner Keith Schwartz and I started the business a long time ago, but we also went to college in the late '80s, and as you could imagine, there weren't too many women in our computer science courses," Hollyer said. "But frankly, it hasn't changed a tremendous amount. Somehow we're discouraging our daughters from going into technology."
Hollyer touted Hour of Code, a global movement that reaches tens of millions of students in 180+ countries through a one-hour introduction to computer science and computer programming. Bounteous has team members in over a dozen states participating in an Hour of Code, with the common goal of introducing young people to technology in as many schools as possible.
"I encourage everyone to get your daughters and granddaughters involved in these jobs," Hollyer said. "We've learned the value of diversity. We build products that everybody uses. We see the value of collaboration through diverse workers, but we don't have enough women in technology, and we don't have enough candidates coming through."
The awards were presented at a reception on Thursday, July 26, at NIU Naperville. Read the Daily Herald's coverage of the event here.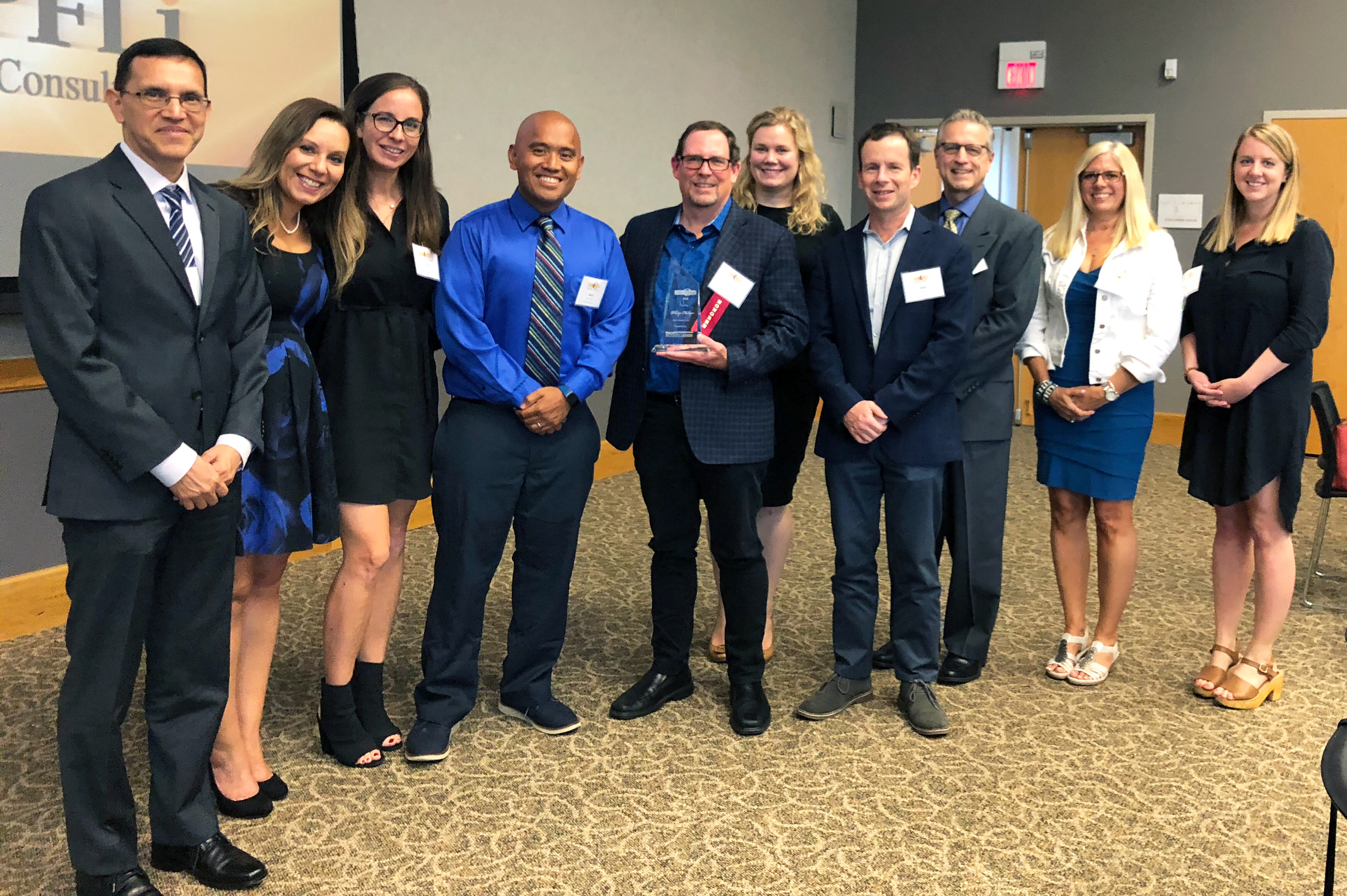 Phil Hollyer, co-founder and CEO of Bounteous, sports his C-Suite Award surrounded by colleagues at the awards reception on Thursday, July 26 in Naperville, Ill.