Press Release: Bounteous Suggests Best Practices for Getting the Most of Adobe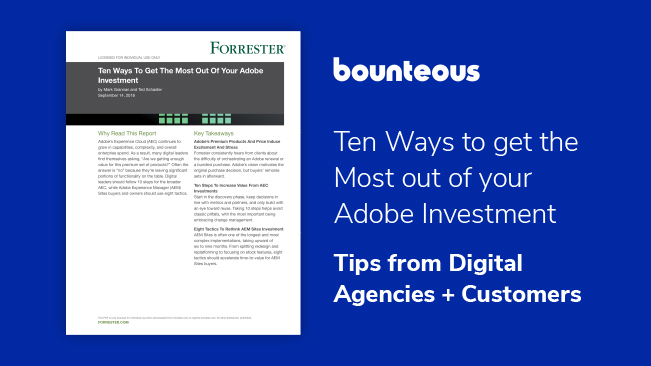 Experts contribute to research on how to maximize your investment in Adobe Experience Cloud
CHICAGO—Sept. 19, 2018—Bounteous, formerly HS2 Solutions, a full-service digital brand experience agency, is quoted in new research by Forrester Research, the leading global research and advisory firm for business and technology leaders. Forrester included insight from several Bounteous team members and clients in its recent report, "Ten Ways To Get The Most Of Your Adobe Investment."
The report outlines steps digital leaders should follow for navigating the growing complexity of Adobe Experience Cloud, as well as tactics to accelerate time-to-value for buyers of Adobe Experience Manager (AEM).
"The report is a must read for any organization who invests in the Adobe Experience Cloud," said John Telford, VP of Digital Solutions at Bounteous. "We believe Bounteous is well positioned to help our clients not only understand the capabilities of the Adobe product suite, but to also translate those capabilities in such a way that they drive the most value for their business."
The report captures what leading thinkers in the digital industry suggest to ensure investments made in the Experience Cloud are fruitful. Using insight from digital experience agencies as well as their customers, the report identifies five program phases to follow to avoid classic pitfalls.
RELATED: Maximizing Your Adobe Experience Cloud Investment
Bounteous has expertise across the full Experience Cloud stack. Named the Adobe Emerging Partner of the Year in 2018, Bounteous specializes in the most challenging Experience Cloud multiproduct implementations and integrations with a focus on building on-brand experiences and scalable platforms that are built to last.
To download the report, visit www.bounteous.com/forrester-adobe-investment.
About Bounteous
Bounteous is a full-service digital brand experience agency that creates digital brand experiences which transform behavior and drives results. Bounteous has capabilities within five primary service lines including strategy; digital experience platforms (eCommerce, web, and mobile development); experience design; digital marketing and audience management; and analytics and insights. Bounteous forms problem-solving partnerships with their clients to envision, design, and build their digital futures.
For the most up-to-date news, follow Bounteous on Twitter, LinkedIn, Facebook, and Instagram.