What is Digital Asset Management?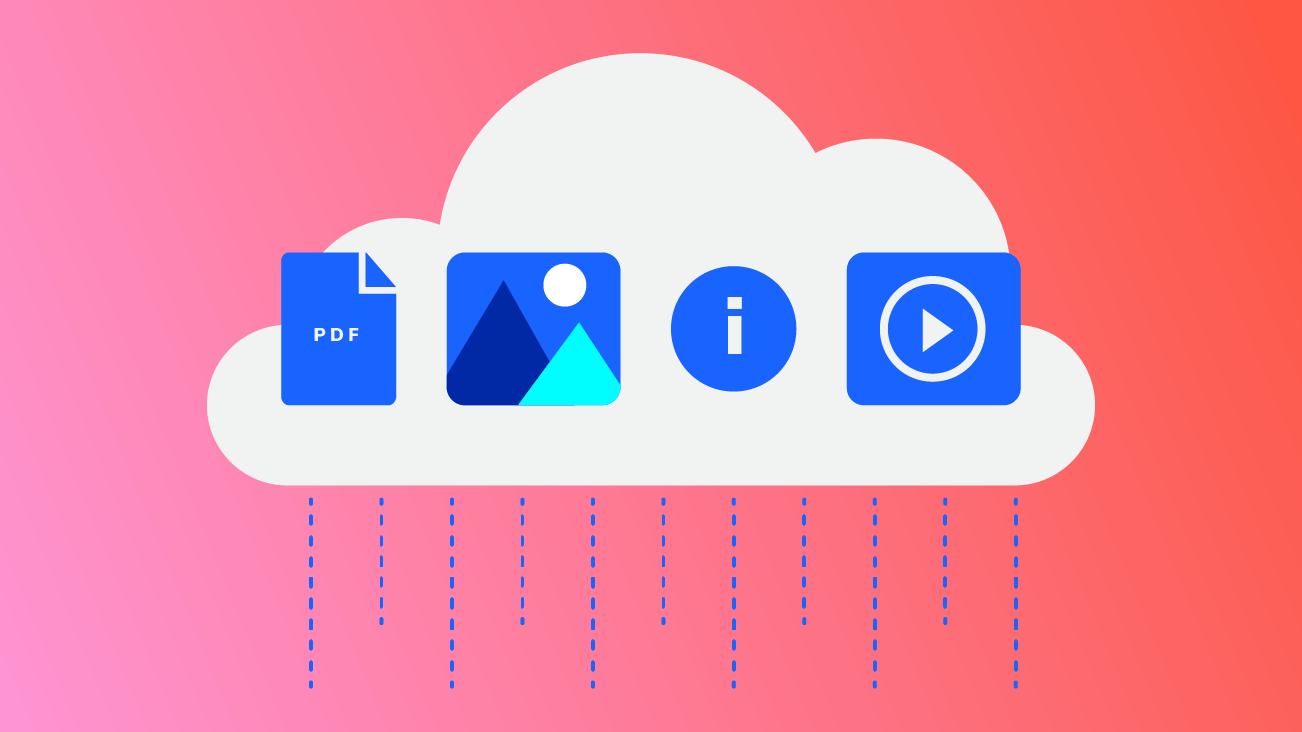 Digital Assessment Management (DAM) is a system where you can store, share, and organize digital assets in one central location. DAM solutions help solve one of the biggest issues companies face today, an overabundance of digital content. Since all content in a DAM is centrally located and organized, it increases the searchability of your assets and establishes workflow processes, helping you to deliver consistent brand experiences.
Before we walk through just how a DAM system helps your organization, let's first make sure we understand what a digital asset is. A digital asset is any image, PDF, infographic, or audio/video asset that your organization has created or uses across your websites and marketing streams. Your DAM is going to contain a lot of assets, and we mean A LOT. If that wasn't the case, you wouldn't need a DAM in the first place. With the numerous amount of files being created, let's now look at how a DAM system will help you manage these assets.
Central Asset Location
Most organizations today have a large number of digital assets that need to be stored in a system where people can access them as needed. If you're in eCommerce and using a Product Information Management (PIM) system, the need to integrate your DAM is even greater. Commonly, these assets tend to get stored in multiple places across multiple systems like Google, DropBox, and the local computers of the editors and authors who generate them. Often, this can lead to multiple versions of the image being created where no one knows just exactly where the original or correct image lives. This is ultimately how you end up with the incorrect image asset being used in a marketing campaign.
DAM systems are cloud-based, which allows you to store all of your assets in one central place. Having one central location helps to establish a system where the authors of your assets always know where an asset is located and have access to the correct versions. This helps reduce the chance of duplicate images floating around on various systems in various places, ensuring the right image ends up in the right campaign. The system also lets you search for assets! So if you are trying to find a brand-approved image of "girl in jeans," you should be able to type this query into your DAM and locate all appropriate and approved images.
DAM Workflows
Preparing your digital content for launch often requires a lot of steps, between edits to the image, copy edits, placement decisions, and finally publishing. First, the art is submitted and then it gets sent off for review via email, uploaded to a new place, emailed back to the designer for edits, and uploaded again to a new system for approval. Workflows like this can take up needless amounts of time, causing project delays and creating inconsistencies from project to project.
DAM systems provide workflows to help move your digital assets through this process, allowing teams to communicate directly in the system and move assets along through the process quicker. Say goodbye to long email threads and Slack messages between team members as they work on tasks, because now the DAM will track all tasks for you.
Asset Version Control
Often before an asset is approved, it goes through many a round of revisions. Without a system in place to track these revisions and store the version history, knowing which is the approved asset or trying to compare the new version to a previous version is nearly impossible.
DAMs have a system in place to provide version control for all your assets. This allows authors to check out an asset and make changes without having to worry about other editors losing their work or making unknown changes to the content. Having this in place, along with supporting workflows, gives you a version history of your assets which can be helpful in determining how many revisions an asset went through, where all it was placed, and/or if you need to restore a previous version of an asset.
Manage License Agreements
Not sure if that image from your summer campaign three years ago is still ok to use? Your DAM does! Do you still have permission to use that stock image you bought last month on social? Your DAM knows if you can! In addition to the above benefits, your DAM will help track and manage license agreements.
Having the ability to manage your license agreement from within your DAM helps you keep track of when asset licenses are about to expire and the image can no longer be used. With this information at your fingertips, you can take down images you no longer have the right to use before it becomes a problem.
DAM System Integrations
Nowadays, most organizations are on several digital platforms, ranging from social media to websites to blogs to apps. Keeping track of the vast amount of assets you have ranging on these platforms can be tough. What image did you add last week on Facebook, and is the one you are using this week different? Or say you have a campaign running and you want to coordinate images across all platforms, how do you ensure the right image is sent off to the correct platform? Sure, you could send them over in an email and hope it makes it to the right channel, but there has to be a more guaranteed path.
A good DAM system will integrate with all of the various marketing channels you use, including your websites and social media platforms. This allows you to easily distribute your assets across each of your platforms, track their placements, and also be able to take them down quickly as you need. Having these integrations in place provides more control over brand consistency and gives you trackable data on the usage of your assets.
Finding the Right DAM For You
Now that you understand why a DAM could be essential to your organization, let's discuss some DAM options.
Popular Digital Experience Platforms (DXP) like Adobe and Acquia both have their own DAM systems that are included in their offerings if you operate on the paid versions.
Adobe's DAM system lets you find, edit, manage, and deliver assets all in a single solution from within Adobe Experience Manager (AEM). If you are already running your site through AEM, we'd highly recommend you explore this option.
Acquia's DAM system integrates seamlessly with Acquia's experience platform, including Acquia Lift and Acquia Cloud. Acquia offers two versions of its DAM — DAM Starter and DAM Professional, depending on what tier level you will need for your DAM solution.
Other popular DAMs include Aprimo, Bynder, and Canto. Nearly every DAM salesperson is going to tell you that their technology can scale effectively and that there are no limits to the amount of assets it can handle. That might be true for 90% of use cases, but the stakes are too high for you to blindly accept it for yours. Do your homework. Find real people in your business network such as a trusted implementation partner that is using the technology in the most extreme use cases, ideally more extreme than your own.
Many less prominent DAM products do a fine job of the basics of asset management and perform well when asset volumes are moderate, only to start faltering with multi-second response times as you try to migrate more and more business units onto the platform, frustrating users, turning the tool into a liability, and forcing the overall effort to be abandoned short of the goal.
Grow Your DAM With Your Business
As your company continues to grow and becomes more sophisticated, your people and processes need to grow as well. What used to work for a small website doesn't always continue to work for distributed teams and global traffic. DAMs can help ensure content is safely stored; the correct asset versions are being used and license agreements tracked, and is integrated with your most important channels. Ultimately, this ensures that you deliver the best and most consistent brand experience, no matter your office size or distances between teams.