Acquia To Acquire AgilOne, Expands Customer Data Capabilities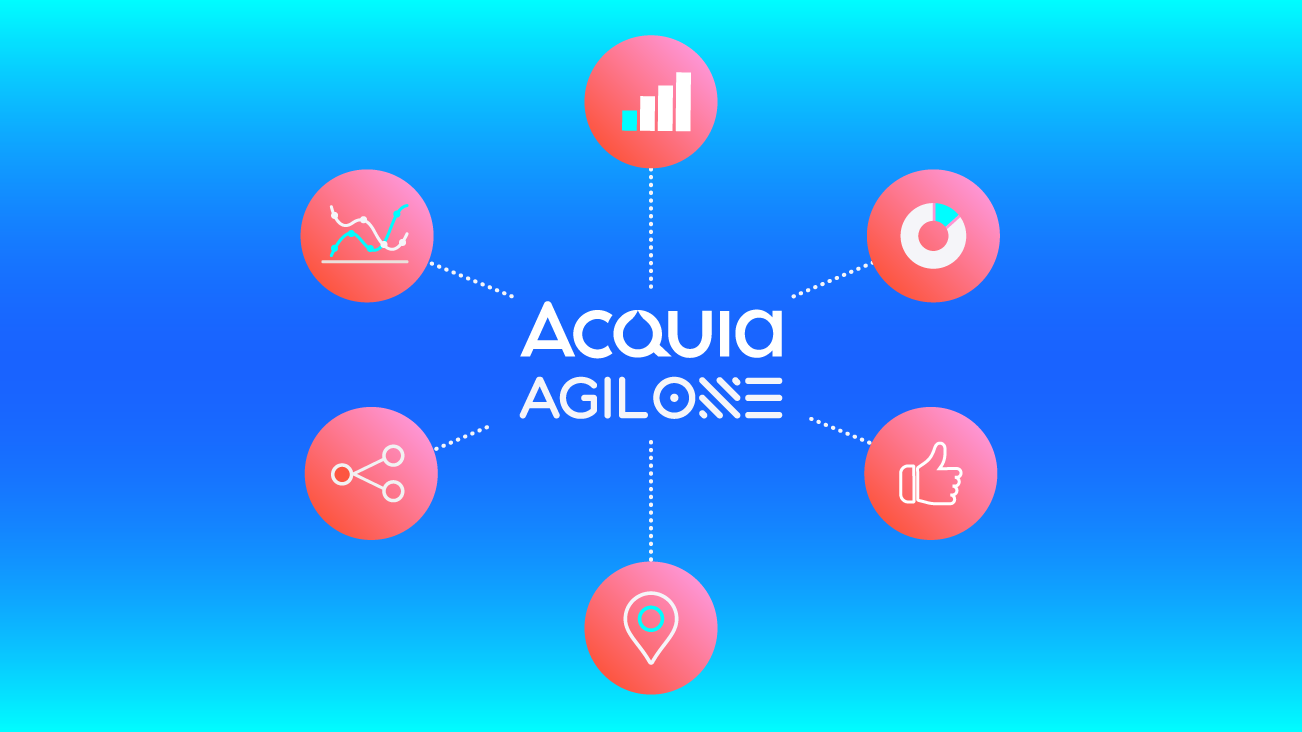 Acquia announced today its plans to acquire AgilOne, an enterprise customer data platform provider, to incorporate into its marketing cloud offerings. At Bounteous, we're very excited about this — it represents a huge leap for Acquia's capabilities to bring together customer data for AI modeling and marketing activation.
AgilOne is a customer data platform (CDP), which is an emerging category of tools in digital marketing. If you're not familiar with the idea of a CDP, let's first have a quick primer, and then talk about how this fits into Acquia's offerings.
What is a CDP?
The digital marketing landscape is continually and rapidly changing. Every brand wants to be able to pursue personalization that recognizes customers across varied channels to build relationships and drive conversions. To do that, organizations need capabilities and tools for bringing together customer data in unified profiles, using that data in analysis and modeling to target personalized experiences, maintaining content for those experiences, and connecting and orchestrating across channels including web, mobile, social, email, and advertising.
CRMs, DMPs, and data warehouses are all tools that represent data about users, but their focus is on sales, advertising, and business intelligence — CDPs focus squarely on the challenges faced by marketers in interacting with those data sources and destinations for analysis and marketing activation.
AgilOne and Customer Focus
AgilOne, founded in 2006, specializes in the combination of customer data from online and offline sources — simplifying the process of merging sources through cleansing, deduping, and stitching together powered by machine learning. Modern APIs make it easy to bring in real-time data from third-party tools, unifying data around a customer's interactions, preferences, and more.
Together with Acquia's suite of products, we can see immediate use cases for activation of this information and segmentation of users, from bolstering the timing and targeting of onsite personalization via Acquia Lift to reacting to real-time triggers with messaging powered by Mautic. AgilOne opens up many additional possibilities for data activation through its connectors to a vast array of martech and adtech, including opening up connections to DMPs and advertising onboarding tools like LiveRamp to reach customers in additional channels, as well as advertising to lookalikes.
AgilOne also brings strong machine learning capabilities, with built-in predictive models and automated segmentation that are easy for non-technical marketers to leverage, as well as opening up data for easy analysis with many BI and visualization tools and for modeling by data scientists.
Acquia's Continued Growth
With a steady stream of product upgrades and acquisitions, Acquia has quickly cemented its role as a full-scale digital experience platform. In 2019 alone, Acquia has acquired three companies and taken on major investment to help support its overall goals of a unified customer experiences. With Mautic for marketing automation, Cohesion for low-code collaborative website building, and now the addition of AgilOne as a CDP, we're excited about the future of Acquia's DXP and the possibilities it unlocks.