Acquia Engage 2019: Optimizing Digital Experiences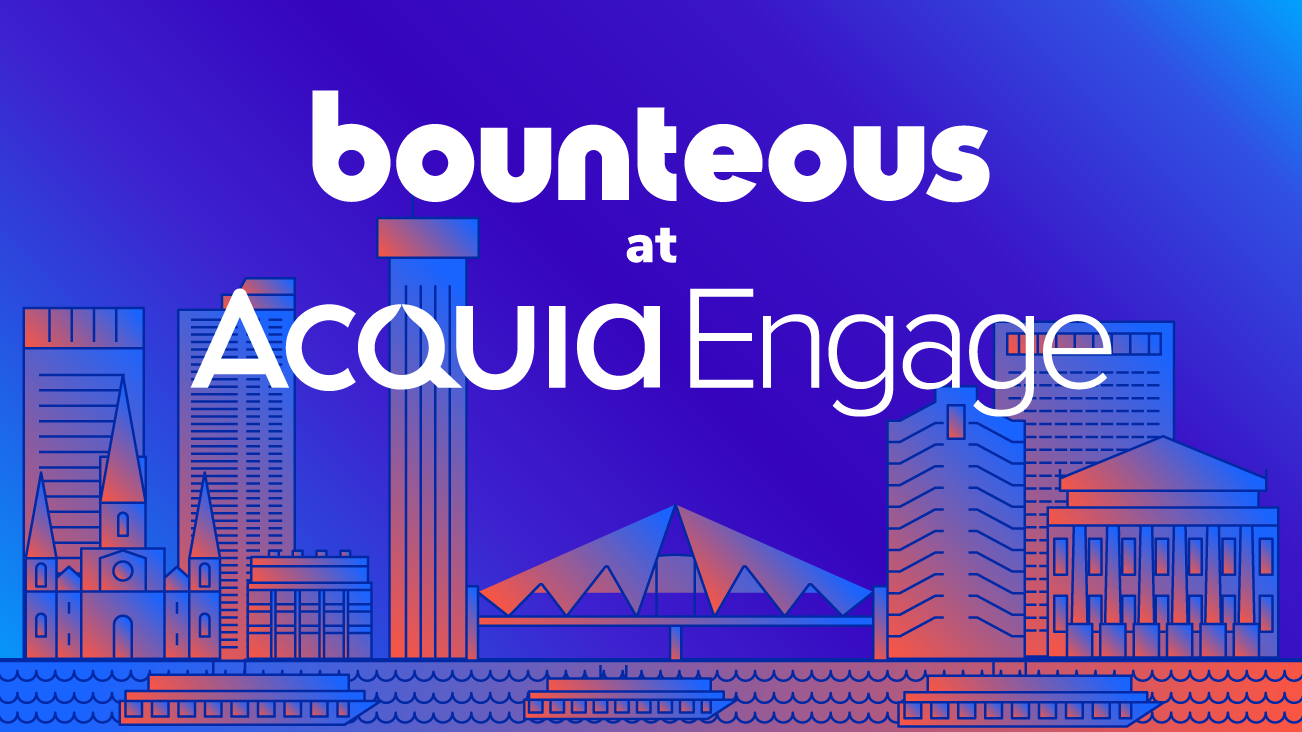 The team from Bounteous played a big role at Acquia Engage 2019, which took place in New Orleans. While we could speak at length about how Bounteous contributed, including keynotes, sessions, and sponsorships, we also want to share what we observed while there for those who couldn't attend. 
High-Level Key Takeaways
Before we take a deep dive into our observations and learnings, our team pulled together the most compelling key takeaways from Engage:
Personalization is more important now than ever before. Not only do consumers expect a personalized experience, but as brands continue to evolve in this space, you won't want to fall behind!
Acquia is now a more robust digital experience platform comprising of a suite of cloud products: Drupal Cloud, Content Cloud, and Marketing Cloud. Recent acquisitions of Cohesion, Mautic, and AgilOne provide a comprehensive set of digital offerings.
Omnichannel technologies will provide a competitive advantage in coming years, offerings like Mautic and Content-as-a-Service (CaaS) fit this categorization.
Drupal, with Acquia's suite of products and partners, is enabling organizations like NOAA Fisheries, World Vision, and many others to tell their story. Acquia Digital Experience Platforms are a viable option for enterprise businesses.
The Acquia Clouds
For those developers who have been working on Acquia's platforms for years, you've likely come to know Acquia Cloud very well. However, that is just one piece of a larger ecosystem, and Acquia's recent acquisitions of Cohesion, Mautic, and now AgilOne all contribute to the big picture. Now, you can think of Acquia as a set of clouds: Drupal Cloud, Content Cloud, and Marketing Cloud (Check out Acquia's recent post for a more in-depth overview.).
Drupal Cloud
This suite of technologies focuses on Drupal-centric offerings, which include everything from hosting (Site Factory, Cloud, Edge), to site building (Cohesion, Lightning), to development tooling (Developer Studio).
Content Cloud
Acquia has had the Digital Asset Management (DAM) and Content Hub offerings for some time, but has recently added a Content-as-a-Service (CaaS) offering. Mark Grannan, a senior analyst for Forrester, led a session in which he spoke about the value of omnichannel products like CaaS. He anticipates these omnichannel solutions will be competitive in the coming years.
Marketing Cloud
Those powers combined with Marketing Cloud make a coherent picture for the needs of enterprise businesses. The Marketing Cloud includes Lift, Journey, and AgilOne for analytics and content personalization, and Maestro and Mautic for managing communication campaigns across multiple channels.
Source: https://www.acquia.com/blog/acquia-showcases-platform-cdn-marketing-cloud-and-more-engage-2019
Breakout + Mainstage Session Highlights
Community Health Network Breakout Session
Community Health Network's (CHN) breakout session was a great demonstration of marketing and analytics coming together to create a better digital experience for healthcare consumers. The team started with the goal of understanding what content was important to their consumers. In order to identify the information a patient was seeking, CHN used a combination of CRM data, paid social campaigns, and Acquia Lift to measure what content the different personas were consuming on the same landing page. 
The team used UTM parameters to identify which persona was visiting the landing page and Acquia Lift events to measure engagement with a variety of content blocks. The data revealed that each audience had a significantly different goal they were trying to achieve based on the CTA's they interacted with. Armed with this knowledge, they began creating personalized user journeys with Acquia Lift to achieve a significant improvement in conversion rates and site engagement. 
If you're interested in learning more about Community Health Network's journey towards personalization, this webinar is a great example of the Crawl, Walk, Run framework in use.
Lift 4.0 Breakout Session
Acquia's Eric Fullerton led a breakout session showcasing the new features in Lift 4, demonstrating how easy it is to migrate from Lift 3 to 4, and explained Acquia's three-step approach to personalization. Let's first take a look at the new features in Lift 4 and how-to upgrade from Lift 3. 
Updates in Lift 4
No more browser plugin! Slots are created in the Lift platform to allow marketers to point, click, and personalize within the platform
The segment selector allows users to preview all personalized experiences on a page
Ability to schedule experiences
A new dashboard providing a global overview of active campaigns and campaign performance
A campaign calendar showcasing all of the active and planned campaigns which allows a user to drill down into individual campaign performance
Upgrading to Lift 4
The team at Acquia put in the time to ensure the transition from Lift 3 to Lift 4 is as smooth as it could possibly be without interrupting any of the personalizations that are currently running on your website.
Submit a support ticket requesting an upgrade to Lift 4
Login to the new Lift experience at app.lift.acquia.com
Ensure your customer sites are configured correctly in Lift by clicking Configure in the top navigation and Customer Sites in the side navigation
Migrate any existing campaigns by using the migrate function
Update the Assets URL to builder.lift.acquia.com in the Acquia Lift Configuration Settings
Ready for a migration or want to learn more about Acquia Lift 4? Check out Acquia Lift Version 4 Getting Started for more information!
Crawl, Walk, Run Approach
Marketers get all giddy at the thought of personalization and the ability to deliver the right message to the right person at the right time. However, getting one-on-one personalization right is extremely difficult and requires time and data… lots of it! To get your feet wet with personalization Aquia proposes a Crawl, Walk, Run approach.
Crawl Phase
These are generally low effort and easy to implement with the data you are already collecting. Define personalization rules based on:
Geolocation
Device type
Visit frequency
Marketing campaigns 
Walk Phase
This phase requires additional data collection and will focus on creating experiences that are based on user behavior. During the "walk" phase, define personalization rules based on:
Browsing behavior
Pages viewed
Events completed
Run Phase
When you're ready to "run" it will require even more data and integrations with third-party systems such as a CRM or BigQuery if you are using Google Analytics. As an example, in the walk phase, if you were a financial service company you could take the information you already know, like geolocation, visit frequency, and known information, and combine it with data captured by a financial advisor in-person and via chat to help inform the next best action. This could possibly include sending information about a specific service, such as savings accounts or loan services. Another example would be to take data from a variety of sources (CRM, analytics platform, and a personalization platform) and use machine learning to find less obvious segments to include in your marketing efforts. 
NOAA Fisheries Mainstage Session
One of the sessions on the main stage was put together by Roy Varghese at NOAA Fisheries. If you're conscious of the environment, you've heard groups advocate for saving our sharks, coral reefs, sea turtles, and all the other beautiful creatures in our seas. Contrast that with the fact that the fishing industry supports 1.7 million jobs and brings in $212 billion of revenue each year. Keeping these two stakeholders happy is what NOAA does: the ocean sharks and the land sharks.
Using their digital presence to educate and share research is obviously a key component to their organization. Unfortunately, their customer satisfaction for their website was less than 50 percent! Roy told the audience about their digital transformation and here's what resonated with our team:
Know who you are. If you don't know your purpose and values as an organization, you'll find it extremely difficult to navigate the many decisions your team faces during a redesign and replatform.
Create a vision for the future. Ok, you know who you are, but where are you going? In the spirit of healthy competition, NOAA's was "Let's beat NASA!"
Build strategic partnerships. Executing a vision takes a team — you can read the DMN interview that talks more about why NOAA Fisheries chose Acquia.
Great ideas come from anywhere. Roy listed a number of innovations that made a big impact for NOAA Fisheries that did not originate from leadership. As you rethink your digital presence, be open to ideas that didn't originate from the immediate team doing the replatform.
Deliver emotional experiences with a vision of the future. How do you inspire change in a $212 billion industry? You need more than just a digital presence, you need a story. If your story doesn't connect with your audience you'll miss out on your vision.
And, NOAA Fisheries didn't miss out. Their traffic increased 150 percent, satisfaction rose to 75 percent, and they beat NASA for the 2019 Webby Award! You can read the case study on how this all happened on Acquia, and while the recording for this session at Engage is not available you can listen to the one from GovCon here, which is similar.
World Vision International Breakout Session
When you think of compelling stories, you may think of World Vision International. For some 70 years, World Vision has been connecting the affluence of the world with the needs of the world. Primarily, they do this through donations received through their website and leveraging those funds to respond to emergency situations in over 100 countries.
John Snyder, who oversaw the replatform, talked through the various challenges their organization faced. There were four challenges that stood out:
Challenge One: Focus on what's important at the exclusion of everything else. If you've had the privilege of being part of digital transformation projects, you know the most difficult part is defining what needs to be done. That's been true since the dawn of software (see Fred Brooks' essay "No Silver Bullet"). So, to hear the manager of the World Vision project articulate that problem immediately captured our attention.
He also quoted Leonard Bernstein: "To achieve great things, two things are needed; a plan, and not quite enough time." If you study project management, you'll find this idea is acutely described in Eliyahu Goldratt's book "Critical Chain." We were under the impression that John understood the spirit of the idea which is what we know as Parkinson's Law, "work expands so as to fill the time available for its completion." By making a plan and limiting the amount of time you have to execute that plan, it helps guarantee you are focusing on what's important at the exclusion of everything else.
Challenge Two: Have a wrangler who can say "no." Especially as the size of an organization grows, the complexities of communication and decisions grow too, perhaps exponentially so. When you need a lot of work done in a short timeline, you need quick decision making. Any delays, even small, will amount to significant impacts on time available, which translates to a reduction in scope or increase in cost. Having a single voice for the project team ensures they can wrangle stakeholders to a decision, but they need the influence to be able to say "no" to those stakeholders if needed for the sake of the project.
Challenge Three: Achieve uniqueness the right way. This is the "commodities vs. collectibles" problem. You see, World Vision being involved in over 100 countries means they have over 100 websites, each with a unique story to tell. If you're a software architect, you know that achieving uniqueness the wrong way means you have 100 collectible websites. Each website is special and needs to be maintained that way. Achieving uniqueness the right way means you have commodity websites that have low maintenance and are easily reproducible. This is the pitch for Acquia Site Factory! And, it met a perfect need for World Vision. But, this meant people like John and various stakeholders have to make those tough decisions about what functionality will be consistent across all of those sites, and how to make the user's transition between sites very clear.
Challenge Four: What gets measured gets managed, and what gets managed gets better. If you're capturing 95 percent of what you can measure, but it's not the 5 percent of data that really matters, it's an exercise in futility. Start by identifying Key Performance Indicators (KPIs), such as campaign conversions. Measure those and make improvements to affect those KPIs.
World Vision saw a 61 percent increase in newsletter conversions within 30 days of launch! They were able to take over 100 highly decentralized websites and build a highly maintainable experience with meaningful results. You can read more about their story in the Acquia case study.
Resources
If you didn't get a chance to see us at Engage, we've got a few resources you can check out:
We look forward to being part of the expanding Drupal ecosystem with Acquia in the New Year and seeing you all in Miami for Engage 2020!