Press Release: Bounteous Partners with EnterWorks to Deliver Differentiated Commerce Experiences for Brands Embarking on Digital Transformation Journeys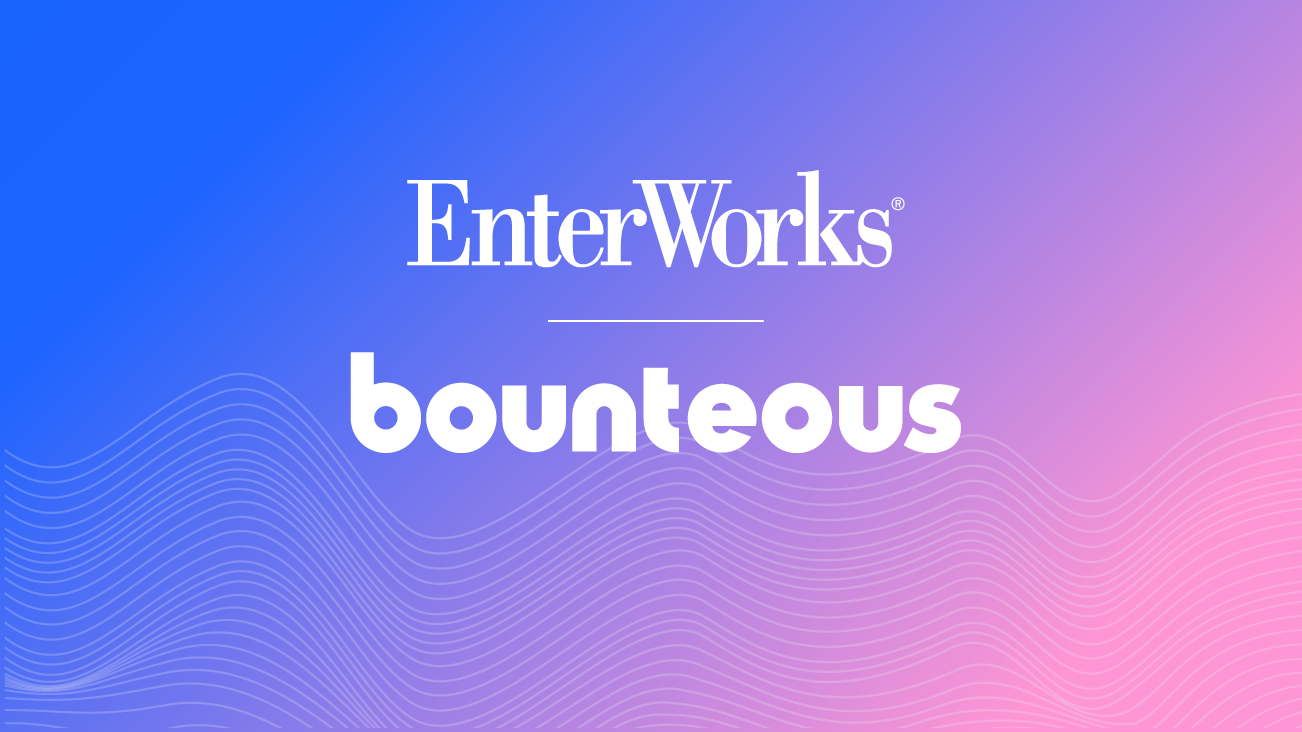 Bounteous and EnterWorks combine their strengths across data and experience management in enabling brands, retailers, and restaurants to personalize consumer engagement
CHICAGO / STERLING, VA — Dec 20, 2019 — Bounteous and EnterWorks today announced a content and commerce partnership to deliver holistic, digitally-powered foundations for consumer-facing companies. EnterWorks, a leading provider of Master Data Management (MDM) and Product Information Management (PIM) solutions, brings its superior technology platform, Enable, to the partnership. Enable is an advanced evolution of MDM known as Multi-Domain Experience Management (MxM), comprising converged MDM, PIM, DAM, and portal technologies. Bounteous brings a collaborative, cross-disciplinary model for digital commerce that enables their clients to create rich, relevant customer experiences that drive results.
"All commerce companies know that compelling experiences for their customers are based on converging data and digital assets in a personalized manner at the right time in a consumer's journey. This is especially the case when it comes to larger, global brands which have to navigate differing expectations of digitally-empowered local consumers," said Jean Bordelon, Director of Data Management at Bounteous. "EnterWorks brings the rigor of essential back-office technologies together with experience management capabilities to help us create a powerful, demand-side offering."
Focused on creating complete digital solutions, Bounteous is not only able to leverage their data management skillset and experience to implement EnterWorks MxM, but can also work across departments to ensure that the solution is optimized across all digital platforms. Working together, EnterWorks and Bounteous provide companies with the digital tools and services to execute personalized, differentiated engagement with their customers.
"We partnered with Bounteous because of their collaborative approach in implementing core product information technologies and experience management enablers, such as our MxM platform," said Rick Chavie, GM at EnterWorks. "Their strengths in digital strategy and analytics are complementary to our technology strengths, especially in leveraging the power of MxM to create the best Experience Lifecycle Management results in the industry."
About Bounteous
Founded in 2003 in Chicago, Bounteous creates big-picture digital solutions that help leading companies deliver transformational brand experiences. Our expertise includes Strategy, Experience Design, Technology, Analytics and Insight, and Marketing. Bounteous forms problem-solving partnerships with our clients to envision, design, and build their digital futures. For more information, please visit www.bounteous.com.
For the most up-to-date news, follow Bounteous on Twitter, LinkedIn, Facebook, and Instagram.
About EnterWorks®, a Winshuttle Company
The EnterWorks Multi-Domain Experience Management (MxM) platform is focused enabling top and bottom line P&L outcomes, compelling customer experiences and is comprised of the core components of Master Data Management (MDM), Product Information Management (PIM), and Digital Asset Management. EnterWorks works across a wide variety of verticals in hardlines, softlines, food and CPG and incorporates a B2B2C network approach in serving consumer and industrial brands, wholesale distributors and servicers, and retail and dealer sellers. Additional solutions offered include: Portals for Suppliers, Sales, and Service; Golden Record Management; Data Stewardship; MDM Workflow & Business Process Enablement; Data Governance; Data Syndication, Digital Asset Management, Print Automation; and a variety of 3rd party integrations.
EnterWorks is highly ranked by various research analysts and used by industry leaders such as: Ariens, Big Rock Sports, CPO Commerce, Creative Converting, Darigold, Fender Musical Instruments, Guthy-Renker, Hearth & Home Technologies, HON Furniture, HP Hood, Interline Brands, Johnstone Supply, Mary Kay, Mercer, Orgill, Publishers Clearing House, Restoration Hardware, Strategic Market Alliance, US Foods, and W.B. Mason. Learn more at enterworks.com.
All logos, company and product names are trademarks or registered trademarks of their respective owners.