Addressing Accessibility Concerns for Virtual Conferences — A Case Study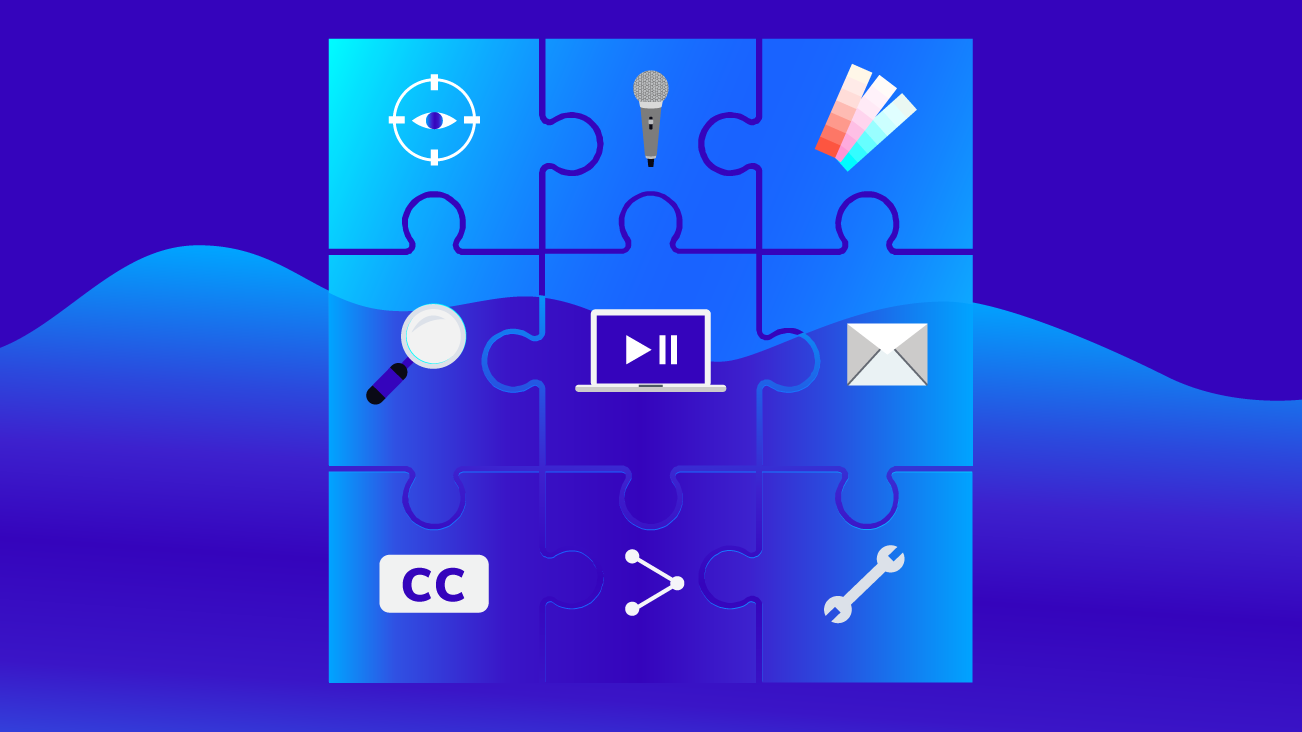 Welcome to the world of virtual conferences! While there have always been entirely-digital conferences, this year will mark a shift as many organizations are forced to consider converting their previously planned in-person events and conferences to a digital format. For both organizers and attendees, these will be new experiences with different challenges.
As conferences scramble to digitize their offerings, logistics will likely take a front seat in order to make sure the events run seamlessly and any technical challenges with registration and execution are addressed. This is not, however, a time to forget about accessibility and the conference experience. Instead, take this opportunity to consider all of the participants and the unique challenges that many may face as they log on and attend your virtual event.
Bounteous + MidCamp
For the past seven years, Bounteous has contributed to the Midwest Drupal Camp through sponsorship, volunteer organizers, speakers, trainers, contributors, and more. Drupal Camps are often regional events where members of the Drupal community convene to share knowledge of Drupal. With camps around the world, each is different and present great ways to talk about new technologies, best practices, complementing technologies, self-development, and more.
Midwest Drupal Camp (MidCamp) 2020 was the seventh annual Chicago-area (turned virtual) event that brings together designers, developers, users, and evaluators of the open source Drupal content management software. Attendees come for three days of presentations, contribution sprints, and socials while brushing shoulders with Drupal service providers, hosting vendors, and other members of the broader web development community.
This year, Bounteous was excited for the best MidCamp yet, with several of our teammates on the organizing committees and a full roster of engaging speakers, including many traveling in from out of town. But due to the worldwide COVID-19 response and concerns for the health of our community, the organizers of MidCamp had to reconsider the implications of hosting the event. In one week, they agreed on the difficult decision to change MidCamp from an in-person event to a 100 percent virtual event.
What followed was a whirlwind week with a small, yet mighty, group helping to coordinate and communicate changes for one of the first fully-virtual conferences in Spring 2020. As many tackled how to logistically pull off a virtual conference, the committee that I served on, the accessibility committee, tackled a different set of challenges. How could we ensure that everyone — everyone — would have a consistent and thoughtful experience during and after the conference. While we had been planning MidCamp's accessibility goals for months, this opened up new questions and new opportunities for us to create an inclusive experience.
As other conferences consider "going virtual," we've highlighted key areas that we focused on as a roadmap and checklist for your upcoming events. When possible, we'd encourage everyone to take advantage of digital and all it has to offer, new tools and features as well as distributed volunteers to create amazing and authentic, live experiences.
An Accessibility Case Study: 2020 MidCamp Goes Virtual
The accessibility committee needed to quickly evaluate how this change to virtual attendance would impact our participants. The following checklist was used to ensure the event was accessible for everyone before, during, and after the event.
Virtual Event Accessibility Checklist
Ensure the registration website conforms to Web Content Accessibility Guidelines (WCAG).
Ask participants upon registration to identify any additional accommodations they need to fully participate in the event.
Email communications and Twitter accessibility.
Share presentation slides before the event.
Set expectations with speakers and participants before the event.
Provide live captions during the event.
Offer live support during the event.
Provide transcripts on the website after the event.
Provide captions for recordings after the event.
Before the Event
Registration Website 
MidCamp performed an accessibility audit to ensure users were able to sign up for the event and access crucial information on our site. For registration, we needed to make color contrast adjustments to our registration form. Our online ticketing vendor, Tito, was outstanding at supporting our accessibility needs.
There are many accessibility checker tools you can use to run an accessibility audit for your site. However, these tools can never replace human review to identify potential issues and elements that may be confusing or misleading. We suggest you use this WCAG checklist in addition to any accessibility checker tool. We used both manual checking and the SiteImprove browser extension.
In addition, on the MidCamp registration form, we asked participants to let us know if they needed any additional accommodations. The accessibility team reviewed each request and reached out with a one-on-one message. Note, however, that MidCamp did not require registration once we shifted the event from in-person to virtual, so some potential accommodation requests may not have reached us.
Each message to participants began with the following communication:
"Hello!
I'm on the accessibility team for MidCamp (along with my other team members cc'd on this email). You indicated on your registration that you have an accessibility request. Please let us know your needs and we will do our best to provide accommodations.
Be assured that we take your request seriously and strive to have the most inclusive environment for everyone. Our aim is to listen and advocate for you.
Thanks again for registering for MidCamp. We're excited to have you there!"
Email Communications and Twitter
We reviewed our email templates and any communication up to and during the event for potential accessibility issues. This included making our Tweets more accessible. Important information and essential calls to action needed to be clear and actionable for everyone that would attend MidCamp.
Presentation Templates
MidCamp provides slide templates in a wide variety of formats that have been evaluated for accessibility. The templates have been reviewed to ensure proper color contrast, font size, and slide transitions. These are provided on the Speaker Resources page.
Consider the differences between a live event and an online event. Instead of a separate captioning monitor, speakers may have captions overlaid on their slides depending on the platform and technology used. Communicate this information to speakers in advance, and review early submissions. Ensure that all attendees will receive a quality experience regardless of whether captioning is turned on or off.
Share Presentation Slides
Speakers were encouraged to upload and share their presentations ahead of the event on the MidCamp website. We let speakers know that they have the ability to upload and we also provided the following explanations on why this is helpful. Sharing ahead of the event allows participants to:
Download the slides and increase the size of graphics that may appear small during the screen share;
Set up the use of a screen reader;
Prepare in advance of the session so they can follow along if they are not native English speakers;
Understand the information at their own pace.
Set Expectations for Speakers
MidCamp held three separate training sessions prior to the event to answer speakers' questions and review the logistics so speakers felt comfortable and prepared. This allowed time both to make accessibility accommodations for speakers and to let speakers know our team's expectations for putting on an accessible event.
After reviewing the technical logistics, we also provided speaking tips such as:
Speak clearly. And avoid speaking too fast, so participants and live captioners can better understand you and keep up.
Use plain language. Make all information as clear as possible. New vocabulary/techy words are nice to have written on slides, especially for those in the audience who are not native English speakers.
Describe pertinent parts of graphics, videos, and other visuals. Describe them to the extent needed to understand the presentation.
All sessions professionally captioned. MidCamp was able to provide live captioning through the Zoom interface by working with event sponsors.
Transcripts available later. Transcripts were created from the live captioning and added to session pages on MidCamp.org after the event.
Take advantage of the digital tools. Presenting online offers a number of new features and tools to measure audience engagement and participation, like chat and non-verbal responses. Encouraging participation would help replace the in-person cues.
Set Expectations for Participants
MidCamp notified participants that we were going to use the application Zoom to host the event and use the application Slack for communication during the event. This allowed participants time prior to the event to download the necessary applications, learn more about each tool, create accounts, and join the event sessions as well as participate in discussions.
MidCamp modeled our Zoom set up on a physical conference environment. The Zoom invitation links were defined as rooms, with one link for each room. Participants were able to visit the site schedule, click on a Zoom invite link, and join a session at the selected time. All times were listed in Central Daylight Time to lessen confusion for participants across time zones.
MidCamp Slack was used for communications and discussions during the event. Speakers encourage using chat functionality in Zoom for questions and comments to the speaker during the actual session. A Zoom room monitor facilitated questions and answers on behalf of the speaker. The Zoom room monitor also notified participants of MidCamp's Code of Conduct, which was modified to accommodate the virtual format of the event.
During the Event
Provide Live Captions
MidCamp provided live captioning during all sessions. With the financial support of sponsors, we were able to use Alternative Communication Services (ACS) for remote captioning. We used ACS's remote CART* service to provide an instant, realtime transcript accessible by all viewers during the event.
We had one captioner from ACS in each of our five virtual rooms at our event. Note that captioners are real people and are not an automated speech to text captioning tool.
Zoom provides an easy way to provide captions. We were able to assign the captioner permission to type Closed Captions for each session. Participants were able to turn on or off captioning by clicking the "CC Closed Captions" button in the Zoom interface.
*CART stands for Communication Access Real-time Translation
Offer Live Support
MidCamp ensured that organizers of the event were available to help participants. This included the following activities:
Directing participants to the correct Zoom link.
Checking into each Zoom virtual room prior to the session to ensure there were no technical issues.
Ensuring live captioning was functioning properly for all virtual rooms.
Monitor any Code of Conduct violations.
After the Event
Add Transcripts To Your Site
ACS provided transcripts for each session, which were then added to each individual session on the MidCamp website. View an example of a transcript on the MidCamp site by scrolling to the bottom of the Live Captioning presentation page. Adding the transcripts helps us reach an even wider audience by providing SEO (Search Engine Optimization) value for our site.
Adding transcripts to session pages of the website made each page very long. We made an adjustment to the theme styling to contain the text for the transcript within an element that scrolls. Note that this update to the MidCamp site is keyboard accessible, which allows more users to navigate properly to read the transcript.
Provide Captions for Recordings
Thanks to Bounteous' sponsorship, MidCamp recorded each session and made them publically available on YouTube and Drupal.tv. While YouTube provides automatic captioning upon upload, the speech recognition technology is not always accurate. For example, "MidCamp" would be auto captioned as "mid kant" in videos.
For that reason, we had ACS provide the transcripts in SRT format so we could upload it to YouTube to improve the accuracy of the captions in the videos. View this support article to learn how you can upload your own subtitles and closed captions. Note that this was an additional cost and service provided by ACS in addition to the remote CART service.
A True Virtual Success
Together, our team of technologists and accessibility experts helped pull off one heck of a turnaround, with the efforts of many succeeding in delivering a fantastic experience. Our volunteers, speakers, captioners, and attendees were engaging and responsive, helping to make our virtual event a true success.
"Thanks for bringing the community together despite the adversity you were dealt. It was a very positive action and outcome during these wild times. I know it wasn't easy, so thank you for your hard work and dedication."
Interested in more about how MidCamp went from an in-person event to 100 percent virtual? Check out the following podcasts: