Digital Toolkit: Tools & Resources for Organizing A Virtual Fundraiser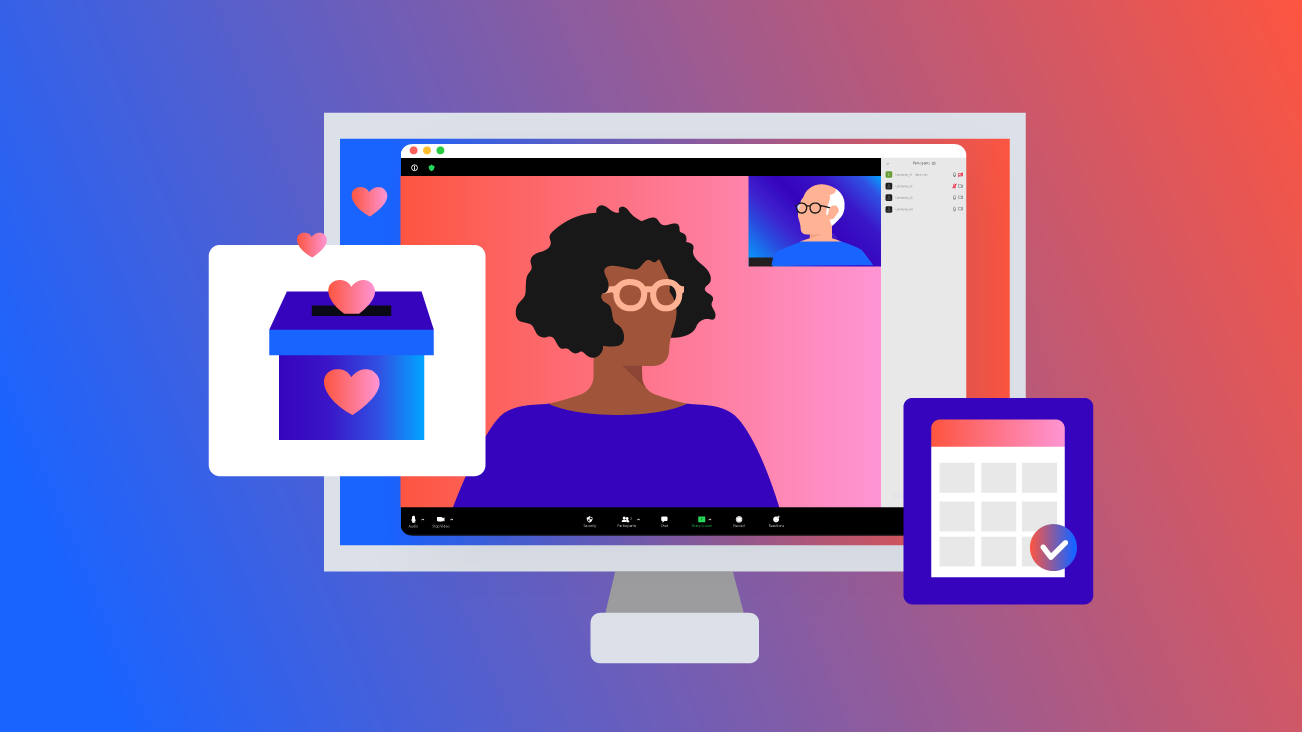 Even before 2020, almost every aspect of our lives had already begun to embrace all things digital. Social media connected us to our communities, video conferencing allowed us to spend quality time with friends and loved ones from afar, and cross-team collaboration at work became easier than ever with countless online tools.
Our world has changed so much since Spring 2020, but one fundamental that has remained the same is that organizations need help raising money. And although it may seem that going virtual was forced upon us due to COVID-19, many would argue that this is where the future of fundraising was heading anyway. How we host and promote events is changing, and while that change may be temporary, many charities, especially smaller and local charities, are using this time as an opportunity to embrace technology like never before.
While hosting virtual events certainly has its tradeoffs, there are a number of benefits that can be realized. When fundraising online, it can often save the organization both time and money, it expands an organization's reach of donors, it's faster to implement, and it's easier to analyze results in real-time.
So how do you take an in-person fundraising event, like a golf outing or a bake sale, that has proven successful in the past and convert it into a digital format?
That's where we come in! Let us be your guide to the world of digital marketing. We've assembled the perfect toolkit for understanding your options and determining the approach that will make your organization's digital fundraising event as lucrative as possible.
For many, all you'll need is a combination of tools and education to run an event on your own! There are many free tools and platforms out there, though your costs scale as you either attract higher participation or you attempt to own more branding and experience components. Below, you'll find a step-by-step process for the questions you'll need to ask and the decisions you'll need to make as you plan your virtual events.
Ideas for Great Virtual Events
Once you've decided to host your event virtually, there are a few more things to consider. Many organizations have been raising money for years and are simply looking for how to convert an in-person event to a virtual one. Or, you may be in a position where you're looking for a brand new idea. Probably the most difficult (but fun!) decision you'll need to make is what kind of virtual event you'd like to have.
If you're looking for a new event idea, engage your community and planning committee, ask for recommendations, or look for inspiration on other sites, like GiveForms and Bloomerang. There are so many fun options out there; it can be hard to choose. To narrow things down, try thinking about 1) what will motivate your audience, and 2) what resources you can leverage in your community.
For example, if you're fundraising for a health-focused charity like a foundation for heart disease awareness and education, perhaps a virtual event that incorporates physical activity would be a good idea. A virtual race, walk-a-thon, or physical competition could not only engage the active members of your community, but also pay tribute to the cause that you are supporting.
Perhaps the cause you are championing is locally-focused, like a city council or school. Hyper-local events often benefit from engaging the community—an online auction could be a great way to involve the same people who will benefit from the fundraising. Consider asking local businesses, vendors, and suppliers to contribute services or products as prizes or as part of an online auction, as well as assisting in promotion.
If you've got a subject matter expert for your intended cause and they're willing to donate their time and expertise, an educational webinar could be an excellent option. For instance, we recently assisted with hosting a webinar for a nonprofit organization focused on women's health. The organization leveraged a prominent member of their medical community for an educational discussion around vital women's health issues. Keep in mind, with a virtual event, you can have participants join from anywhere in the world, so you may be able to include guests that would typically be unavailable for an in-person event.
Discuss with your committee and your community what you think the best, most-engaging event would be for your fundraiser!
Picking the Right Tools for Virtual Event Planning
You've decided to host your event, and you've narrowed it down to a specific idea that you think is going to generate excitement, and more importantly, donations. Now comes the task of figuring out how to host the virtual event. Whether it's live streaming, hosting a simple landing page with donate buttons and calls to action, or utilizing an existing platform's functionality, there are plenty of options that can fit your needs—and your budget.
In general, you'll find three types of options for every challenge you'll face: free tools, paid tools on third-party sites, and custom or integrated tools. Each of these comes with pros and cons, so balancing these will be tricky.
Free Tools for Virtual Events
There are tons of great free tools available, like social media sites and more, who make the process of organizing and promoting online events very easy. Beyond being free, these tools also may help with promoting to a community and sharing with friends. For instance, Facebook events make it easy for others to see if their friends or family are "attending."
There are some tradeoffs, however. You may lose the ability to customize your event exactly the way you want it, or you may not be able to collect money directly through the platform. While almost every virtual event can and should be promoted on social media, you'll need to consider if you need additional tools to help pull off your every aspect.
Online Virtual Event Platforms
Virtual event planning and fundraising isn't a new concept, and while many have unexpectedly been forced to consider how to run an event virtually, the good news is that there are plenty of fully-featured options. There are several complete platforms out there that will offer features like registrations, donations, and more. Some examples of these platforms are Funraise and Pathable.
Often, these will come with a price tag though: they can cost money upfront to use the tool online, or take a portion of the proceeds by way of a percentage. Some platforms may not charge a fee to use, but your event attendees may be exposed to advertisements or imagery that you can't control.
Completely Custom & Branded Virtual Events
If you've already invested significantly in your own website and technology, making this virtual event appear like it's connected and a natural extension of your site is important. Larger corporations or significantly branded organizations may want to invest money into a more professional approach.
With everything going virtual, suddenly everyone is expected to be an expert marketer/developer/writer/promoter, you name it! Certainly not every organization has this kind of capability on hand—so if you're looking for something more custom, you'll likely be looking at paying more or paying for help.
Getting Started with Virtual Event Planning
To start, here are a couple of questions that you'll need to answer, and will help guide you through the virtual event planning process. As you put together your event, consider your audience and their comfort level with digital events.
While we've certainly seen adoption of virtual tools increase out of sheer necessity, keep in mind that there will always remain some populations that are unable to participate for a number of reasons, like comfort with technology, access to reliable internet, or disabilities that make using a computer difficult. Think about offering alternatives if possible.
How Will People Watch or Participate Online?
To make your virtual fundraiser seem more like an in-person event, look for opportunities for the audience to participate. Ask questions they can answer in a chatbox or conduct a live poll during a live stream. You could always encourage peer-to-peer fundraisers to join teams and build a friendly competition.
Live Streaming a Virtual Event
Plenty of social media platforms have integrated streaming and event-hosting capabilities. These platforms also allow you the ability to easily share and spread the word about your event (more on that later!). For example, both Facebook and Instagram have live-streaming capabilities that allow you to stream your event, save the video to post later, and get real-time feedback and engagement from participants in the chat and comment windows.
Social media might be a good platform if you're trying to keep costs low or if the community you're engaging is already very active on social media. One thing to watch out for is that live streams through social media are easy to access by more than just your intended audience——if you're asking users to pay for access to the stream or you'd like to utilize some sort of exclusivity for your content, you'll want to try a different platform.
Video Conferencing Software
In 2020, we're likely all familiar with video conferencing software like Zoom and Webex. You may have even used Google Hangouts or HouseParty on occasion to collaborate with coworkers or hang out with friends. Because these platforms often require linked access, this could be a good option for your event if you're hoping to either charge for access, or limit viewers.
The exact service you should use will depend on your budget, the number of viewers you're expecting, and whether you need interactivity or just a streaming video. Check out Top Live Streaming and Video Conferencing for Virtual Events for more details on the different capabilities, costs, and tips for a variety of streaming platforms and video conferencing software.
How Will You Collect Money Online?
Nonprofit Hub writes that "Online fundraising garners millions in charitable giving for the nonprofit industry every year, but with so many options, it can be difficult to find the right online donation tools for your organization." If you do a quick google search of all the platforms out there that are the best for collecting donations, you will get lost in a sea of information. There are a lot of ways to collect money, and as more organizations begin taking their events online, these are becoming more trusted and natural.
On the free or inexpensive side of the spectrum, there are a number of ways to send money between individuals. You've probably heard of the basics: PayPal, Venmo, and Zelle. These tools may be easy to use and remove a lot of the hassle of using a platform, and will typically work well for small or grassroots events. You will lose some of the detail around who donated, and donors may not be able to write off their donations. Plus, there may be some trust issues with knowing for sure that a donation is going to the right place.
For the more formal approaches, there are plenty of fundraising platforms that have made it their business to make this process easy. There are pros and cons to every fundraising platform and what works best for your organization might not work for another. That being said, there are a handful of items that you want to consider when looking at different platforms.
Fee Structure - Does the platform charge start-up or initiation fees, or does it take a percentage of your donations? Are you required to have a 501(3)c charitable status? Some great examples of fundraising platforms include Fundly, GoFundMe Charity, and Donorbox.
Mobile App - You want to check to see if your platform offers a mobile app. People are engulfed in their smartphones these days, so why not take advantage. Giving your participants the option to use a device that is likely already in their hands increases your organization's chance of getting them to donate.
Some factors to consider are how these mobile devices work. Are they user-friendly? If the mobile app has a lot of content for the donor to complete, you will likely lose them. Finding a mobile app that implements a mobile-friendly form is essential. Check to see if the mobile option includes a text-to-give functionality. GiveBox is amongst the leading user-friendly fundraising apps that include a donation processing feature. One thing that you want to look for is if the platform will work with social media sites like Facebook and LinkedIn.
Branding - Does the app allow you to integrate with your organization's branding? Often, you'll want the donation to appear as seamless as possible, so users feel comfortable inputting their information and sure of who they're donating to.
Customer Support - Depending on the platform you choose, the back end in creating the fundraising event could be confusing or you could be missing out on a feature that could really help increase your donations. It is always good when the platform has a good reputation for their customer service in the event that you need help.
Lastly, if you need an experience that lives on your site, feeds into your accounting system, and is a long-term solution—you'll want to consider something a little more serious, like working a developer or plugin into your existing website.
How Will People Find the Details of Your Event?
Every event has details. These are the immutable, important parts that describe when the event is, how it will be held, and any instructions needed to attend, like video or donation links. There needs to be a central location for these details, which may bleed into one of the other categories.
Consider the following questions: How will people be finding out about this event? Will they see a physical advertisement, hear it on the radio, or be able to click on a link online?
Your free options are again likely going to the social tools, like Facebook Events, where you can create an event, invite your friends, and encourage social sharing. This can be THE place that people go to find out all the details they need, though it may appear like a smaller or more grassroots event since it's hosted on a free social network. Also, not everyone has a Facebook account and some companies or people flat out avoid social sites.
If your event is less interactive or perhaps is something that occurs in the real world and you're asking participants to report back, you could simplify your digital presence by putting up a single-page website about your event. There are plenty of free and paid options available to build out a simple webpage, 23 Best Free One-Page Website Builders 2020 goes through a bunch of options.
Of course, if your organization already has a website, that's going to be the first place you should add this information. Keep in mind that you want this information to be easy to find, so consider using a shortened URL, through a service like bit.ly, or a vanity URL that you purchase and redirect. This is typically not too expensive, and can be done through a site like GoDaddy.com.
How Will People Register or RSVP Online?
Depending on the type of event you're hosting, you may need to charge for attendance, or keep an accurate record of who "attends." In order to make the most out of your virtual fundraiser, you have to get your supporters right at the virtual door.
Doing this requires a top-notch event registration strategy that starts with reminding past participants of the fun you had last time, or demonstrating to new supporters that this is a can't miss event. The most important thing to remember is keeping the registration process as efficient as possible so that your supporters don't lose interest, or even worse, forget to register!
There are a number of things to consider before deciding on how a participant will be able to register. Does the participant need to pay to attend the virtual event? Will the participant need to provide personal information like name, address, t-shirt size, etc.? Both of those may require you to use another service to help capture and store information.
At the free end of the spectrum, you can't go wrong with Google Forms or a similar site. You can set up custom questions and feed the answers into a spreadsheet. You might not be able to easily build automations, like emailing attendees and others, but you'll be able to get something up and running quickly. Evite is an example of a free party planning tool that gives you similar functionality.
If you're thinking about charging for your event, you might need to look at the next level up of tech tools. Something like Eventbrite will allow you to create an event, charge for tickets, handle attendee communication, and even get great reports.
How Will You Get the Word Out?
PROMOTE, PROMOTE, PROMOTE! If anything has remained the same in the past year, it's that social media is still a huge hub for promoting events—in person and virtually. Most people are familiar with what social media platforms like Facebook offer, but there are several other ways you can spread the word.
Your Own Website
How can you position your virtual event to get the most attention from your current audience? Adding a page or announcement to your website is the logical first step—make sure that current site visitors know that an event is happening.
Email Newsletter
Make sure your event is promoted in your regular newsletters or think about providing discounts or special offers which may entice your audience to purchase a ticket. If you haven't started an email newsletter, there are plenty of great options out there like Mailchimp, Constant Contact, and more.
Partnerships
What other organizations do you have relationships with that share a similar audience? Partners can often contribute in different ways, you can ask for monetary donations, in-kind donations, and importantly, assistance with promoting an event to their audience and on their social accounts.
Paid Media
Getting a paid ad online is easier than it has ever been. With tools like Google Ads, or social ads on Facebook, LinkedIn, or Twitter, you can create an ad and show to targeted individuals in less than an hour. You can control max budgets, and use targeting features to make sure you're only showing to people in a specific area. When utilizing paid media as a strategy for promoting your fundraiser you'll be able to target a wider audience outside of your current database.
Local Listings
Look at local newspaper and news station websites where they highlight local events, and submit your event everywhere that you can!
Other Attendees
Often, your best bet for getting the word out is relying on the individuals in your organization, on your planning committee, or already signed up to attendees. Figure out how to incentivize people to share information about the event, or alternatively, be responsible for bringing a certain percentage of virtual attendees.
Looking Ahead for Virtual Events Planning
Regardless of the event you are planning—whether that be in person or virtual, it's important to maximize the earning potential for your fundraiser. There are a lot of moving parts and small considerations, start off smart by keeping a spreadsheet of different options as you do research and keeping notes about why you chose what. Consider how you may run the same event again, using the same tools, and implementing lessons learned.
We hope that this toolkit helps guide you through the questions you'll need to ask and the tools you may need to find the right options for your organization. When putting together an event, especially for an organization you care about, you may find yourself wearing many different hats and becoming experts in areas you never imagined you'd have to know anything about. Testing and learning will help; you'll come out of the process knowing more than you started, and planning future events will become easier and easier. Don't forget to lean on your networks and supports for individuals with experience!