Building an Enterprise Location SEO Program: Key Tips for Managing Hundreds of Locations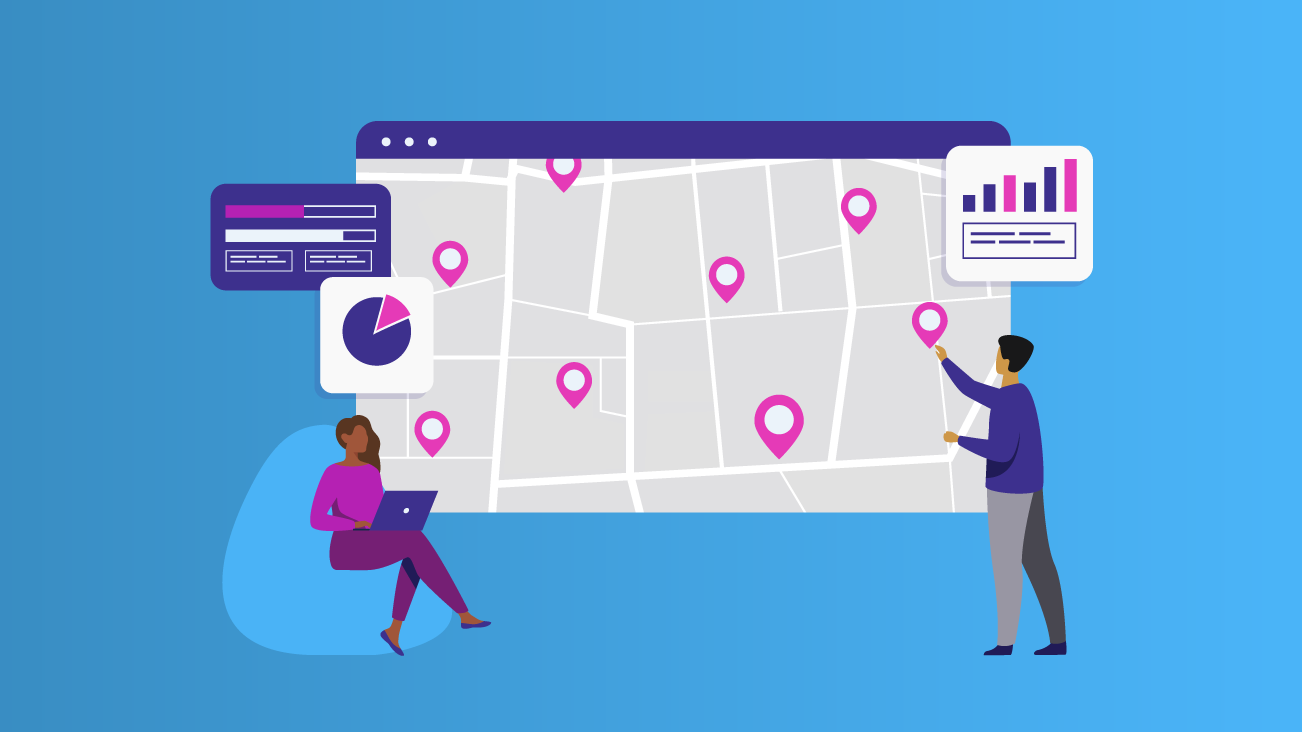 If the three most important items in real estate are "location, location, location," the most important things for local SEO are "location management, location management, location management." Businesses that effectively manage their local online presence can create a direct immediate impact on their bottom line, not to mention happy in-store customers.
As digital marketers, our natural inclination is to first consider a customer's online experience—how the top nav flows, what the journey to cart looks like, how relevant the products are in the recommendations widget. But as humans who shop and live in the physical world, we rely on store information and attributes that impact the hours of our day that we've carved out for errands. When is the store open? Do they have in-store services? How does the store look inside? Is there parking?
The ever-volatile months during COVID placed local search in the spotlight. Stores were closing, opening with limited hours, or offering curbside pick-up. Google released special COVID attributes and features as more customers turned to its platform to get real-time, updated store information, and businesses changed their operating models. It was a great example of technology evolving to support both the customer and business needs, and a reminder of the need for data freshness to help local customers.
Providing Customers With In-The-Moment, Local Information
Local platforms and directories such as Google Maps/Google My Business, Bing Maps, Yellowpages, and other aggregators supplement information typically found on a company's store locator. The two platforms—local syndicators and on-site store locators—are related and should contain similar information, just different levels of detail.
Providing customers with in-the-moment, local information is critical. What Google calls the ZMOT—"Zero Moment of Truth." It's your customers' last-mile snap judgment that happens right before they take action.
The data itself backs up the importance of a strong local search strategy.
After surveying 5,000 adults, Google found that 95 percent of smartphone users have looked for local information, and 88 percent of local information seekers take action within a day. Half of those users who did a local search on mobile visited a store within a day. A one-day conversion window!
To put that in perspective, one out of every two people who search locally do so moments before they leave the house, when they're walking home from work, or when they're on the way to a party and need a last-minute gift. Purchase intent is high and their motivation is time-bound. If businesses capture the local searcher, they capture instant revenue.
Even traditionally brick-and-mortar businesses are readily adopting the benefits of having a local SEO strategy. People know that local search is important and it's how customers find store information; we don't have to sell it too hard.
According to Google, local rankings are determined by three main factors:
Relevance - how well a local business profile matches a customer's search
Distance - how far a user is from a physical business location
Prominence - how well-known a business is (think of this as a combination of offline and online 'street cred' based on links, review count, average review ratings, and other measurable signals)
Enterprise Local SEO
For local businesses with one or two locations, local SEO can be relatively easy (honestly!). Devoting a few hours to keep listing current and respond to user reviews can help with online visibility. If you're the sole proprietor or office manager, you typically know if you're open late on Tuesdays or if you'll be closed on holidays, and have direct access to manage the information. 
Enterprise local SEO is harder. It requires a strategy that's both universal and consistent, as well as individual and specific. Big brands that succeed in local search know how to optimize at scale while making each store's data unique and reflective of its community. 
Data integrity is the bedrock of a solid local strategy. Businesses managing hundreds of locations rely on location information management tools to house and share local store information. Perhaps store #10489 is getting remodeled and is temporarily closing for two weeks. Or store #20989 recently added a new in-store service. Managing the basic local data, even simple things like phone numbers and hours, can be a large undertaking for enterprise businesses without solid databases.
Challenges of Enterprise SEO
The other components that make enterprise SEO challenging are the multiple in-house departments involved in setting up a location, and the lack of central ownership. People, in some cases, can be the problem. Of course, this can vary across businesses, but it's common for numerous teams to be involved in a new store opening. You have Construction that sets up the phone number, the Grand Opening team that has store photos and dates, the Real Estate team that shares the latitude/longitude, and the Merchandising team that is responsible for in-store services.
Most times, digital is the last step when setting up a new business listing and requires close coordination across departments. Store teams might not think about a Google My Business listing when they're focused, understandably, on the actual construction and grand opening of a store.
SEOs managing enterprise programs have to be involved and ask for data, especially when it's hard to locate. As an example, when I was in-house and managing 850 store locations for a major brand, the only way I found information for some new stores was when I messaged my close contact (my brother) in the Real Estate department for information. Thank you for those lat/longs, Bill!
While enterprise SEO can be daunting, there is hope! It's rewarding work when the details come together and results are seen not only in online views or interactions but also in an increase in foot traffic.
Tips for Managing SEO Programs
I've managed in-house local SEO programs for 850 stores and worked with clients with anywhere from 200 to 1,000 locations. Here are a few tips that have made my life easier and driven tangible results along the way:
Someone has the location data, somewhere, in some system. You may not have a brother in Real Estate, but talk to teams until you find the keepers of store information. Get them excited about local search and show them how their sharing of information can directly impact store traffic.
Don't try to tackle this on your own. There are great technology partners in the local space specifically designed to do the heavy lifting for enterprise businesses. Find one with an account team that's hands-on and has a cutting-edge development team. Some of our most successful Local SEO partnerships here at Bounteous are with RenderSEO.
APIs are your best friend. Managing hundreds of locations with unique data points requires tools, not humans. Teams managing local search should use their time to be strategic, not making small clerical changes. For the clients we manage, APIs that sync every 24-hours cut out the manual work normally associated with small changes.
Share current events, products, and promotions with Google My Business Posts. This is one of my favorite and best-kept secrets with Google My Business. Our team uses these free posts to share promotions, new store openings, or highlight new products. They're easy to set up and act like display ads (high impressions, low clicks).
Lean on store owners or managers to resolve store issues, while maintaining consistent, corporate governance. A few brands I've worked with have local owners who like to be hands-on with their listings: posting pictures, replying to reviews, or having a close pulse on their business's online visibility. In franchise models, we've provided "manager level" access while still maintaining corporate ownership. This helps provide a personal, local voice at the individual store level, while providing all locations within the chain with consistent messaging, categories, and brand voice.
Enterprise SEO Can Pay Dividends
When done well, enterprise SEO can pay dividends. Having a well-oiled local program that is strategically optimized drives online visibility and in-store foot traffic and revenue. It's a cross-functional project that builds bridges between offline and online teams.
Although it takes time to configure systems and integrations, the work is worth it. Truly! After six months of managing local search for a QSR chain, one of our clients saw year-over-year views on Google My Business grow by 208 percent, to a whopping 44 million. More visibility for their local listings led to more in-store traffic and resulted in more direct revenue for our client.
Take a moment to reflect on what your enterprise program needs. Is it a central source of truth, more internal excitement around local, or just more time to be strategic? Configuring the systems to manage an enterprise-level program allows teams to spend time optimizing, build customer relationships, and understand the local footprint.
Don't forget, local optimizations also help paid search programs in direct ways (Google My Business can be integrated with Google Ads) and indirect ways (more optimized landing pages for stores can improve quality score and drive down CPCs). Insights can be shared between search channels and used to drive the overall lift.
Whether you're in-house or an agency looking to manage a successful, enterprise-level local SEO program, remember it's part process, part strategy. With the right systems in place, you can make your local management an integral, indispensable part of your online and offline strategies that drives measurable results.