8 Tips to Foster Cross‑Team Collaboration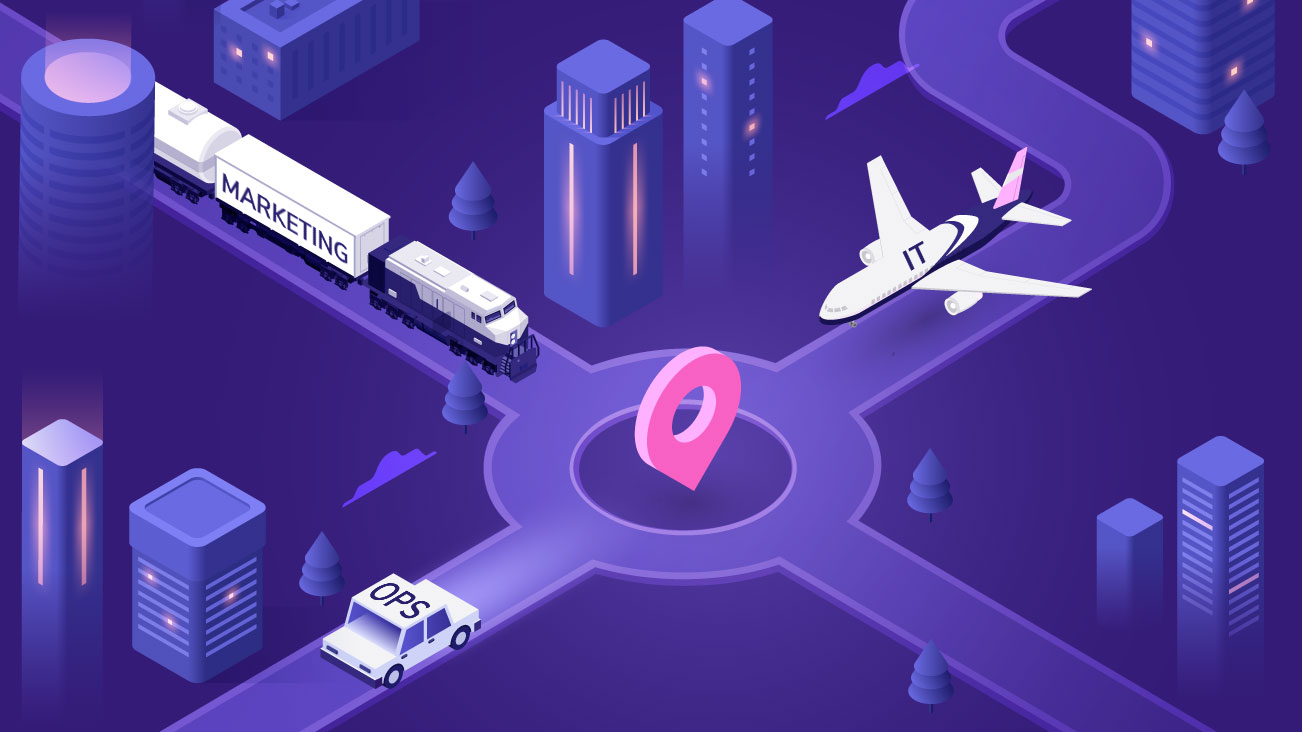 It's increasingly likely that the team you work with will come from more than one source. Departments are no longer able to operate in silos, and collaboration across marketing, sales, operations, and technology, for example, is not only important but is becoming the "new normal." While cross-team collaboration has always been a challenge, the COVID-19 pandemic and remote work added another layer of complexity to working across business units. Multiple teams within organizations mixed together with external consulting teams make it vital to create an environment that is collaborative and conducive to working towards a single goal.
Working with multiple teams has some specific challenges that working with a single team may not have. Some challenges include working with multiple time zones, each team having their own goals and priorities, teams using a variety of technology stacks, and teams using different implementation methodologies.
As a Principal Architect, I work with different teams on a daily basis to accomplish a variety of tasks. Through this experience, I have noticed certain processes that work well to overcome cross-team collaboration challenges. Here are my eight tips for overcoming these challenges to achieve a collaborative working environment across multiple teams.
One: Have a Leader that Works Across the Teams
Cross-team collaboration requires a single point of leadership. This leader should be able to clearly define goals and timelines while contributing to the collaboration between the teams. The leader should be communicating across all teams to keep the goals clear. Having an appointed leader helps mitigate the risk of unclear definitions of goals and teams working in silos which can lead to possibly duplicating work.
As a Principal Architect who works closely with internal project members as well as clients and other vendors, there is nothing more frustrating than not having a clear picture of the goal. It makes it difficult to lead your team towards a clear goal and often causes project delays.
Two: When Adding External Teams, Choose Your Teams Carefully
If you're adding external partners to the mix you want to make sure that those partners are willing to incorporate cross-team collaboration into their culture. They should be an additional resource to your team and share your workstream and vision. If your teams are internal, choose team members who collaborate and work well with others.
At times when a client asks for help, there are difficulties due to a lack of collaboration from other teams. Mostly this happens when there are other vendors involved. It should be communicated early when vendors are engaged that they will be documenting their work, as well as being willing to share it. So many times on these projects there is no documentation and very little understanding of what has been done.
Three: Be Transparent and Communicate Goals
Every team member should know who is responsible for which piece of the project. Members should be aware of timelines, goals, and issues and have a clear communication path defined to work with others on the team. Involve them in discussions around these topics so that they feel involved and can contribute to any concerns or risks.
Four: Have the Right Collaboration Tools
Email is great, but too many emails can make it difficult to track communication. Make sure you have a good collaboration tool and that everyone is using it for easier communication. Set up individual channels for specific work, this way members of the team aren't getting unnecessary noise when viewing messages. Members in different time zones will see the messages when they sign on for their work day.
Five: Account for Escalations
Friction between teams will happen. When it does, have a clear and documented method of resolving the issues and escalating problems. This may be a team member who makes a final decision for each section of work, this way when escalations occur there is a clear path to resolution. Whatever the strategy is, make sure it's documented and communicated.
When having multiple teams it's often beneficial to split this task across teams. For instance, an AEM architect may have the final say in an AEM architecture discussion, but a front-end architect may have the final say when it comes to changes in a REACT application. Keep the accountability where it makes sense to have it, with the member who has the most expertise.
Six: Encourage Open Communication and Feedback
One of the biggest advantages of having multiple teams is the different perspectives you can get on a problem. Make sure your team listens and discusses concerns or advises on alternatives. You want to utilize the talent you have available and team members should be able to challenge decisions. If there is no agreement, go back to number 5.
Seven: Create a Team Charter
A team charter is a document which defines the roles and responsibilities for each team. It also includes information on the processes which should be followed, like which communication methods to use and who to contact for specific questions or suggestions. Include a team contact list so that team members know who to reach out to. If your business has specific work hours include those as well.
Eight: Follow the Same Methodology Across Teams
The team charter should include a section on the methodology used to implement the project. Whether this is waterfall, agile or a different approach , each team should be using the same method. This will make it easier to share statuses with management, keep everything aligned as far as measuring velocity and timelines, and make it possible to use the same tools for tracking issues and status.
Foster Innovation & Growth
When executed correctly, cross-team collaboration can foster innovation and growth. Individuals can hone their craft and contribute to projects across an organization when processes are put in place to help the team succeed. While these tips are not all encompassing, they are a place to start when navigating the complexities of cross-team collaboration.