Press Release: MediaPost Names Bounteous Finalist in 2022 Awards for Excellence in Online Advertising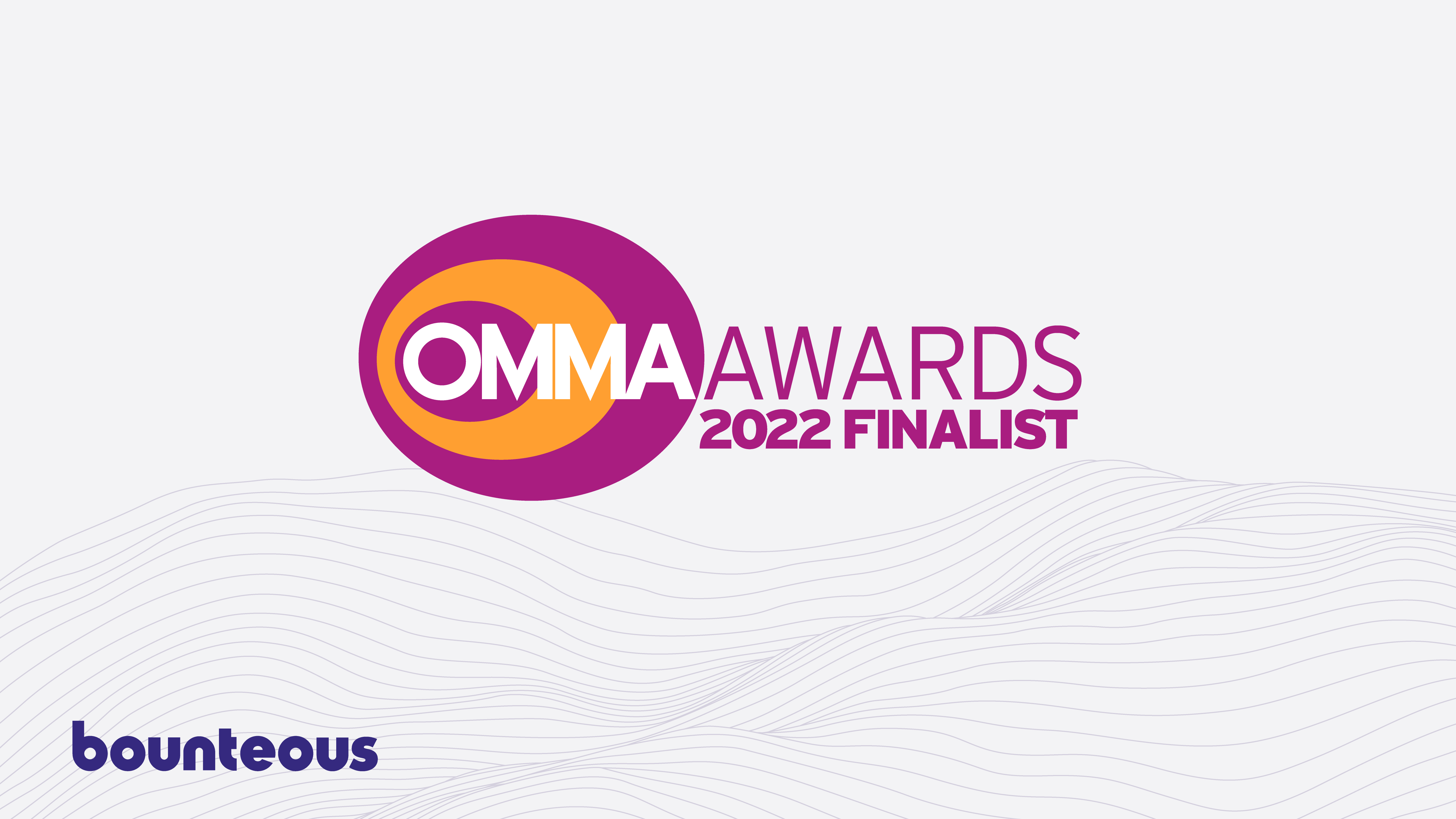 CHICAGO — September 28, 2022 — Bounteous, the digital innovation partner of the world's most ambitious brands, has earned recognition in the 2022 MediaPost's OMMA Awards, designed to reward the best in Online Media, Marketing and Advertising with 39 categories across two sections: Excellence in Online Advertising and Excellence in Media & Marketing. This is Bounteous' second consecutive year honored by the OMMA Awards.
Bounteous and Wawa were named a finalist in the Excellence in Online Advertising competition in the Social: Use of Single Platform category for their collaboration on the "Driving Brand Love on Tik Tok" campaign. Wawa needed to enhance their digital engagement in a strategic and imaginative way in order to reach the younger audience.
"Our creativity and innovation in digital engagement made us a perfect fit for Wawa's social media needs," said Bounteous CEO, Keith Schwartz. "We are thrilled to co-innovate with them as they continue to connect with their community and drive meaningful customer engagement digitally.''
Wawa knew that TikTok would be key to staying relevant with Gen-Z and continuing to foster affinity among their loyal community long-term. The journey began with understanding how the platform works and what types of content garner views, and ultimately followers, to drive an increase of over 1,875 percent in TikTok followers in 2021.
"Wawa strives to embrace change and find new ways to delight and connect with our customers," said Todd Miller, Senior Director of Brand Strategy and Experience at Wawa. "With Bounteous' help, we were able to strengthen our social following and unleash the creativity of our fans through a growing social media platform, TikTok." - Todd Miller, Senior Director of Brand Strategy & Experience
Now in their 17th year, the OMMA Awards by MediaPost annually honors agencies and advertisers that showcase innovation in digital marketing and advertising in the most cutting-edge digital campaigns across 35 different categories. Whether by channel, industry sector, or medium, the OMMA Awards cover every corner of the digital advertising industry.
Finalists of the OMMA Awards were announced on MediaPost's website here.
For more on Bounteous' rankings, visit its profiles with Great Place to Work U.S. and Canada.
About Bounteous
Founded in 2003 in Chicago, Bounteous is a leading digital experience consultancy that co-innovates with the world's most ambitious brands to create transformative digital experiences. With services in Strategy, Experience Design, Technology, Analytics and Insight, and Marketing, Bounteous elevates brand experiences and drives superior client outcomes. For more information, please visit www.bounteous.com. For more information about Co-Innovation, download the Co-Innovation Manifesto at co-innovation.com.
For the most up-to-date news, follow Bounteous on Twitter, LinkedIn, Facebook, and Instagram.
About Wawa
Wawa, Inc., a privately held company, began in 1803 as an iron foundry in New Jersey. Today, Wawa is your all day, every day stop for freshly prepared foods, beverages, coffee, fuel services and surcharge-free ATMs. Wawa stores are located in Pennsylvania, New Jersey, Delaware, Maryland, Virginia, Florida and Washington, D.C. The stores offer a large fresh foodservice selection, including Wawa brands such as custom prepared hoagies, freshly-brewed coffee, hot breakfast sandwiches, specialty beverages and an assortment of soups, sides and snacks. Forbes.com Ranks Wawa as #23 of America's Largest Private Companies in 2020.
For more information, visit us on www.wawa.com or follow us on Facebook, Twitter or Instagram at @wawa.
About MediaPost
MediaPost is an integrated publishing and conference company whose mission is to provide a complete array of resources for media, marketing and advertising professionals. MediaPost is the holding company for the following entities: MediaPost.com, 30+ industry conferences and events each year nationwide and in Europe, including the OMMA, Insider Summit, Marketing and Engage conference series, seven annual award shows, and a suite of 50+ industry-focused email newsletters & blogs.