Press Release: Bounteous Honored as Finalist in 2022 AdExchanger Awards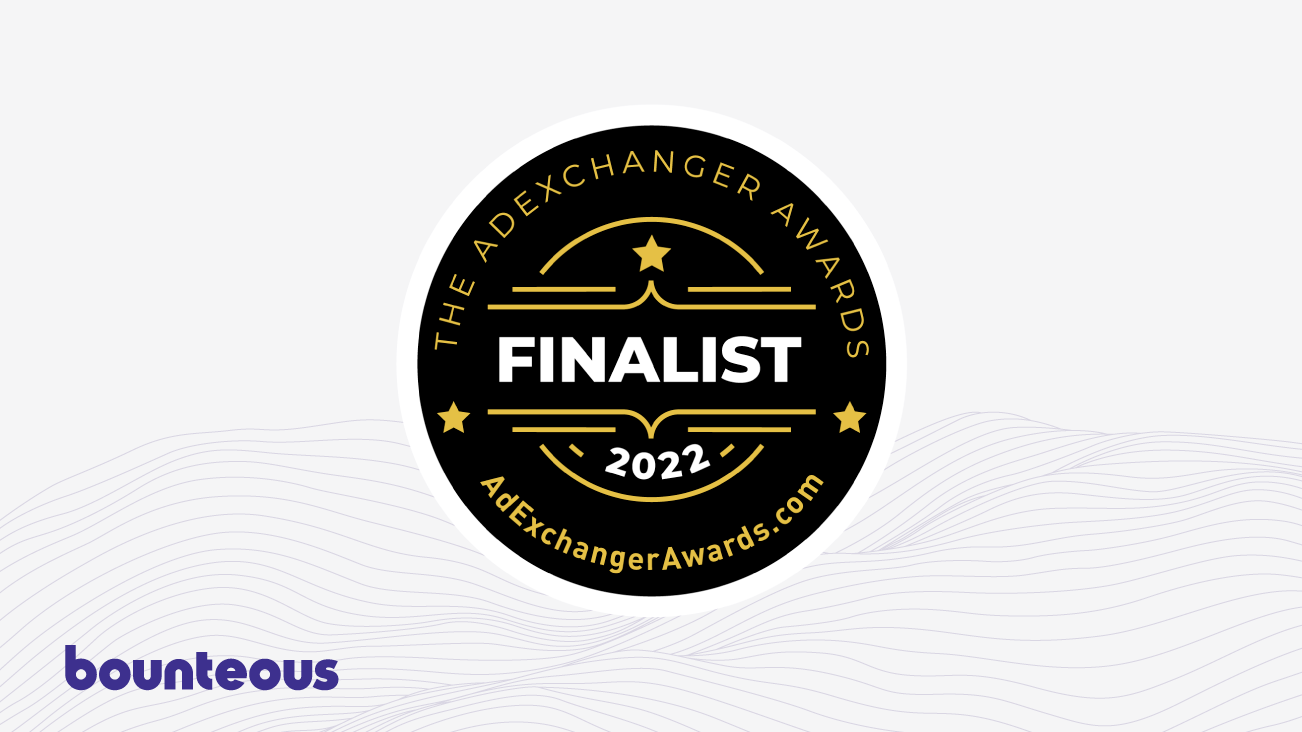 CHICAGO — October 31, 2022 — Bounteous, the digital innovation partner of the world's most ambitious brands, announced that the company has been named a finalist in the Best Commerce Agency Services category for Digital Transformation through Co-Innovation in the 2022 AdExchanger Awards, which celebrates excellence in digital marketing and advertising. Winners will be announced on October 17 in New York City at the Programmatic I/O awards gala.
Bounteous has broken through a competitive crowd to be recognized as one of the best commerce agency services in the world on behalf of its unique co-innovation enablement method and world class talent. To create more effective customer experiences, Bounteous combines a wide variety of specialties, including strategy, marketing, platform implementation, and operations, informed and inspired by Bounteous' co-innovation methodology and digital expertise.
"Bounteous is becoming a fast leader in the future of commerce, so we're excited to be recognized by AdExchanger for our co-innovation work," said Jon Reily, SVP of the Commerce Center of Excellence at Bounteous. "Fundamental changes of how we interact with commerce, the brands we use, and how we acquire those products, are occurring every day and no one can predict where the end-state will be."
Commerce and digital marketing have converged, powered by consumer adoption of online shopping, as well as by retailers pushing more data and marketing to the web. Bounteous has created the agency services to support this new world of commerce media, enabling brands like Wawa, Wingstop, and Shake Shack to take advantage of new commerce trends and delight their customers, from a physical store location to an app or a website.
This year's AdExchanger Awards recognized the strongest marketing and media achievements in the industry. AdExchanger's community of marketers, publishers, technology platforms, service providers, and others came together to identify the companies and individuals who are making a major impact on marketing and ad tech.
Awards finalists were announced on AdExchanger's website: www.adexchanger.com/go/awards-2022/
About Bounteous
Founded in 2003 in Chicago, Bounteous is a leading digital experience consultancy that co-innovates with the world's most ambitious brands to create transformative digital experiences. With services in Strategy, Experience Design, Technology, Analytics and Insight, and Marketing, Bounteous elevates brand experiences and drives superior client outcomes. For more information, please visit www.bounteous.com. For more information about Co-Innovation, download the Co-Innovation Manifesto at co-innovation.com.
For the most up-to-date news, follow Bounteous on Twitter, LinkedIn, Facebook, and Instagram.
About AdExchanger
Since 2008, AdExchanger has engaged readers with award-winning and trendsetting coverage of programmatic advertising and the data-driven marketing technology ecosystem. It has earned a spot as the leading voice covering how technology and data are transforming digital media and advertising. Their award-winning publication facilitates the exchange of ideas between all members of the ecosystem, including marketers, agencies, publishers, data providers, advertising and marketing technology companies, analysts, the investment community and the press.

AdExchanger attracts more than 290,000 monthly unique visitors, and editorial newsletters and articles land in more than 39,000 subscribers' inboxes daily.