Blazing A Trail for Customer Magic: Upcoming 2023 Salesforce Solutions to Future‑Proof Your Business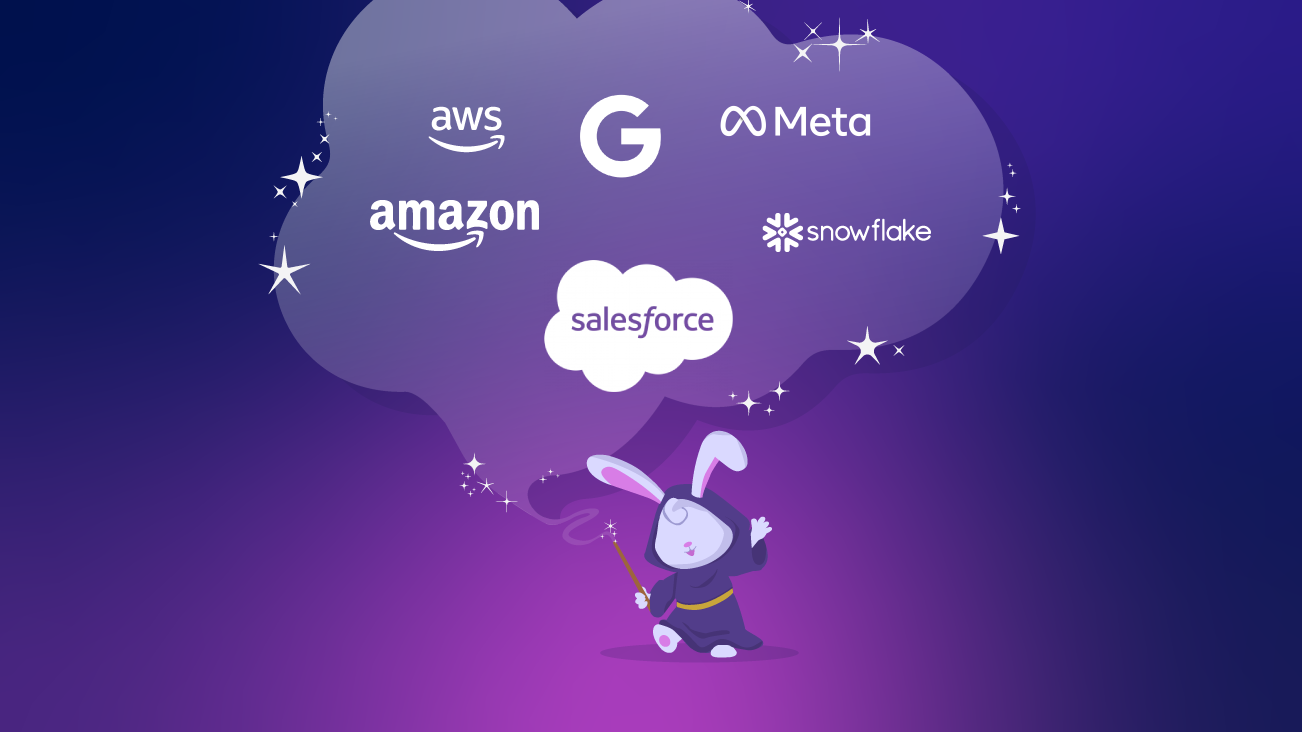 With tighter budgets, the upcoming cookie-less future and the need to show higher ROI, implementing a Customer Data Platform (CDP) to evolve your first, zero, and third-party data and personalization marketing is critical to build loyalty with your customers. 
What is a Customer Data Platform?
A Customer Data Platform (CDP) is an enablement technology that empowers your business to build real connections with your customers, at scale, by extracting insights across your data sources to build golden customer records for marketing and activating audiences across different channels. For more information, view our full blog on CDP. 
What's the Difference Between a CRM & CDP?
A Customer Relationship Manager (CRM) has one goal, to improve your business relationships. CRM platforms manage all your customer and prospect relationship data to enable your sales team and organization to have a view into individual accounts to improve productivity and profitability. 
So, How is a CDP Different? 
A Customer Data Platform (CDP) connects all your data environments in one place, in real time, to allow your marketing team to offer hyper-personalized experiences for your customers. By ingesting all your data, including CRM data, you have a true unified profile for all your customers. These profiles give marketers the ability to create sophisticated audience segments and personalization opportunities. 
How a Basic CDP Works
Building an effective CDP starts with a clear understanding of your customer-focused business strategy and taking it to the next level by harmonizing your data and insights to orchestrate customer experiences. 
Data
Your customer data from across your various sources is ingested, stitched into a unified customer profile and reviewed for governance to ensure that you are working with clean customer data. 
Insights 
With holistic customer profiles you are able to find deeper insights about your customers and prospects by discovering what resonates with your customers. Why they buy, what are the triggers to buy and other vital buying moments so you can market to these insights. 
Experience 
This is where your unified data with all your insights create true magic for your customers by providing personalized messaging to meet their needs at the right time. It also allows you to utilize your digital and non-digital marketing channels to apply the best tactics and spend your budget intelligently.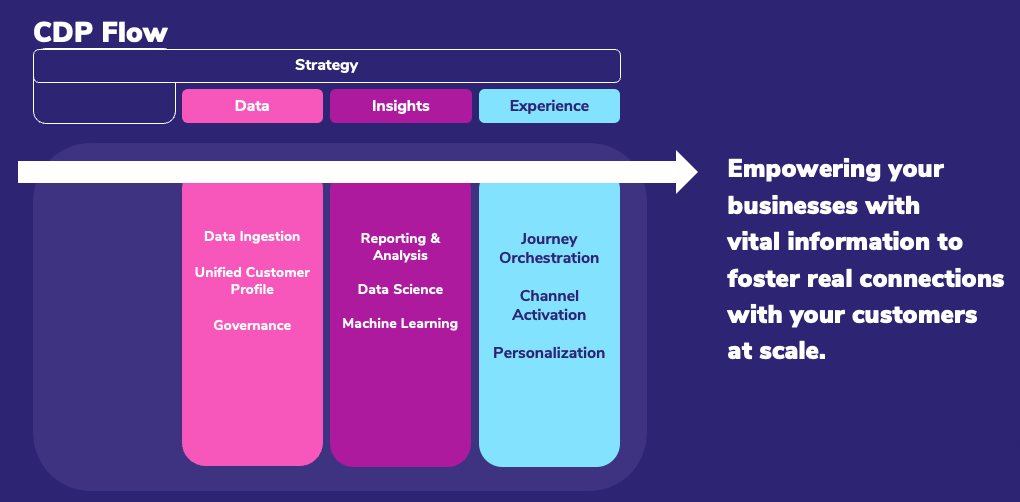 What's Happening with The Salesforce CDP Platform and Genie? 
Salesforce committed to the customer experience with the launch of Customer 360 in 2019 to deliver unified customer data. Now with the launch of Genie, the Salesforce 360 platform is more agile by syncing engagement data and transactional data automatically across all core clouds to personalize key customer moments in real-time within the CDP.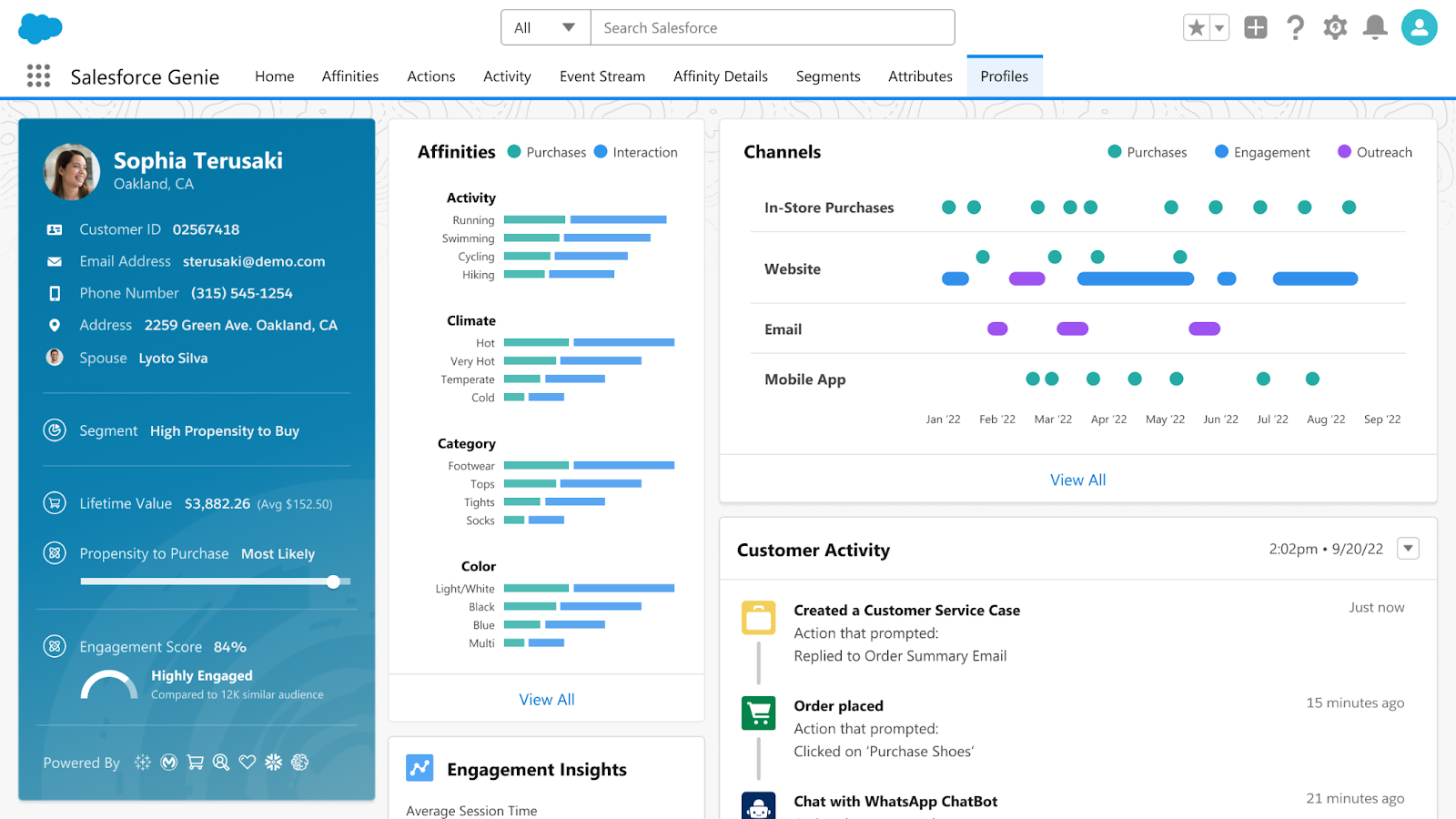 Marketing Cloud Gets Better with Genie in 2023
Conversation Engagements with WhatsApp 
Salesforce has partnered with WhatsApp to extend their ability to communicate with customers on their safe and secure messaging platform. WhatsApp has users in 180 countries with 2B+ global users. This partnership gives your business the ability to send messages globally on the most popular messaging app in the world. 
WhatsApp messaging will be generally available in December 2022.
Extended Advertising Partners
First-party data continues to be a focus as the industry is moving towards a cookie-less future. To take advantage of all the real-time data and insights, marketers will now be able to automate engagements across every channel, optimize marketing performance and customize moments in real-time within a CDP. Salesforce plans to extend advertising through industry-leading partnerships with Google, Meta and Amazon. 
Extended Advertising with Trusted Partners will be generally available in Spring 2023.
Open Data Access with Snowflake
Data is everywhere and creating a unified view of your customer without copying data has traditionally been time consuming and a costly process. Salesforce is partnering with Snowflake to natively integrate the platforms to expand customer capabilities. This means the Salesforce CDP will now have easy access to your data lake, boost user productivity with the ability to query live CDP data to drive powerful analytics and actionable insights for your marketers. 
Open Data Integration with Snowflake is in a closed beta in November 2022, and will be generally available in Spring 2023. 
Personalization & AI Modeling with Amazon SageMaker
AI modeling and training allows marketers to understand the lifetime value of their customers. Now Salesforce is partnering with Amazon SageMaker to allow you to bring your own AI models. This will make it easier for your marketing team to collaborate with your data scientists to make smarter and easier segmentations that will automatically appear in Genie so you can deliver hyper-personalized messaging to customers. 
Bring your own AI with Amazon SageMaker is piloting in Winter 2023. 
Bringing New CDP Solutions to Your Business in 2023
Salesforce is looking to future-proof your business by making it easier to give customers the personalized experience they demand through real-time insights with Genie and find moments of marketing magic by implementing their CDP platform. 
Companies like L'Oreal, Ford, and Formula 1 Racing have already been using Genie and have 
seen 28% increase in ROI with the insights, AI and personalization opportunities.
With the new open access options for advertising, data, messaging and more you are able to connect and understand your customers more than ever before.