Expanding Your DXP Ecosystem With Acquia DAM and PIM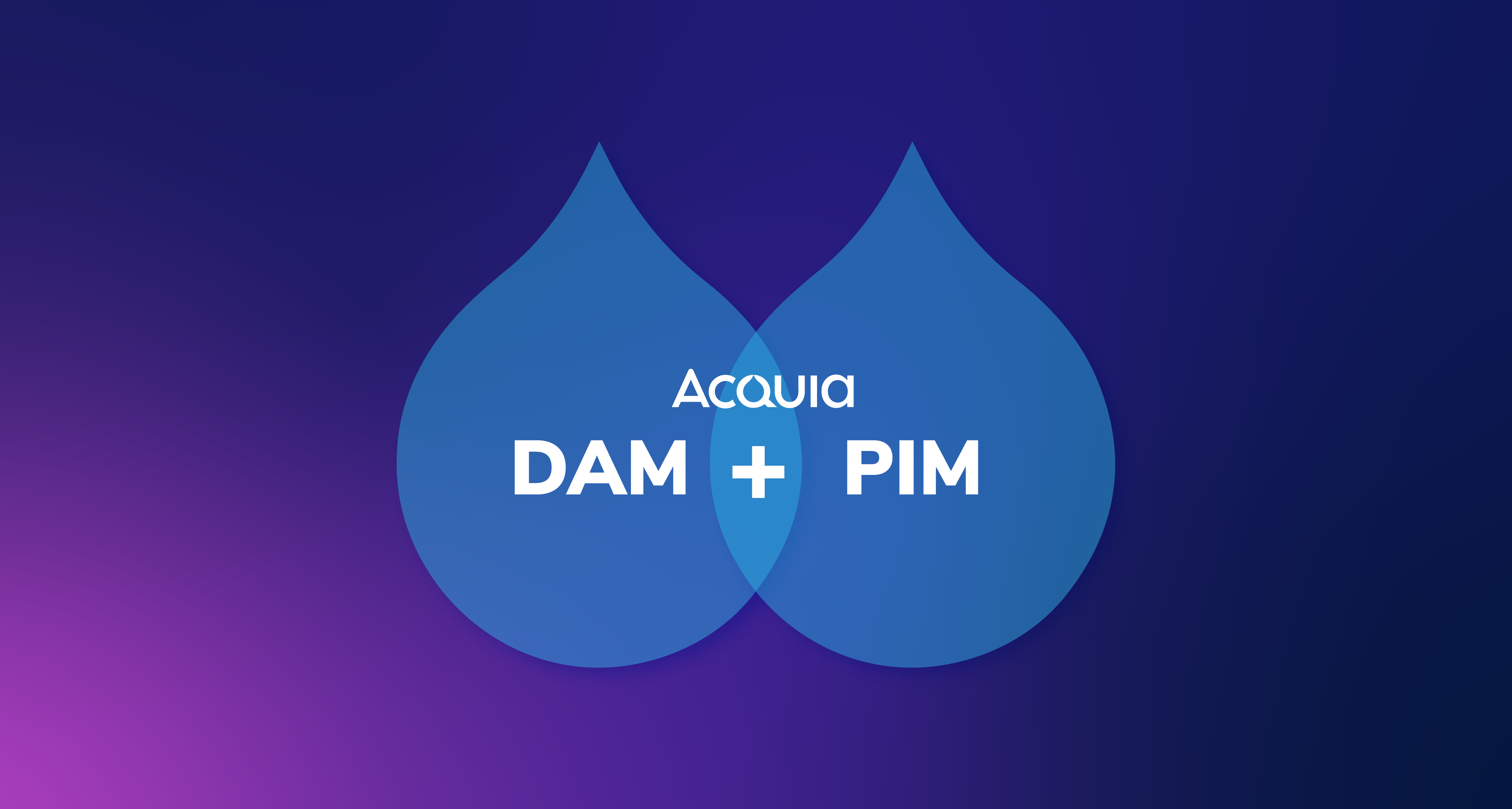 Our partner, Acquia, is constantly evolving and advancing the Acquia Digital Experience Platform through additions to their Marketing Cloud. In September 2021, Acquia acquired Widen, a cloud-native maker of digital asset management (DAM) and product information management (PIM) software. Following the acquisition, Acquia introduced two solutions, Acquia Digital Asset Management (DAM) and Acquia Product Information Management (PIM).
If you work in marketing, chances are you've heard of DAM and PIM before, or maybe your company is leveraging DAM and PIM already. If not, you're likely missing an opportunity. For those already utilizing Acquia Digital Experience Platform (DXP), adding Acquia DAM and Acquia PIM to your ecosystem could be an easy choice for you. Together, these solutions enable marketers and website builders to deliver the highest quality content that drives compelling customer experiences at scale. 
To further understand how Acquia DAM and Acquia PIM fit into the Acquia DXP ecosystem, let's dive into the basics of Digital Asset Management (DAM) and Product Information Management (PIM) and how these solutions could benefit your business. 
What is Digital Asset Management?
With immense volumes of content floating around in your company, it can be difficult to keep your assets organized, up-to-date, compliant (rights managed) and accessible for other people within your organization. In today's world, digital content is everything, but the content can be underutilized if it's not managed properly. This is what DAM does best—become the single source of truth for rich digital assets.
What exactly is a DAM? A DAM solution is software used to safely store and manage digital content that your organization uses. These digital assets can be images, graphics, videos, PDFs, etc. DAM simplifies marketers' access to these digital files by keeping these assets centrally located and organized so users can search and find what they are looking for, even if they don't know an asset exists. DAMs can also manage version control, compliance and workflows to improve content creation, content time-to-market, and ensure brand consistency across the enterprise.
For a deeper dive into digital asset management, check out this article.
What is Product Information Management?
The need for accurate and up-to-date product information continues to increase as consumers expect flawless Product Experiences across digital and non-digital channels. Providing a seamless Product Experience begins with delivering correct, current, comprehensive, and compelling product information. Achieving this on a consistent basis is very difficult and labor intensive without using a PIM. 
A PIM platform can help you collect, organize, enrich and distribute your product information  to your sales and commerce channels. A PIM is designed to serve as a central repository for all of your product information, including product names, SKUs, inventory numbers, metadata, links to images (often stored within a DAM), etc. Having this product information collected and organized in a central location greatly simplifies the data management and enrichment process. It also facilitates the syndication of accurate and timely data across channels. 
A best-in-class product management solution can help your organization to create and deliver highly compelling product experiences. For more information around adding a PIM to your commerce strategy, please refer to this article.
Simplify and Scale Your Content Operations With Acquia DAM
Acquia Digital Asset Management enables marketers to control their digital assets and increase brand consistency through a centralized, cloud-based solution. This simplifies and governs how brand, marketing, and product content is organized, accessed, and delivered to market. With many capabilities, Acquia DAM can provide marketers and other stakeholders across the enterprise with the tools they need to scale content operations within their organization.
Here are some of the features of Acquia DAM:
Organize for All Teams: Teams work differently. Break limitations and use a combination of categories, search, and collections to help people find what they need.
Self-Serve Access: Empower your teams – no matter their region or time zone. Control access with flexible roles and permissions or share with portals and links.
Publish Brand-Approved Assets: Keep track of asset versions. Update once and publish everywhere.
Transform and Reuse Content: Convert images, videos, and audio on the fly. Set up common conversions for social media, slide decks, and webpages or edit as needed.
Streamline Content Workflows: Use metadata-powered workflows. Set up no-code, rule-based automation to notify users of new content. Use AI-powered auto tagging to apply metadata.
Monitor Content Effectiveness: Leverage site and asset-level analytics to inform decisions. Review change history for audits.
Expand Acquia DAM With Acquia PIM
Acquia Product Information Management can help your organization to organize technical product data, feature lists, and other product content. Acquia PIM will help you manage product listings and configure distribution channels to create impactful commerce experiences. With Acquia PIM, you can launch products faster by simplifying the way you aggregate, assemble, enrich, and distribute product content and syndicate into new channels while meeting your unique requirements for product data and content. 
Here are some of the features of Acquia PIM:
Import Technical Data: Import product specifications from an upstream ERP, PLM, or MDM system.
Product History: See lifetime activity on a product at a glance. Review the changes made to product information and edit details.
Verify Data Completeness: Identify products that are missing information or need approval.
Associate Assets to Products: Associate new or existing assets in the platform with product records.
Rich-Text Editor: Add product descriptions, feature lists, and other marketing copy with a rich-text editor.
Product Variants: Enrich products at the parent level to cascade values across all related variants.
Combine The Power of DAM and PIM 
In 2022, Acquia announced new technology integrations for the combined Digital Asset Management (Acquia DAM) and Product Information Management (Acquia PIM) solution with other software solutions in the Acquia technology ecosystem. These new integrations empower enterprises to sync assets and metadata across their martech stack, allowing them to create a more coordinated, automated content management. Learn more about the integrations here. 
How Do These Tools Fit into The Acquia DXP Ecosystem? 
Integrating Acquia DAM and Acquia PIM with your CMS helps bring the Acquia DXP vision to life. Pairing all of these tools together will allow your teams to work closely together and collaborate in an ecosystem. DAM, PIM, and DXP technologies automate previously manual content processes that allow marketers and merchandisers to focus on innovation, rather than maintenance. This includes automated processes for version control, rights management, converting files for reuse, and updating product information across internal and external systems. These tools can also sync assets and product information with other martech systems. With a DAM and PIM at the center of your DXP, you'll be able to manage assets, product information, and marketing workflows with agility, velocity, and governance.
Integrating Acquia DAM and PIM into your Acquia Digital Experience Platform (DXP) solution will allow your teams to work faster and scale content production. Together, these tools help organizations create distinctive digital experiences based on evolving customer preferences.