What You Really Need to Understand About Salesforce's Customer Data Platform
When you understand your customers and their data, you have the ability to create data magic. With the Salesforce Data Cloud and integrations into the ecosystem of solutions, you not only gain insights that put customers at the core of your business, but you have the ability to take action on that data.
Interested in a refresher on the benefits of a CDP or gathering more information? 
Forrester's Q3 2022 Marketing Survey reported that 24% of B2C marketing decision-makers planned to add a CDP solution over the next 12 months. 
Salesforce Customer Data Platform is now Salesforce Data Cloud 
Everything evolves—especially software. If you have heard the product names Salesforce Genie, Salesforce Customer Data Platform (Salesforce CDP) and Salesforce Data Cloud floating around, you might be wondering which term is accurate. 
The short/correct answer? Salesforce Data Cloud. 
Data Cloud merges your data in real-time and allows you to create unified customer profiles that can be used across all your Salesforce Clouds and allow you to market based on actionable insights. 
How Does Salesforce Data Cloud Work?

Connects Data Sources
CDP orchestration all starts with your data sources, and most likely you have many. 
Data Cloud is able to ingest data from your Salesforce CRM, Salesforce Cloud Solutions, and any third-party sources and APIs to bring them all together, at scale, through batch and real-time streaming. 
Harmonizes and Unifies Your Profiles 
Here's where the real magic begins. Now that your data streams are stitched together, everything is harmonized into robust customer profiles, becoming your single source of truth for customer insights. 
Predictive Analytics 
The customer profiles have been unified with your CRM, Marketing Cloud data, and other third-party data sources. With this unified data, Salesforce Einstein will analyze all your customer profiles to find trends in buying behavior, product purchases, content preferences and so on to make recommendations for audience segmentation for targeting marketing or personalized suggestions for specific loyalty offers and product promotion based on past purchases. 
Increase Engagement and Conversion 
Make this data work for you! It's time to activate the insights, segments, and behavioral information you've gathered from customer profiles. This understanding of your customers makes it possible for your marketing team to set up marketing journeys in Journey Builder and create insightful campaigns with Marketing Cloud Engagement that are personalized and automated. 
Real-Time Customer Data for Salesforce Solutions 
While Salesforce Data Cloud was originally limited to Salesforce Marketing Cloud, recent changes have opened this and spun the ability to use these capabilities in different areas. While it may grow in the future to include other products, for now Salesforce Data Cloud has specific functions when combined with Salesforce Marketing Cloud and Tableau for data visualization. 
Salesforce Data Cloud for Marketing 
Unlock the value of your first-party data to engage and segment your customers to act on data in real-time. Data Cloud segmentation is 30x faster than other platforms meaning there is more time to spend on crafting marketing messages that are personalized, cost-effective and scalable through Marketing Cloud. 
Salesforce Data Cloud for Tableau 
Bridge the gap between your data and insights. Companies make better decisions when they are able to visualize, explore and act on data in real-time. You can natively connect channel data, live data streams, and more, all within the trusted Salesforce platform. And with a click of a button, you can see a data visualization of what is really happening with your customers within Tableau. 
Salesforce Data Cloud helps you market better and make better business decisions.
Our Four-Pillar Approach to Salesforce Data Cloud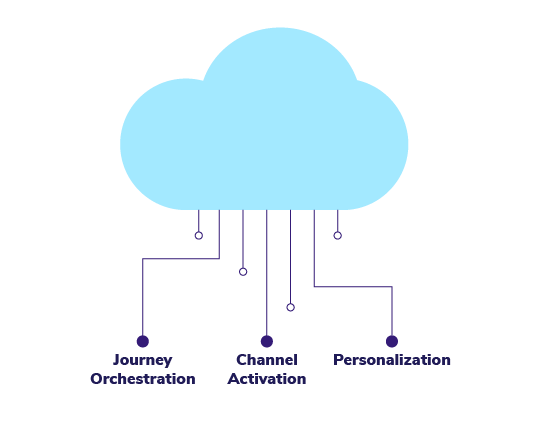 When you're considering any CDP solution, we believe that every company should consider a four-pillar framework that is built for successful implementation and continuous improvement, all while focusing on the key goal of knowing your customer.
Strategy and Customer Data Platforms
You don't build a house without a plan, the same is true when you are starting a big digital initiative. Your strategy is the foundation of what you are trying to achieve with your CDP. Every company has unique needs, but by setting up a clear goal of what you are trying to accomplish and the steps to get there you set your CDP journey up for success. 
Our strategy pillar includes:
Program Management 
Team Orchestration
Digital Maturity 
Data and Customer Data Platforms
It's pretty clear your data matters, the unifying of all your disparate data sources all in one place to create those unified profiles unleashes your power by really knowing your customers and having the ability to connect and engage them at scale. 
Our data pillar includes:
Unified Customer Profiles
Data Ingestion
Governance
Insights and Customer Data Platforms
The real way to connect with customers is by discovering what they want to engage with or solve a problem they didn't even know existed. How do you find those needs, critical insights? Your CDP analyzes your customer data to uncover these insights so your team can create compelling content or messaging that entices customers to engage with your business. 
Our insight pillar includes:
Reporting & Analytics 
Machine Learning
Data Science 
Experience and Customer Data Platforms
Critical insights are at the heart of activation to ensure you're providing a unique experience tailored for your customers. By using your first-party data profiles you no longer are guessing what your customers want, you know what resonates with them so you can set-up the most effective marketing communications and channels for optimal engagement. 
Our experience pillar includes: 
Journey Orchestration 
Channel Activation 
Personalization 
Salesforce Data Cloud is implemented based on our four pillars along with the data-driven, collaborative process called Digital Flow. This virtuous cycle turns your data into insights and insights into innovative experiences across your Salesforce ecosystem to create digital transformation for your business.