GA Summit 2018 - 14 Announcements From The Future
A lot has been written about this year's Google Analytics Summit, which was held last week at the Computer History Museum in Mountain View, California. There were 14 major public announcements, over a dozen speakers, and a boatload of cool new features that were triumphantly revealed on day 1, or quietly implied behind closed doors on day 2.
I had the opportunity to attend this year's GA Summit. For two days, we sat on the cutting edge of the industry, and it was nothing short of amazing. The venue, the theme, the speakers… the roadmap. You think 14 announcements were cool — just wait 'til you see what's next.
Somewhere atop the Santa Cruz Mountains, late in the evening, I found myself dreaming of what the GA Summit might look like five years from now. It would definitely be even more international: this year's Summit attendees already represented 47 different countries! It would definitely be more popular: yes, we were a trending hashtag on Twitter this year, but that's just the start. What else?
This year's three major themes were "Access. Empower. Act." I imagined 2018's keynote Googler pacing the stage, broadcast live across YouTube to Google Glass, Android devices and Google TVs around the world. What would her three themes be? "Act?" That's perennial. "Predict?" GA is definitely headed in that direction. "Engage?" "Track hoverboard users?" Obviously.
What would her 14 announcements be in 2018?
I came up with my own list of 14 "announcements" for the GA Summit 2018.
1. Google Glass 3D / Tag Manager Integration
Since the one billionth pair of Google Glass 3D was sold, and since the introduction in 2017 of Google Corrective Lenses, there has been a growing desire to use Tag Manager to track Glass 3D app activity inside Google Analytics. Universal Analytics (now called simply "Analytics") has long allowed marketers to track users as they navigate from one device to another, from mobile to tablets to desktop. Google Glass 3D apps, of course, also feature built-in support for Analytics, and app activity can be tied to user behavior across any other device. Apps for Glass 3D are the next logical implementation for Tag Manager, and their integration, like Tag Manager for mobile apps, is practically seamless.
2. Google Tag Manager introduces its 1,000th integrated 3rd-party tag
Since Tag Manager's release, there has been a steady commitment to create one-click integration with other tags and libraries from within Tag Manager. The 1,000 milestone means that Tag Manager now natively supports 99.999% of all JavaScript implementations featuring the most popular extensions and libraries in use online. No other tag management system comes close to this degree of out-of-the-box integration.
You'll find these integrated tags inside the handy search function inside the Tag Manager "New Tag" interface.
3. Beginning in 2019, Tag Manager will begin holding its own conference, called the GTM Summit
This move represents Google's overall commitment to Tag Manager, a tool which has exploded in popularity among the larger web community. Google Analytics provided the springboard for early adoption, but developers and marketers alike have recognized A) the importance of tag management for organizing large website implementations, B) the ease of pushing real-time updates to downloaded mobile apps, and C) the benefits of relying on Google's IT infrastructure for guaranteed responsiveness and uptime.
The GTM Summit 2019 will be held at the Google headquarters in Pittsburgh, Pennsylvania. Conference schwag will include the newly-announced Google Hoverboard. Obviously.
4. Google will hash non-branded organic keywords, and provide a branded/non-branded ratio inside Google Analytics
In an effort to maintain user privacy while providing critical insights for marketers, Google announces that it will begin randomly hashing all organic keyword data from google.com, instead of leaving those values blank, or (not provided).
The organic keywords will remain obfuscated from analytics platforms, but marketers will be able to track the number of identical keywords searches and segment users into buckets of similar keyword behavior. Branded search keywords will be identified as such, allowing for branded/non-branded analysis, which is a critical component of gauging the success of marketing campaigns.
Branded keywords will automatically be identified by Google's latest Hummingbird algorithm.
5. Google Analytics is merging with Webmaster Tools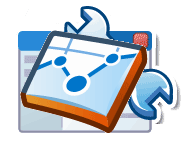 Since the Not-Provided Dark Age, marketers have labored too intensely on performing analysis on the organic keyword reports inside Webmaster Tools. Most of this data was being exported into Excel or Google Drive, where it was analyzed and reported outside of Webmaster Tools. This merger with Google Analytics finally ties the Webmaster Tools dataset with the advanced reporting features found in Google Analytics. With the many advances being made in parallel, Internet historians will question what exactly was the point of having two separate tools anyway?
6. Sampling in Google Analytics reports is gone forever
Owing to advances in quantum computing, and the enormous infrastructure of Google's server farms that cover the entire landmass of the Canadian province of Alberta, there will no longer be sampling inside the Google Analytics interface. This change has already been in place for Premium users for some time.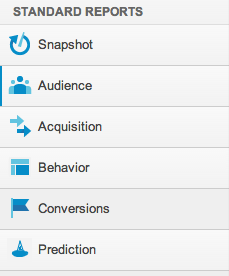 7. Data in standard reports is fresher than ever
Data shows up in reports almost at the moment of collection. The data is so fresh that, to avoid any confusion, Real-Time reports have been renamed, Snapshot reports.
In fact, the data is actually predictive. Google Analytics now provides a series of reports that project future behavior, based on historical data collection. A new group of reports can be found in a major new section called "Prediction." These reports allow marketers to project ecommerce performance, AdSense revenue, goal completions, or future traffic segmented by marketing channel or visitor demographics.
8. All AdWords reports will be available inside Google Analytics, and vice versa
Everything. All of it.
9. Cross-user tracking is now built in to Google Analytics
In 2013, Dan Wilkerson's landmark DirectMonster script finally allowed analysts to properly attribute so-called "direct" traffic to the original source, from one user to another. As a result, direct/none for some websites plummeted 40% or more, and it was finally possible to provide proper attribution to marketing channels, shared by loyal users.
Five years later, this functionality has proved so useful that Google Analytics will now integrate these cross-user reports into the interface directly. Simply check the box inside the Admin section for your view which says, "Enable Cross-User Tracking Reports". Moving forward, you will now be able to select a particular source and see the "secondary" traffic that those shares were able to generate across emails, direct IM shares, social media apps, etc.
10. Google.com algorithmic changes now appear as automatic annotations inside Google Analytics
Since Penguin Update #812, there has been a vocal desire by the SEO community to see the dates of major algorithm updates as annotations inside Google Analytics reports. Because these algorithmic changes are announced publicly anyway, Google finally decided to make these dates more visible in the interface. To see these annotations, simply click the annotations dropdown under any Overview chart, and click on the smiling Matt Cutts icon.
11. Chromealytics launches worldwide
Since the integration of jQuery 4.0 into the Chrome BrowserScript library, enabling the automatic deployment of jQuery on all pages on the Internet, there has been a push to integrate Google Analytics with the Chrome browser as well. Beginning today, references to analytics.js will be served by default by the Chrome browser itself, as it is now built into BrowserScript. This will result in an average reduction in bandwidth across the web by over one billion terabits per year.
12. Bots are completely removed from Analytics reports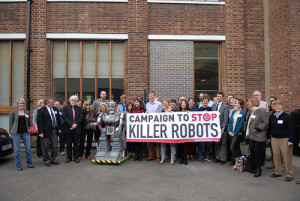 Since web crawlers have become so much more sophisticated in recent years, and since so much of the content on the web utilizes interactive AJAX functionality, most crawler bots are able to process JavaScript. As a result, it has become necessary for Google Analytics to selectively, systematically filter out bots from reporting. Chromealytics integration (see #11) will help facilitate this process, since bots don't use web browsers — yet.
13. Google Driverless cars are now a built-in segment in Analytics reports
Driverless cars now account for 4% of all trips taken in the United States. With this trend comes a massive increase in car-based internet usage and web browsing. You can now segment users by their driverless car browsing habits, like speed in miles-per-hour, velocity or acceleration — helpful when trying to determine user behavior on freeways versus backroads.
14. Views are being renamed "Profiles"
No one ever bothered to call them Views in the first place.
A man can dream, can't he?