Universal Analytics Upgrade One‑Pager For Decision‑Makers
For this post, we wanted to take a step back and describe the Universal Analytics upgrade process in very simple terms. What is it, and why should you care? If your company is struggling with any of these common questions, feel free to download this one-pager and share with your company to help understand the benefits of upgrading to Universal Analytics!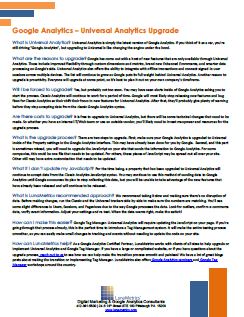 Read on for more information and the full text of the one-pager!
What is Universal Analytics?
What are the reasons to upgrade?
Will I be forced to upgrade?
Are there costs to upgrade?
What is the upgrade process?
What if I don't update my JavaScript?
What is LunaMetrics recommended approach?
How can I make this easier?
How can LunaMetrics help?
What is Universal Analytics?
Universal Analytics is simply the latest version of Google Analytics. If you think of it as a car, you're still driving "Google Analytics", but upgrading to Universal is like changing the engine under the hood.
What are the reasons to upgrade?
Google has come out with a host of new features that are only available through Universal Analytics. These include improved flexibility through custom dimensions and metrics, brand new Enhanced Ecommerce, and smarter data processing on Google's side. Universal Analytics also offers the ability to integrate with offline transactions and connect signed-in user sessions across multiple devices. The list will continue to grow as Google puts its full weight behind Universal Analytics. Another reason to upgrade is proactivity. Everyone will upgrade at some point, so it's best to plan it out on your own company's timeframe.
Will I be forced to upgrade?
Yes, but probably not too soon. You may have seen alerts inside of Google Analytics asking you to start the process. Classic Analytics will continue to work for a period of time. Google will most likely stop releasing new features and bug fixes for Classic Analytics as their shift their focus to new features for Universal Analytics. After that, they'll probably give plenty of warning before they stop accepting data from the classic Google Analytics syntax.
Are there costs to upgrade?
It is free to upgrade to Universal Analytics, but there will be some technical changes that need to be made. So whether you have an internal IT/Web team or use an outside vendor, you'll likely need to invest manpower and resources for the upgrade process.
What is the upgrade process?
There are two steps to upgrade. First, make sure your Google Analytics is upgraded to Universal inside of the Property settings in the Google Analytics interface. This may have already been done for you by Google. Second, and this part is sometimes missed, you will need to upgrade the JavaScript on your site that sends the information to Google Analytics. For some companies, this could be one file that needs to be updated. For others, these pieces of JavaScript may be spread out all over your site. Other still may have extra customization that needs to be updated.
What if I don't update my JavaScript?
For the time being, a property that has been upgraded to Universal Analytics will continue to accept data from the Classic Analytics JavaScript syntax. You may continue to use this method of sending data to Google Analytics until Google announces its plan to stop collecting this data, but you will be unable to take advantage of the new features that have already been released and will continue to be released.
What approach does LunaMetrics recommend?
We recommend taking it slow and making sure there's no disruption of data. Before making changes, run the Classic and the Universal trackers side-by-side to make sure the numbers are matching. You'll see some slight differences in Users, Sessions, and Pageviews due to the way Google processes the data. Look for outliers, confirm e-commerce data, verify event information. Adjust your settings and re-test. When the data seems right, make the switch!
How can I make this easier?
Google Tag Manager. Universal Analytics will require updating the JavaScript on your page. If you're going through that process already, this is the perfect time to introduce a Tag Management system. It will make the entire testing process smoother, as you can easily make small changes to tracking and events without needing to update the code on your site.
How can LunaMetrics help?
As a Google Analytics Certified Partner, LunaMetrics works with clients of all sizes to help upgrade or implement Universal Analytics and Google Tag Manager. If you have a large or complicated website, or if you have questions about the upgrade process, reach out to us to see how we can help make the transition process smooth and painless! We have a lot of great blogs posts about making the transition or implementing Tag Manager. LunaMetrics also offers Google Analytics seminars and Google Tag Manager workshops around the country.
Don't forget to download the one-pager here!
Read more:
How To Upgrade To Universal Analytics: A Survival Guide
Universal Analytics Out of Beta and Into Our Hearts