Press Release: Bounteous Included in Analyst Report, 'Now Tech: Digital Experience Agencies'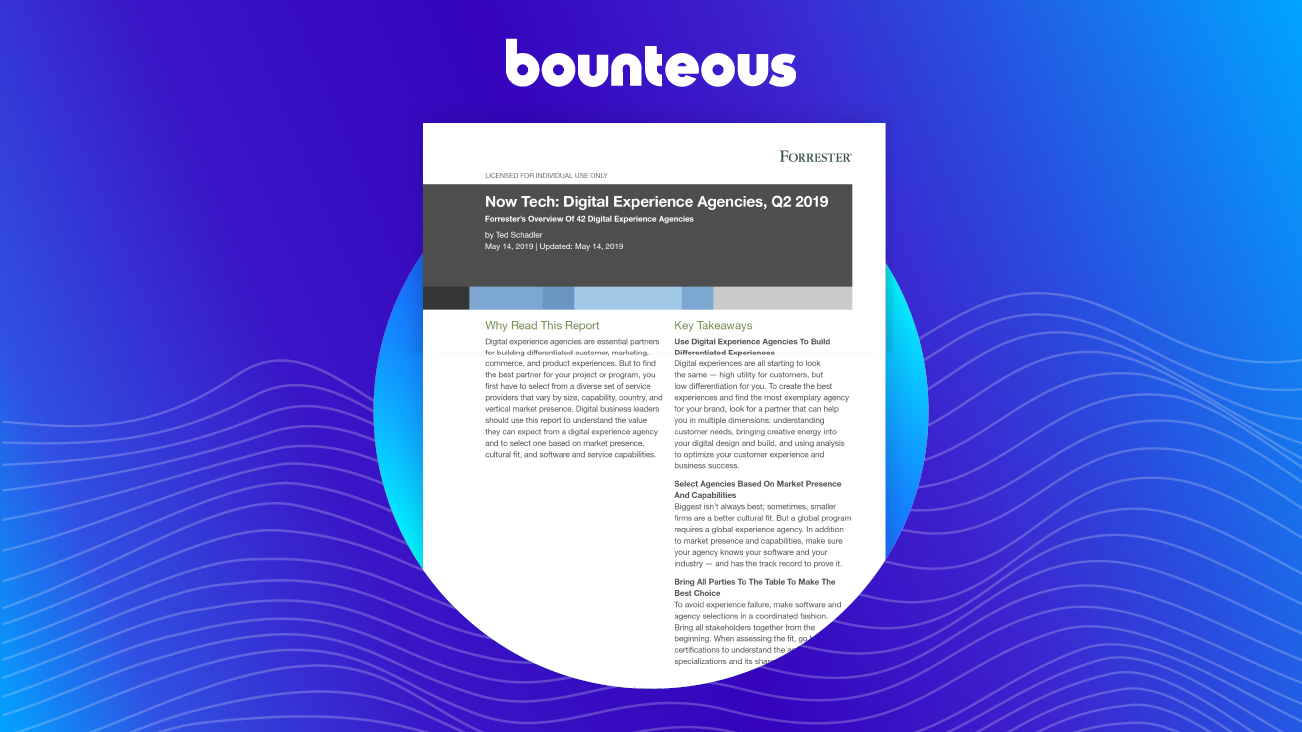 Independent research firm selects agencies based on market presence and capabilities
CHICAGO — July 9, 2019 — Bounteous, a leading insights-driven digital experience agency, is included in recent research by Forrester, an influential global research and advisory firm for business and technology leaders, titled, "Now Tech: Digital Experience Agencies, Q2 2019."
The report is designed to empower digital business leaders to understand the value they can expect from a digital experience agency and to select one based on market presence, cultural fit, and software and service capabilities.
"This high-level research is a helpful guide for digital leaders who are evaluating vendors in the digital experience agency space and prioritize choices based on their organizational needs," said John Telford, VP of Digital Solutions at Bounteous. "Bounteous is well-positioned to help our clients not only understand the capabilities of digital transformation, but also to translate those capabilities in such a way that they drive the most value for their business."
Forrester gathered detailed data from 70 digital experience agencies and chose 42 of them, including Bounteous, based on Forrester client interest. Importantly, Bounteous is listed as one of the few smaller players in the digital experience agency market to select based on market presence and capabilities. Bounteous ranks in all four service line segments listed: Customer, Marketing, Commerce, and Product.
In the report, author Ted Schadler talks about the challenges in choosing a digital experience agency — highlighting the various ways consultancies and technology service providers have evolved to offer more complete offerings like design and analytics, often accelerated through digital acquisitions.
Bounteous has followed a similar trajectory, founded as HS2 Solutions in 2003 as a technology services company and evolving through strategic hiring and acquisitions of LunaMetrics, Demac Media, and Infield Digital. In 2018, HS2 Solutions announced the rebrand to Bounteous.
With record growth over the past several years, Bounteous is able to offer a complete set of digital experience services: strategy, development, design, marketing, analytics, and data science.
The majority of the report contains research on the relationship between the market presence and capabilities of digital agencies and the business transformation of their clients' brand experiences. Bounteous has long had these distinctions in place, from specializations in industry-leading software, to strategy-informed, creative design-and-build, to insights-driven, iterative process.
The "Now Tech: Digital Experience Agencies, Q2 2019" report is available online to Forrester customers or for purchase: https://www.forrester.com/report/Now+Tech+Digital+Experience+Agencies+Q2+2019/-/E-RES152995
This is the second time Forrester has cited Bounteous in the last twelve months. Late last year, Bounteous was also cited twice in the Forrester report "Ten Ways to Get the Most Out of Your Adobe Investment."
About Bounteous
Founded in 2003 in Chicago, Bounteous creates big-picture digital solutions that help leading companies deliver transformational digital brand experiences. Our expertise includes Strategy, Experience Design, Technology, Analytics and Insight, and Marketing. Bounteous forms problem-solving partnerships with their clients to envision, design, and build their digital futures. For more information, please visit www.bounteous.com.

For the most up-to-date news, follow Bounteous on Twitter, LinkedIn, Facebook, and Instagram.