Press Release: Bounteous Bolsters Executive Team; Taps Marc Blanchard as Chief Experience Officer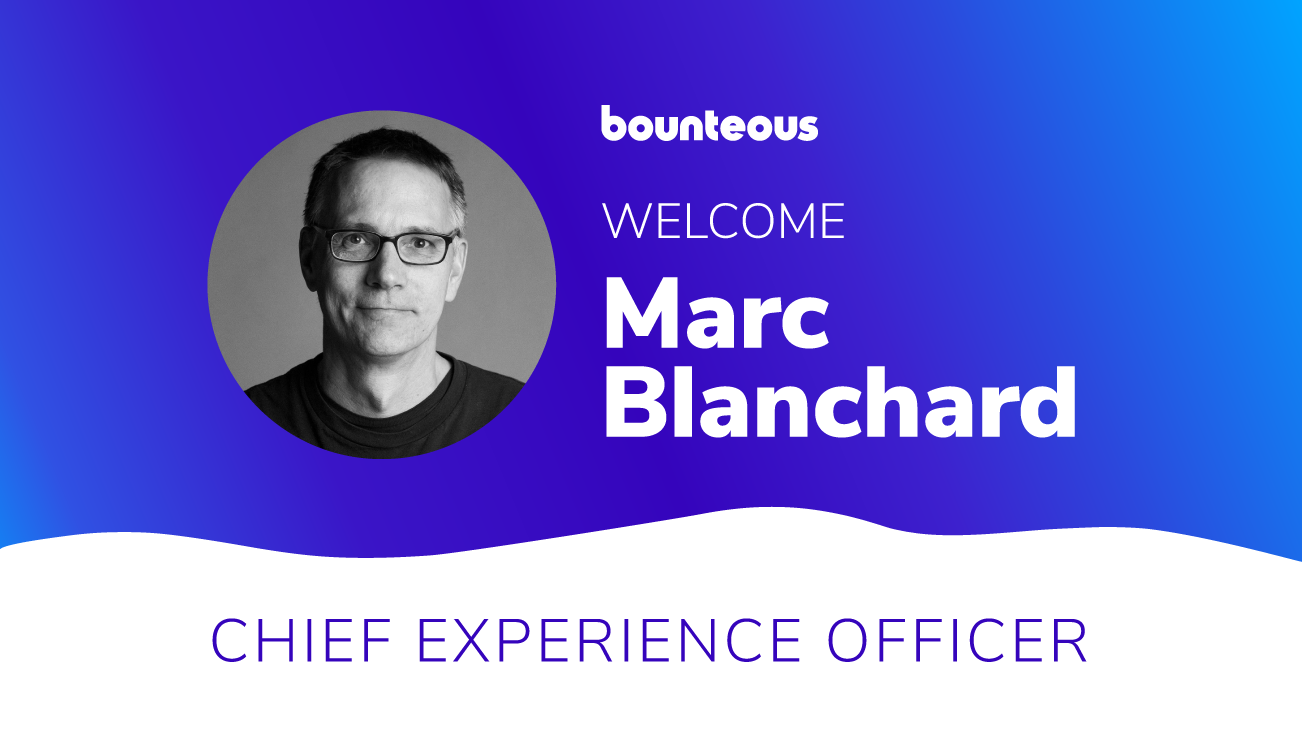 Seasoned creative lead elevates experience design practice for one of North America's largest independent digital agencies
CHICAGO, January 7, 2020 – Bounteous has hired Marc Blanchard as its first Chief Experience Officer, a new position at the leading insights-driven digital experience agency. The move marks the agency's latest strategic move in recent months, as it continues to win clients and add to its leadership team in response to growth.
Blanchard is responsible for leading Bounteous' Experience Design practice and joins SVP of Experience Design Amanda Ruzin to set the strategy for the XD practice, one of Bounteous' fastest-growing practices.

"Marc is a savvy designer, strategist, and thought leader, and we're elated to have him join our team at Bounteous," said Keith Schwartz, co-founder and CEO of Bounteous. "Our design practice competes with the very best firms in the world, and Marc will continue the efforts of shaping those offerings and momentum."

"In partnership with Amanda, and the rest of our leadership team, Marc will sharpen our experience strategy; help develop creative engagements that drive value for our clients; and excite, challenge, and deepen our teams."

Blanchard is a creative lead and experience designer with a 20-year track record of crafting digital brand experiences for global brands such as IBM, Intel, Charles Schwab, and Nike. Previously Global Head of Experience Design at Havas, Blanchard is a recognized thought leader in using data and AI to power experiences, and has been a guest lecturer and adjunct professor at both NYU and Columbia.
Blanchard cites a transformative shift in marketing and heavier engagement than ever before in brand experiences from apps to online to retail. Marketing has grown beyond storytelling to create valuable experiences that people need at every stage of their customer journey, and in response, organizations are evolving their talent, type of work output, and types of engagements with clients.
"Marketing is evolving from making people want things to making things people want," Blanchard said. "To own the conversation, our clients need different processes, different types of research, different ways of working. It's important today to have people in place who understand user experience, who are highly valued in the organization, and who use deep user research that empathizes with people to organize their work."
About Bounteous
Founded in 2003 in Chicago, Bounteous creates big-picture digital solutions that help leading companies deliver transformational digital brand experiences. Our expertise includes Strategy, Experience Design, Technology, Analytics and Insight, and Marketing. Bounteous forms problem-solving partnerships with their clients to envision, design, and build their digital futures. For more information, please visit www.bounteous.com.
For the most up-to-date news, follow Bounteous on Twitter, LinkedIn, Facebook, and Instagram.