Q&A with AEM Rock Star, Brett Birschbach — Inspiring the Next Generation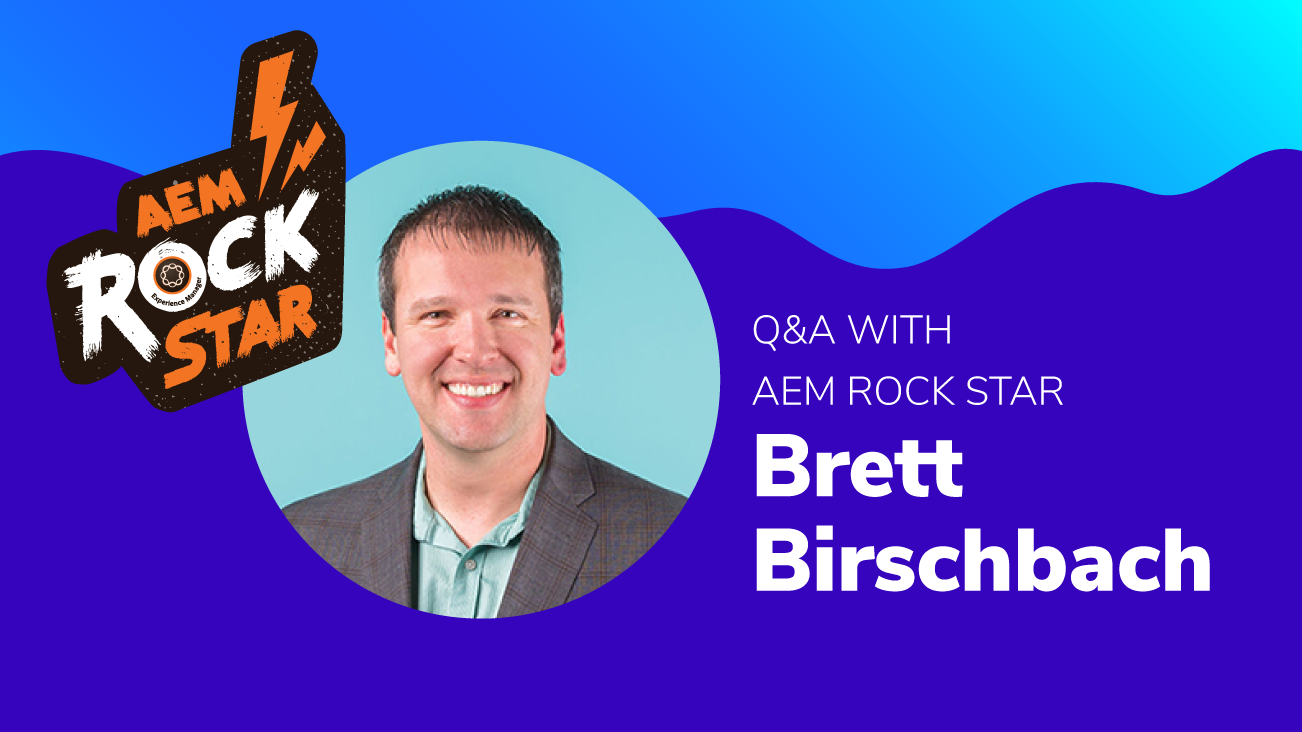 Brett Birschbach is a leader, innovator, and mentor in the Adobe ecosystem. He consistently finds opportunities to contribute to the community and helps customers get the most out of their Adobe investments.
Brett has made a name for himself in the Adobe Experience Manager (AEM) space, specifically as the 2018 AEM Rock Star winner. He and his team are the number one contributors to ACS AEM Commons outside of Adobe and consistently publish blog and webinar content to benefit the Adobe community. As Brett, the VP, AEM Engineering at Bounteous, puts it — he leads "a growing team of hard-working, incredibly talented industry professionals who settle for nothing but the best."
We sat down with Brett to learn more about his own digital journey and the factors and events that led him to where he is today. 
Let's Jump Into the Q&A
Q: You and your team have won a number of awards in your time as an AEM professional — what's your most meaningful to date?
Brett (Birschbach): I think the combination of winning both 2018 Emerging Partner of the Year as a company and AEM Rock Star personally the same year at Summit — followed by being awarded eight speaking slots across six different team members at Adobe IMMERSE (the next closest partner had two) really confirmed for us that we're playing at the top level of this game.
By far what I'm most proud of is our 'lineup' of experts in the AEM field. Any company is going to have one or two superstars, but I'd put our team up person for person against any in the industry. What we have here is truly special.
Q: What's your favorite memory to date that the AEM space has opened up for you?
Brett: Some memories are simple things — for example, there was seeing David Gonzalez, maintainer of ACS AEM Commons from Adobe, the first time at Summit and having him say, 'Hey, I know who you are from your picture on pull requests,' even before introducing myself.
A more 'public' memory was Mark Adamcin winning AEM Rock Star the year after mine. At first, I thought there was no way they'd let Bounteous be in the finals two years in a row — especially with the tradition of the previous year's winner being judge. Then when Mark made it in — ousting me from being a judge — I hardly dreamed that the judges would allow our team to take home the title two years in a row. I was blown away when I heard his name declared victorious at the end of the session as I watched from the second row.
Q: How has your relationship with Adobe changed over the years?
Brett: We knew when we got started with Adobe that we were going to have to find a way to stand out from other partners. More than just using the products, we knew we would need to become experts, and quickly. 
We've built deep relationships with both Adobe's Sales and Marketing as well as Technology teams, and in 2018 we were named Adobe's Emerging Partner of the Year early in our trajectory. Since then, we've achieved Platinum Partnership status and are aggressively closing deals alongside Adobe in all Adobe Experience Cloud technologies including Adobe Experience Platform. And last but not least, we've been afforded opportunities to be on Adobe's biggest stage at Summit, presenting on Best Practices in Experience-Driven Commerce alongside Adobe and TiVo. 
Q: The digital ecosystem is constantly evolving — meaning there are new updates, new products, and new regulations released almost weekly. As an Adobe practice leader, how have you positioned your team to remain flexible and quickly adopt and adapt to new technology?
Brett: You always have to start with the people and how you leverage the greatest asset we will ever have — the team. Our Adobe Slack channels allow all of our technologists to ask questions and learn from the experiences of teammates on other projects. Our tech leads hold Office Hours on a weekly basis, where they sit in a virtual web room waiting from someone to join seeking help.
Beyond the people, we also leverage technology where we can. Our industry is very much a 'see and do' industry, so internally we keep our AEM Activate project (used to start all AEM projects) up to date with latest and greatest practices, so that on each new project our engineers are immersed with the correct way to build modern AEM projects.
Q: How have you and your teams been able to adapt to optimize opportunities that come with that change?
Brett: Because we've built our foundation on long-term client relationships, we've been afforded opportunity more and more to work in Adobe tools outside of AEM and apply them to real-world solutions rather than doing enablement programs and PoCs. These opportunities have allowed us to bring a real, 'no BS'-perspective to the table when investigating these tools with new clients, enabling us to win more work in these areas.
Q: What are you most excited for in the next five years working in the Adobe space?
Brett: Adobe really is second to none in terms of being visionary and stretching the bounds of what brands are doing with technology. Much of what Adobe is selling today is going to be commonplace in sites five years from now. Just like you wouldn't imagine asking a client today if they want their site to be mobile responsive (of course they do, that's a table stakes expectation), five years from now asking an enterprise-level client if they want their site to be personalized will be just as silly.
Let's Rewind and Bring It Back to Focus on How You Got Your Start
Q: Thinking back to your high school days, what did you want to be when you "grew up" and what influenced that dream?
Brett: For a long time I wanted to be a game warden, as I love the outdoors and activities like fishing. But in high school, I started to realize that I felt at home on a computer. When I built my first website on Geocities with HTML and CSS, I knew it was the coding life for me.
Q: What did you study in college? How has that helped shape your career?
Brett: Like many folks in this industry, I went to school for computer science. However, perhaps unlike many others, I also embarked upon a personal continuous education on the topics of leadership, people skills, and selling. Everyone in this industry is tech-savvy to some extent. Leadership, people skills, and selling have been big accelerators to my ability to grow my role at Bounteous, working remote from Green Bay, Wisc. over the past 11 years.
Q: Where did you begin your career? What were your three biggest learnings you've taken with you from your first job?
Brett: I began my career at Cellcom, a regional cellular provider in central Wisconsin. I, like most people, learned more than I could have imagined or even really realized at the time in my first job. Thinking back, the three biggest things that have stuck with me throughout my career are: 
The purpose of software development is business value, not perfection.
Reward team members for the work they do, which shouldn't be limited to how long they've been here.
If you consistently go above and beyond, rest assured that someone will find you out.
Q: How long have you been with Bounteous, and what about it drew you to the team?
Brett: I've been with Bounteous a little over 11 years now — that's over a decade! Some obvious things like the ability to work remotely and be compensated fairly for the work I do on a daily basis, but ultimately one thing has stuck with me all these years.
When Phil Hollyer (owner at the time) interviewed me in person, he said, 'Brett, we'll never be the cheapest provider, because we'll always be the best.' I believe that laser focus on excellence has fueled our growth from a couple dozen folks to over 500 in that timespan.
Q: From your unique perspective, describe how you've seen the team evolve. How has that set you and the team up for success?
Brett: When we were small, we didn't have much room for differentiated roles. Many of our projects in the old days didn't even have an official Tech Lead, much less an Architect. We were tight teams of talented folks who just got the job done.
In that environment, however, we didn't have a lot of bandwidth for helping team members that needed a bit of a hand getting ramped up into new technologies or new role responsibilities. It was a bit of a 'sink or swim' mentality. As we have grown, particularly this last year, we've put in place new roles that offer a more clear path of advancement opportunity for team members, as well as provide for more natural mentoring as they grow in their career.
Q: What is your number one piece of advice for someone interested in development?
Brett: Find a place with a bunch of really smart and personable folks working on true client projects. No amount of learning from tutorials, videos, and demos will ever replace what you will learn from a group of smart team members addressing real-world scenarios across varying client technology landscapes and business models.
Not everyone's path to developer looks the same, that's why we're investing in new ways to grow talent internally like our incubator program and our internal Adobe training and support. If you're interested in getting started on this path, check out more details here.
---
We can all take a page out of Brett's playbook as a leader and a team player. An early focus on leadership has certainly set him apart from other leaders in the digital space. His contributions to the Adobe community, specifically in AEM, and an endless commitment to his talented team are admirable.