Marketplace Strategies to Help Retailers Quickly Grow Their Online Business in a Digital‑First Economy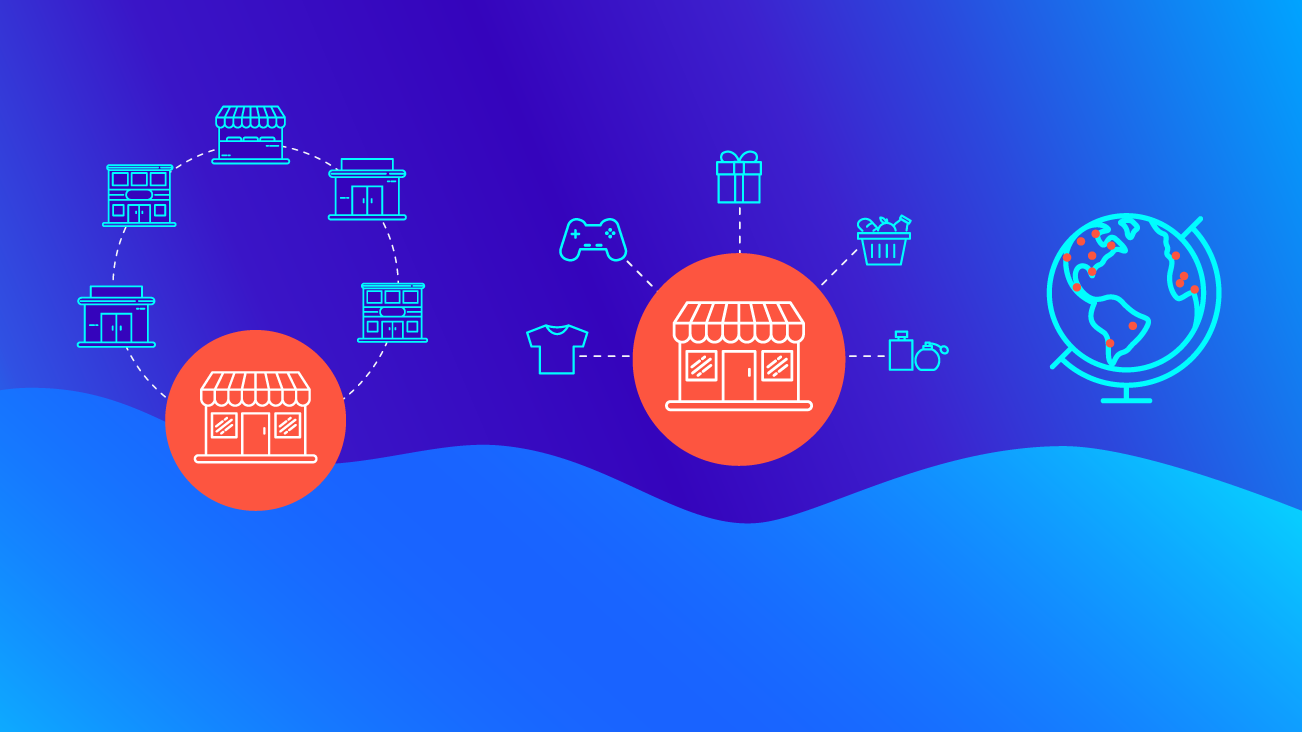 Although the overall retail industry forecasts are taking a hit for 2020, the commerce sector continues to expand. Now, more than ever, retailers are looking for ways to establish and grow their business online, shifting their focus from bricks and mortar to commerce success.
"Commerce will reach 14.5% of total retail sales in 2020, representing both an all-time high and the biggest share increase in a single year." - emarketer.com
With consumers quickly adapting to online as a more primary shopping channel, retailers must adjust their strategies to meet their customers' changing needs.
Whether there is someone desperate for hand sanitizer today or someone who needs toilet paper by the weekend, retailers and organizations require flexible and scalable commerce solutions to provide customers what they need, when they need it, where they can easily find it.
With opportunities to offer next-day delivery with Amazon or pivot to sell valuable PPE through a marketplace platform, retailers who adapt to new strategies will ultimately benefit compared to those not yet prepared to handle today's customer needs.
Our approach to rapid commerce success and growth begins with accelerating time-to-market. We can help retailers launch scalable online stores in weeks rather than months using platforms like Elastic Path and Shopify Plus.
With a solid commerce foundation in place, we can work closely with businesses to develop roadmaps to increase conversion and revenue growth through differentiated experiences and long-term flexibility.
Over the past few months, we've identified online marketplace strategies to be one of the most lucrative growth opportunities for retailers, manufacturers, and distributors. For years Amazon has dominated that market, and when most people mention online marketplaces, Amazon is one of the first things that might come to mind. However, there are many other strategic ways that retailers can leverage marketplaces to grow online—the few that stand out to us are: growth across multiple marketplaces, product offering expansion, and global growth.
Growth Across Marketplaces
Online marketplaces account for a large percentage of global commerce sales and continue to grow rapidly, especially in today's economy. As an example, while several retailers filed for bankruptcy, Etsy saw an explosion in non-mask sales of 79 percent in April, as reported by Forbes.
Selling products through online marketplaces allows retailers to access a new audience of customers who are shopping on these third-party platforms. Some of the most common marketplaces include:
Amazon
eBay
Google Shopping
Walmart.com
Alibaba.com
Etsy
Most commerce platforms allow retailers to easily syndicate their products directly from their online store to major marketplaces. Though, that doesn't mean that retailers can or should list their products on every marketplace at once.
Each marketplace has its own set of rules for product data and depending on the region, certain marketplaces are more popular than others. In particular, Amazon.com is most common in North America, while Aliexpress is more common in Asia. Retailers should start with researching and testing the marketplaces that they believe are the best fit for their offering and audience.
Establishing the right marketplace is key, but once retailers start selling across multiple marketplaces, scaling can become complicated.
Manipulating product data to meet the rules and nuances of individual marketplaces and syndicating relevant content seamlessly is tedious and time-consuming. Not only does managing data in individual marketplaces take up significant resources, it's also prone to errors like inconsistent imagery or incorrect pricing.
Part of the reason marketplace syndication is so time-consuming and prone to error is due to the fragmented way in which product data is collected. SKU data might come from an Enterprise Resource Planning (ERP) tool, while images are pulled from a Data Asset Management (DAM) tool, and product descriptions may need to be manually entered. Collecting and managing the product data becomes more than half of the effort, making retailer's success in marketplaces limited by available resources and time.
When retailers are experiencing challenges like this related to marketplace syndication, we begin looking at how it might be possible to consolidate the product data into one platform, such as a Product Information Management (PIM) solution.
Retailers are able to mitigate the operation costs it takes to collect and manage product data with a PIM, like Akeneo, Enterworks, or something similar. By pulling and automatically validating all or at least most of the required product data into one spot, a PIM helps ensure that every product on each marketplace has the correct data including imagery, pricing, inventory, descriptions, and more.
We begin any PIM implementation with a Discovery and Planning stage as PIMs support different data attributes, different operational flows, levels of SKU volume, and more. PIM solutions can also handle syndication differently. As an example, Salsify has feed management built-in, while Akeneo is complemented well with a separate feed management tool like Productsup.
Feed management allows retailers to further optimize marketplace revenues by adding more layers of automation and A/B testing every change to product data across each marketplace.
Scaling within marketplaces is possible, with the right strategy and tools in place.
Product Offering Expansion
Having a presence on major marketplaces is imperative to grow retailers' existing product sales. What's the next step when a business has optimized their marketplace strategy and their commerce store is thriving? Many online retailers identify Amazon as a threat, while others have decided to adopt their own marketplace software to expand their product and service offerings with minimal overhead and risk.
When we're approached by a retailer with an objective to extend their product or service offering range, or are looking to branch out into a new category, marketplace software is a great potential solution. Marketplace software provides agility and cost-efficiency when expanding product and service offerings, which is more important than ever in a digital-first economy.
Marketplace operators aren't restricted to focusing on owned assets.
Operators have the flexibility they need to quickly adapt supply to match demand.
"The organizations that recognize the marketplace opportunity are the winners—and they're taking their places at the top of the new digital economy," said Tzipi Avioz, EVP Customer Success, Americas - Mirakl
With marketplace software, retailers can easily become more relevant to their customers by expanding their product assortment, and giving their customers what they want. Third-party sellers can provide a whole new product or category to a retailers site visitors through the controlled marketplace.
Retailers can also provide services to customers without pivoting to become a service provider by partnering with complementary partners. For instance, a clothing retailer could offer tailoring services or an auto parts retailer could offer mechanic services without ever hiring a single mechanic.
Choosing the right marketplace software is important. Just like Airbnb is a marketplace for sharing homes or Etsy is a marketplace for selling handmade products, retailers should choose marketplace software that best suits what they are looking to sell. For example, Sharetribe focuses on marketplaces in the "sharing economy," like Airbnb, while Mirakl is a good fit for those looking to build a marketplace where retailers sell their products, like Amazon or Alibaba.
Once retailers have identified the right marketplace platform for their requirements, they can efficiently grow their product and service offerings, resulting in quick returns on the platform investment.
Global Growth
Since the pandemic, emarketer.com decreased its global retail forecast by over 10 percentage points, but its global commerce forecast only decreased by 2 percentage points. They report that nine countries including the Philippines, Malaysia, and Spain, are projected to see more than 20 percent growth in retail commerce sales in 2020.
China continues to dominate global commerce and 62.6 percent of all digital sales will take place in Asia-Pacific. North America and Western Europe are a smaller fraction of global commerce sales, at 19.1 percent and 12.7 percent.
When considering global growth, reviewing trends and statistics can help guide a retailer to regions to begin testing, but there are a few steps we recommend before fully launching in a new region.
The first is to test through marketplaces. Marketplaces provide a platform that is already established and localized to new regions. If testing global growth in Asia-Pacific, the best marketplace to test is Alibaba. Whereas if testing global growth in North America or Europe, the most commonly used marketplace is Amazon.
Once a retailer has completed their testing, they're ready to invest in launching into a new region. This is where businesses will see a lot of value if they invested in a scalable commerce platform, such as Shopify Plus. Shopify Plus offers templated digital architecture, providing merchants with six free clone stores. This allows retailers to invest in localization rather than web development, enabling them to create personalized online shopping experiences.
Localization is imperative to global growth success. There are three key considerations for a localized commerce strategy: 
Currency
Language
Tone (personalize to new region culture)
A more complicated part of localization is payment strategy. Consumers in different regions prefer different payment methods. For instance, U.S. shoppers prefer credit cards, while Chinese shoppers prefer Alipay.
An international distribution strategy is another crucial element retailers have to think about with global growth. Shipping affects both the bottom line and levels of customer satisfaction. The best solution is to find local shippers within a region, in order to reduce both shipping costs and time. Finding local shipping providers in new regions can be complicated, but solutions like Digital River can help retailers overcome these challenges with their global expertise.
The challenges occurring in retail today present new threats, but also opportunities for retailers to embrace commerce like never before. With these strategies and technologies, retailers can overcome challenges and meet consumers changing needs.