How Can Marketers Reach Growing Connected TV & OTT Audiences?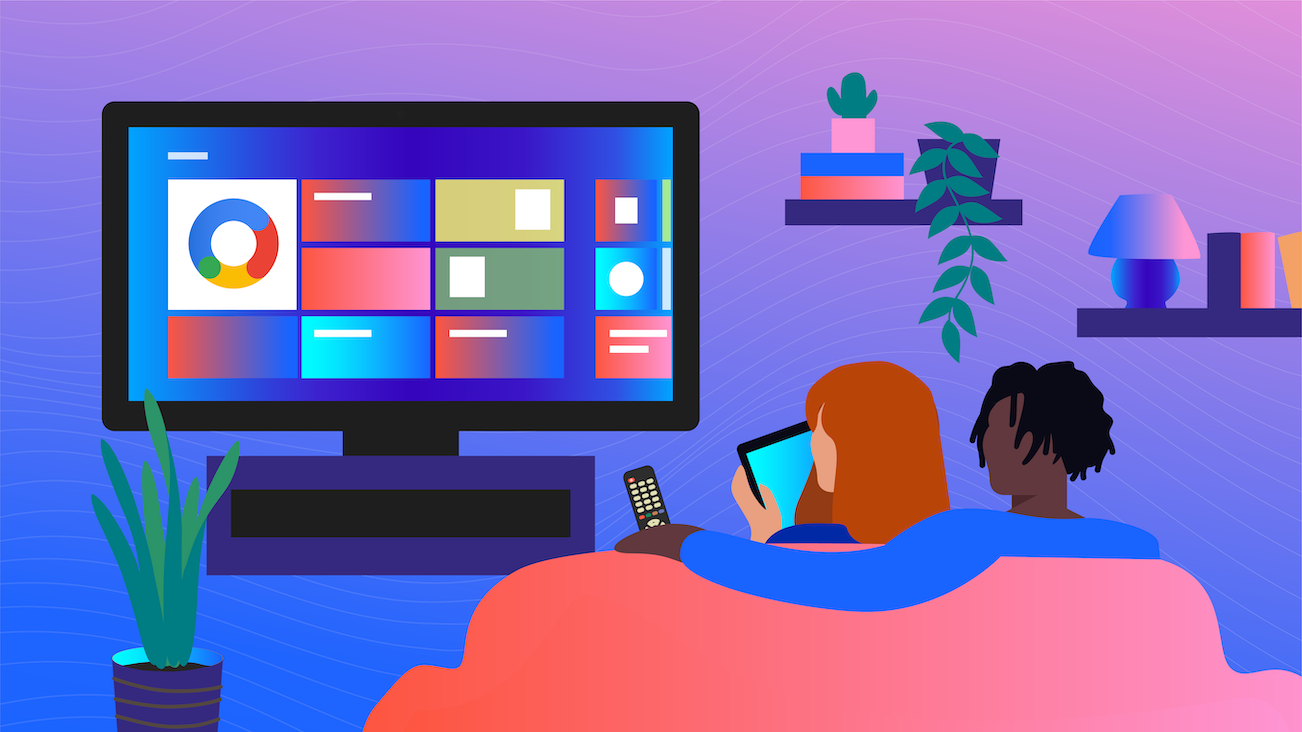 Advances in ad tech along with a consumer shift towards OTT content and CTV devices gives marketers and "boutique" agencies the opportunity to tap into ad inventory that was once only available to the largest global agencies.
What Are CTV & OTT?
CTV or Connected TV is a device, such as an internet-enabled television. A "smart" TV, a TV connected to a gaming device like a PS4, and a TV using a device like a Roku or FireStick all fall under "CTV."
OTT or Over The Top refers to content. OTT content often appears on a CTV device, but not always. Regardless of the device, the takeaway here is that OTT content is TV or long-form video content that's delivered via the internet as opposed to a traditional cable box. If you've ever used Hulu, Netflix, or Amazon Prime Video (among others), you've been consuming OTT content.
The shift to OTT is quite apparent and doesn't show signs of slowing. According to an IAB survey conducted in June 2020, 59 percent of ad buyers plan to increase OTT/CTV investment in H2 2020 compared to 2019. Over 63 percent of the US population is expected to be a CTV user by 2023, says eMarketer, while traditional TV usage showed a sharp decline between 2011 and 2017, particularly among younger demographics (read "tomorrow's buying power"):
eMarketer predicts this trend to continue in the future:
COVID's Impact on OTT & CTV
With consumers stuck at home, the COVID-19 crisis has served as a catalyst to quicken the shift to OTT. A chart provided by Comscore shows a steep increase in OTT and streaming usage in correlation with US shutdowns:
Furthermore, The Trade Desk recently reported 40 percent YoY growth in CTV spend Q2 2020 compared to Q2 2019, while also anticipating growth rates to continue to significantly accelerate in Q3.
The Trade Desk CEO Jeff Green is quoted as saying, "We believe the COVID pandemic has permanently accelerated the growth of connected television, changing the TV landscape forever."
As consumers adopt and adjust to new technology, don't expect them to return to antiquated ways of doing things.
Consumers Shift to Streaming
Aside from market studies, forecasts, and surveys, one can also look to publicly available search trends as an indicator of where consumer attention is focused. Searches for "streaming service" have shown steady growth over the past five years:
As telling as this is, interest in "streaming service" pales in comparison to more popular queries such as the relative interest over time for the name brand devices and services that allow users to stream content:
At the same time, and similar to the Nielsen study cited above, consumer search interest in "cable tv" is waning:
My not-too-bold prediction is that similar to brands and products of past decades that have fallen victim to innovation, cable TV will soon flatline and fade into nostalgic obscurity. RIP Blockbuster, my childhood wouldn't have been the same without you.
Ad Tech & CTV/OTT
New trends of mass media consumption lead the way to new ad-buying supply chains. Today's leading ad tech stacks, like Google Marketing Platform (GMP), allow savvy marketers and agencies to activate media buys with staggering reach and consolidated reporting.
GMP gives marketers a powerful tool to execute and track media buys at scale across a variety of buying types and ad exchanges. From simple programmatic buying on the open exchange, to invite-only private auctions, guaranteed deals and direct buys, GMP provides the tech that is needed to buy media efficiently and effectively.
Outside of a handful of obvious major players like Netflix, Hulu, YouTube, etc., streaming video content via the internet, and in particular live content, is still a highly fragmented arena. Hundreds of publishers, dozens of exchanges, and multiple buying types can all be leveraged using GMP's Display & Video 360 DSP + Campaign Manager ad server.
Learnings & Tips
Bounteous Clients Use GMP to Activate OTT/Streaming Video Across Multiple Buying Type
Bounteous ideates and manages CTV and OTT buys for our advertising clients. Here are two great use cases from recent campaigns.
Reaching Sports Fan with Key Messaging During Big Moments (OTT Buy)
To reach sports fans and gamers at scale, we utilized a variety of buying types to access highly premium video inventory.
First, was the sports fans. Hockey is big in Canada—11 of the 20 highest viewership broadcasts in Canadian history have been hockey games. Bounteous partnered with Rogers Media to run 30-second video ads during live NHL OTT broadcasts during the 2019-20 regular season for our advertiser. The ads aired to fans streaming live NHL games on smartphones, computers, and Connected TV devices.
The particular inventory we chose for this buy was not available to be purchased in a DSP, so we leveraged an existing relationship with the publisher to write an IO for a Direct Buy. We made use of Google's Campaign Manager tracking ad tags to track and report on our buy.
We also amplified this buy across social platforms, but we'll save that for a separate post.
Our client's campaign reached over 70,000 unique users an average of 13 times during the course of the nearly-two-month flight, and touted just shy of 90 percent viewable completion rate. Well over half of our views served on a CTV device, to the delight of our client.
Fortunately, we were able to complete our full flight as-planned before nearly all sports events ground to a screeching halt in March 2020.
At the time of writing this, sports are back and we're currently mid-flight on live sports OTT buys for both NHL and NBA playoffs. This time around we've expanded our reach and buying types to include Programmatic Guaranteed deals and Private Auctions within Display & Video 360 in addition to Direct Buys. Aside from expanding the client's reach and visibility across key demographics, this also allows us to take advantage of tagless trafficking and consolidated reporting and billing. 
TIPS
Tip 1: Premium ad space is only as good as the creative asset that you fill it with. Craft high-quality video assets that resonate with both the audience and the content that it's serving on. Encourage the media planners and buyers to get involved with creative concepting when possible.
Tip 2: CTV and OTT should be looked at as an awareness and reach play. Look to metrics like complete views, unique reach, and frequency. CTV and OTT by default tout high complete view rates, as most content is not skippable. Want even more insight? Start looking at cross-channel conversion path reporting or toggle between different attribution models. Don't be afraid to make use of social listening and sentiment analysis tools for candid feedback directly from your audience!
Tip 3: While GMP provides all the tech needed to activate buys immediately, taking time to nurture strong relationships with publishers reaps tremendous advantages. Having strong relationships with publisher partners will often get you an early "heads up" on new formats and placements, first crack at highly sought after inventory, strategy recommendations, and free value-add impressions.
Creating Awareness for Gamers Where They Play & Stream (Live Streaming OTT Buy)
Onto gamers next. The global audience for eSports was projected to be 454 million users in 2019. Twitch estimates that 84 percent of all eSports fans use the Twitch platform to watch eSports live streams.
Although there certainly are huge events in the gaming world such as new game releases, competitive eSports tournaments, and gaming expos and conventions, the massive volume of non-event-related live streaming allows us to use Twitch as a more evergreen tactic. With traditional sports, we are far more tied to physical events than we are with eSports.
For Twitch we activated a direct buy, and served our video asset directly out of our Campaign Manager ad server.
During the course of one of our Twitch flights, we reached 284,000 unique users an average of 2.3 times, while hitting an 88 percent viewable completion rate.
Going forward, we anticipate Twitch to continue expanding as a viable marketing channel for audiences beyond video game enthusiasts. Live sports, event broadcasts, and podcasts will all be tapped into in the year ahead.
TIPS
Tip 1: Twitch video inventory isn't available in Display & Video 360's marketplace, so you'll have to form a relationship with the publisher here. Don't worry—you can still track and report on your buys out of GMP's Campaign Manager ad server.
Tip 2: Again, premium ad space is only as good as the creative asset that you fill it with. Craft compelling assets that resonate with your audience and the content that it's serving on.
Tip 3: Bolster your video buys on Twitch with display homepage takeovers on strategic dates. Is your brand announcing a new product? Is the new Call of Duty game coming out? These would both be great opportunities for high-impact display takeovers alongside the video.
Getting Started with OTT: The Time is Now
OTT is a channel that is teeming with opportunities for marketers and brands. We're in the early days of a transcendent shift in media consumption—the digitization of television. This digitization of TV not only makes it possible for 'smaller' players to enter this arena, but also provides analysts and decision-makers the ability for data-driven decision making, nimble on-the-fly optimization, and blazing fast turnaround between planning and activation.
In the past, brands have found tremendous success being first-movers in emerging marketing channels. Paid search, paid social, and display, at one point, were all emerging digital channels, born from traditional tactics like billboards, print, word of mouth, and non-digital directories. Isn't it time TV catches up?
Taking advantage of the OTT landscape is not an overnight process. Selecting your ad tech stack, nurturing publisher relationships, and preliminary testing are all a part of due diligence. Brands need to begin sharpening their OTT sword now, or they will soon find themselves laggards.
Need help getting your brand or agency up to speed? Bounteous is a full-service agency with expertise in ad tech and media buying. We support brands that are aiming to advance their digital maturity.
---
Thanks to Yulia Budko for her contributions to this post.