Press Release: Bounteous and FortyFour Donate to the Atlanta Community Food Bank; Continuing Their Crusade Against Hunger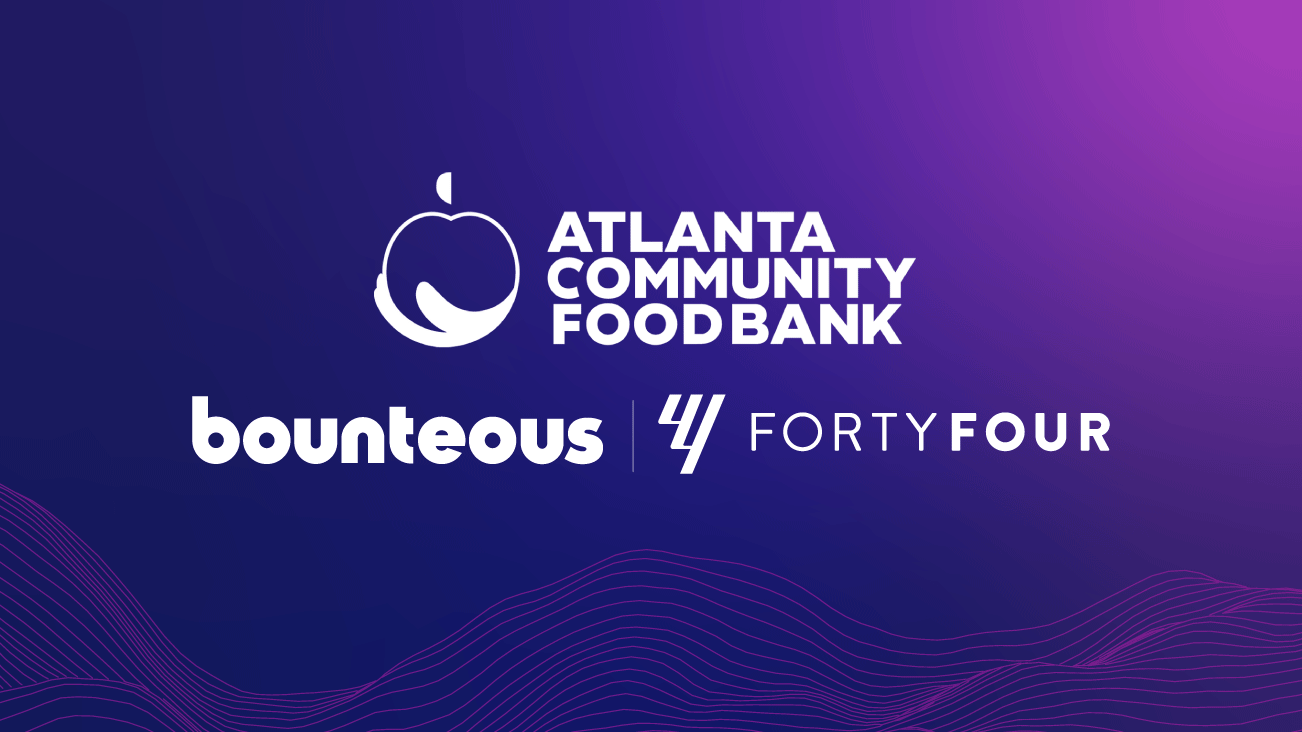 $44,000 donation helps provide meals to thousands of residents in need
CHICAGO & ATLANTA, GA – Dec. 15, 2020 – Bounteous and FortyFour today announced that they made a collective donation to the Atlanta Community Food Bank (ACFB). This news comes just one week after Bounteous announced its acquisition of FortyFour, an Atlanta-based digital agency.
Raghu Kakarala, Managing Partner at FortyFour, has been involved with the Atlanta Community Food Bank for several years. Kakarala previously served on the advisory board for the ACFB and now sits within the governing board.
"The Atlanta Community Food Bank is a critical part of the greater Atlanta community," said Kakarala. "Teaming up to fight hunger is extremely important to our team, and we are proud to join forces with a like-minded partner like Bounteous to make a lasting impact on our community."
"Giving back is part of our culture and we encourage everyone to participate in whatever capacity they can," agreed Thomas Frank, Managing Partner/Executive Creative Director. "Today, more than ever, we need to continue to address poverty in our community. Food, shelter, and healthcare are basic human rights. Providing financial support is a great place to start, but as a community, we need to do as much as possible to deal with these challenges."
Monetary donations to the food bank are efficiently converted into substantial impact, as every $1 donation can provide enough food for up to four meals. The amounts chosen were no coincidence—the Kakarala Family Foundation and the Frank Family Trust each pledged an $11,000 donation toward the food bank, for a total of 44,000 meals donated, which ties back to the agency name, FortyFour. As a sign of the two companies joining together, Bounteous Charitable Trust matched their contributions, for a grand monetary value of $44,000.
"Our organization relies greatly on donations from companies and individuals," said Sarah Fonder-Kristy, Chief Development Officer, Atlanta Community Food Bank. "During a difficult year, this donation from Bounteous and FortyFour will positively affect many lives as we work together to fight hunger."
This year, with an increased number of Atlanta residents displaced or out of work, the need for donations is higher than ever. Prior to March 2020, the Atlanta Community Food Bank distributed approximately 5.5 million pounds of food per month to those in need. During the COVID-19 pandemic, the Atlanta Community Food Bank has administered 10 million pounds of food per month and estimates it will provide 110 million pounds of food to Georgians by March 2021.
"We are thrilled to see our two companies come together, not only in business, but in giving back to the community," said Keith Schwartz, co-founder and CEO of Bounteous. "The opportunity to contribute to the Atlanta community is important to us. We look forward to working with our new team members there to continue to extend and enhance philanthropic efforts for the causes they support."
Bounteous' collaboration centers in 10 cities all share the core value of giving back, with annual fundraisers for local and international causes, as well as a "charitable donation match program" for its team members. For more information about philanthropic efforts at Bounteous, please visit our website: https://www.bounteous.com/about/bounteous-giving-back/.
About Atlanta Food Community Bank
The Atlanta Community Food Bank works to end hunger with the food, people, and big ideas needed to ensure our neighbors have the nourishment to lead healthy and productive lives. Far too many people in our own community experience hunger every day, including children, seniors, and working families. Through more than 700 nonprofit partners, we help more than 865,000 people get healthy food every year. Our goal is that all hungry people across metro Atlanta and North Georgia will have access to the nutritious meals they need when they need them. It takes the power of our whole community to make that possible. Join us at ACFB.org.
About Bounteous
Founded in 2003 in Chicago, Bounteous creates big-picture digital solutions that help leading companies deliver transformational digital brand experiences. With expertise in Strategy, Experience Design, Solutions Engineering, Analytics, and Marketing, Bounteous forms co-innovation partnerships with clients to envision, design, and build their digital futures. For more information, please visit www.bounteous.com. For more information about co-innovation, download the Co-Innovation Manifesto at co-innovation.com.
For the most up-to-date news, follow Bounteous on Twitter, LinkedIn, Facebook, and Instagram.
About FortyFour
Founded in 2012, FortyFour was a full-service digital agency. FortyFour was recently acquired by Bounteous in 2020 and brings award-winning B2C and B2B commerce and digital customer experience solutions to Bounteous' core practice offerings. In joining the Bounteous team, FortyFour will provide expertise in helping global brands design and build platforms and campaigns that engage customers to create lasting business value. Together, the Bounteous/FortyFour team will continue their mission of understanding how a brand's DNA should drive experiences, how journeys guide marketing, and how data provides insights from culture to conversion