Press Release: Jaspreet Singh Joins Bounteous Executive Team As Chief Strategy & Insights Officer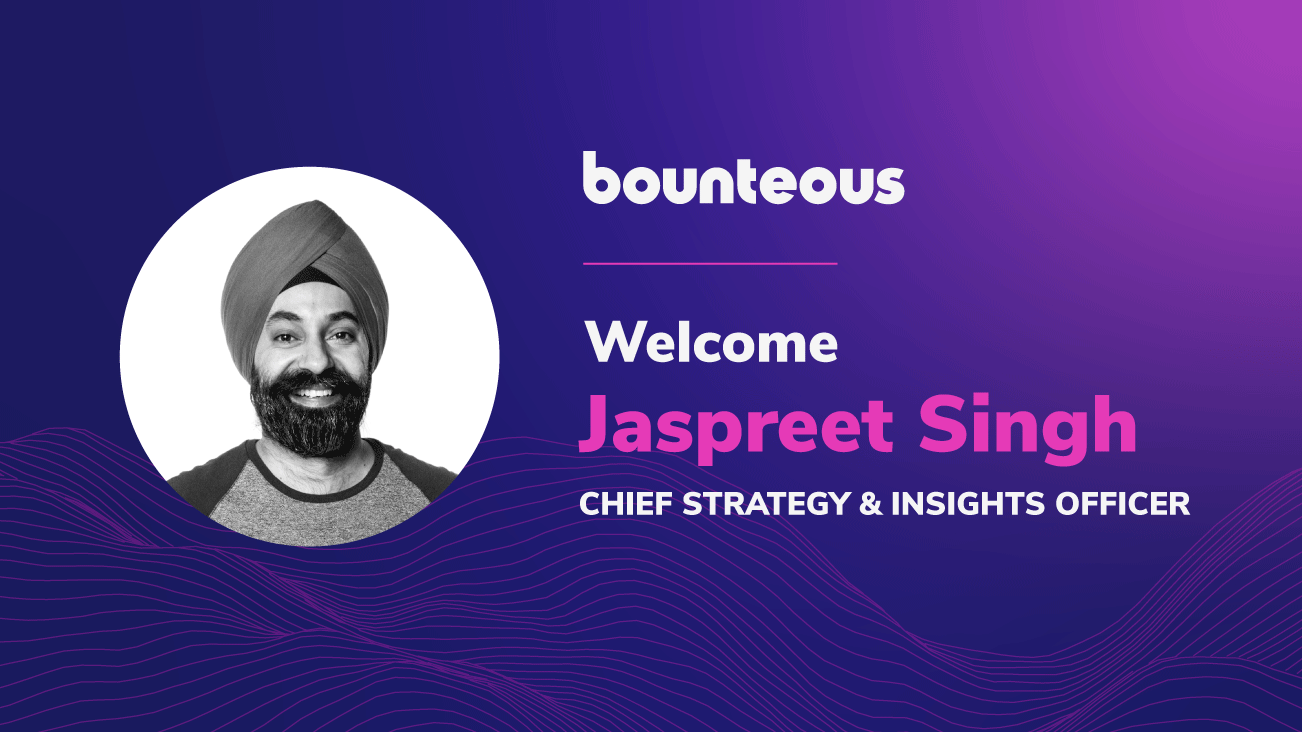 Distinguished consulting executive is the latest leader to join fast-growing digital experience consultancy
CHICAGO, IL – Jan. 19, 2021 – Bounteous, a fast-growing digital experience consultancy, today announced the appointment of Jaspreet Singh to the newly-created role of Chief Strategy & Insights Officer. Singh will oversee the company's teams of strategists, researchers, and analytics experts tasked with driving digital innovation for its blue-chip client list.
Bounteous has been experiencing tremendous growth fueled by demand for its digital transformation services, and these critical services are delivered via a unique customer-centric co-innovation enablement model. The firm's unique approach to data measurement strategies and client co-innovation partnerships were recently cited by Gartner and Forrester, respectively. The company's growth and award-winning culture has made it a talent magnet for thought leaders, entrepreneurs, and top executive talent.
Singh joins Bounteous after 11 years with Publicis Sapient (formerly SapientRazorfish), where he most recently led industry strategy for the Telco, Media & Technology practice. Previously, Singh served in roles as Corporate Strategy Officer and Strategy & Consulting practice lead for North America, developing and leading the firm's go-to-market strategy; aligning the organization to deliver against overall corporate growth objectives; and directing customer research, strategic planning, and business analysis capabilities for a team of 300. Through consistently bridging consumer, business, and engineering dimensions, Singh built strategic capabilities to unearth insights and inspire transformation initiatives for global brands in several key categories, including telecom/media/technology, financial services, travel and hospitality, retail, and consumer goods.
"I am proud to join Bounteous as we build upon our insights-driven reputation, expand the breadth and scale of our strategy, analytics, and insights practice, and most importantly, deliver outsized business outcomes for our clients," said Singh. "Strategy and data-driven insights serve as the North Star in guiding Bounteous' work toward long-term success, and there's a need for these disciplines to be integrated now more than ever. Organizations must move faster and smarter to achieve results in digital."
Bounteous has invested heavily in growing its Strategy and Analytics & Insights practices, with revenue and employee headcount more than doubling since launching the brand in 2018. In 2020, Bounteous' Strategy and Analytics & Insights practices accounted for approximately a quarter of the company's overall revenue. Singh's appointment is Bounteous' first executive leadership hire in 2021. Due to client demand and company growth, Bounteous anticipates additional new hires in this department in the coming weeks.
"I am excited for Jaspreet to join our team and lead our Strategy & Insights practice," said Keith Schwartz, co-founder and CEO of Bounteous. "Our approach of insights-driven innovation, powered by digital flow and led by the best analytic and strategic minds in the industry, is working. Jaspreet will help accelerate this and be a great partner to me and our entire team at Bounteous. Together, we are going to continue to invest in talent and methods to help our clients achieve exceptional outcomes."
Chris Westall, SVP, Strategy at Bounteous, added, "Jaspreet embodies the core of everything we look for in a leader at Bounteous. He is smart, collaborative, and kind, in addition to many other qualities. I am confident that under Jaspreet's strong leadership, we will greatly accelerate the expansion of our Strategy & Insights capabilities, continue to attract the top talent in the industry, and help our clients become category leaders."
About Bounteous
Founded in 2003 in Chicago, Bounteous creates big-picture digital solutions that help leading companies deliver transformational digital brand experiences. With expertise in Strategy, Experience Design, Solutions Engineering, Analytics, and Marketing, Bounteous forms co-innovation partnerships with clients to envision, design, and build their digital futures. For more information, please visit www.bounteous.com. For more information about co-innovation, download the Co-Innovation Manifesto at co-innovation.com.
For the most up-to-date news, follow Bounteous on Twitter, LinkedIn, Facebook, and Instagram.