Create a Video Ad in 30 Minutes with YouTube's Video Builder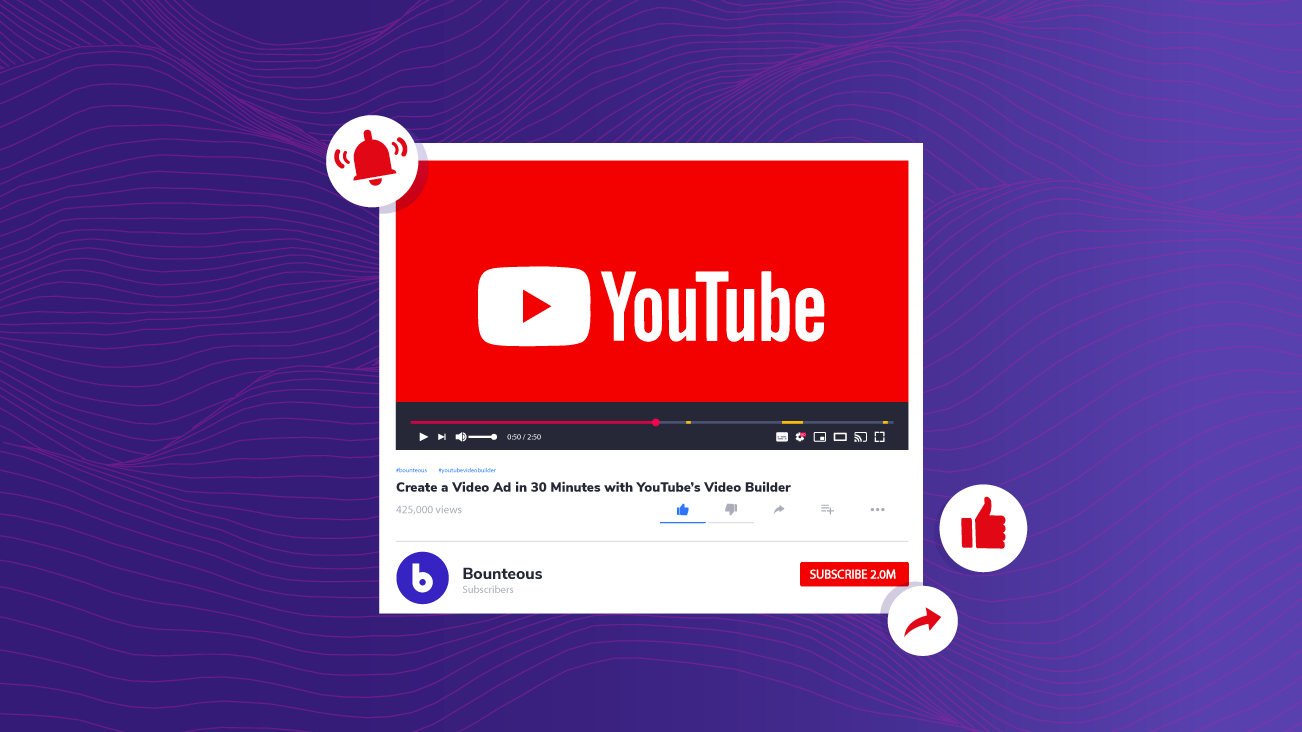 Streaming Video & OTT (over-the-top) advertising are the hottest opportunities in marketing. I've written about how brands can leverage OTT video to reach key audiences, but have found many companies don't know how to get their video ad program started.
If your organization is new to video advertising, doesn't have a large budget for a professional video, or simply wants to create video ads quickly with the ability to run multiple variations, Google's YouTube Video Builder offers an attractive solution.
Companies can see real results with little upfront investment in creative. YouTube Video Builder allows marketers to test messaging and calls-to-action for specific audiences before investing in professionally produced content.
Why Advertise on YouTube?
YouTube often gets mentioned last in heated industry discussions because its core content isn't live sports or hour-long dramas. Make no mistake, there is a huge opportunity to showcase your brand on YouTube. Over half of The United States' population of 330 million watched YouTube videos at least once a month in 2020. Top trending videos can rack up millions of views per day, and the platform reaches more of the 18-49 demographic than all linear TV networks combined.
YouTube's 2+ billion global users and a seemingly infinite supply of high-quality content—which ranges from music videos to product reviews to DIY how-tos to college lectures—provide both massive reach and an engaged user base. The platform boasts several TrueView ad formats, allowing advertisers to serve targeted video ads before, during, and after videos, across mobile, tablet, desktop, and connected TV. 
Popular TrueView ad formats include:
6-second "bumper" ads
15-second non-skippable ads, and
Greater than 15-second ads, which give the user the option to 'skip' after 5 seconds
YouTube Ads Creative Assets
Video is generally a brand's most visual marketing channel.
It's meant to capture an audience's attention and leave a memorable impression of the brand's message. Brands stand the best chance of doing that by getting their message in front of users while they are consuming engaging content and by leveraging compelling creative that resonates with the audience.
A great example is Goldbelly. I love Goldbelly ads because they're shot in the style of YouTube food reviews almost reminiscent of old Andrew Zimmern clips. They're more like a great YouTube video than an ad, and I often find myself watching the full video when I come across one. The entertaining content is great, but ultimately their focus is on building awareness of their product to drive sales. Each video ends with the tagline "America's Greatest Foods, Shipped To Your Door. Goldbelly."
Video Builder allows marketers with no prior video production background to assemble simple, lightweight video ads for YouTube. It's great for proof-of-concept or testing messaging before expanding to a wider OTT strategy. Even clients with sizable creative budgets can find success using YouTube Video Builder for smaller one-off campaigns.
How Does YouTube Video Builder Work?
The YouTube Video Builder tool is currently in beta, so users will have to be granted access. It's completely templatized—just bring your own logo and static image assets.
Video Builder provides over a dozen templates to fit different campaign objectives.
Choose a Template
Hover your mouse over any template for a full preview of the asset, and make note of the asset requirements and text areas.
Customize Your YouTube Video Assets
Click into the template of your choice, upload your logo & image assets, and fill your copy into the text areas. Choose your video's primary and text color scheme (tip: use your brand's hex color codes). Video Builder also provides a font catalog and a royalty-free music catalog.
Once you're happy with the elements of your ad, click the 'create video' button to render your video for preview. Review your video and make any necessary adjustments prior to publishing.
Publish Your Video Ad
You'll need to have a YouTube account to host the video asset once it's published. Publish the video as public, private, or unlisted. I generally publish my Video Builder creatives as 'unlisted', meaning that it won't be publicly viewable on your YouTube channel, but anyone with the link can view it.
After your video is published it will be available for you to assign as a creative asset for TrueView line items or ad groups in Display & Video 360 or Google Ads.
Here's an example of a simple video that I put together for this post in under 30 minutes:
Tracking YouTube Video Ad Success
Creating a video ad, activating a campaign, and getting your message out to the masses is a big win, but to take your video program to the next level you need to define measures of success and KPIs.
KPIs and success metrics will vary from campaign to campaign based on the goals and strategies of each individual campaign, but here are a few tips to get you started:
6s ads and 15s non-skippable ads will have high completion rates by default. Expect completion rates >85 percent. Consider looking to metrics like unique reach and frequency instead.
Greater than 15s ads which are skippable after 5s are better candidates for completion rate testing. For a 30s asset, look for completion rates in the mid-20 percent or above. All else equal, longer assets are expected to have lower completion rates.
Pay attention to 'likes' and 'shares' and 'subscribes'. You can also build audiences based on these attributes:
Client Success Story
One of our clients began running a special promotional deal one day a week in limited geos. The Bounteous Media team used this as an opportunity to give Video Builder a try. Our team was able to turn the final creative asset around in less than an hour and launch our campaign quickly.
During the 10-week flight, our video reached over 425,000 unique viewers and was viewed to completion more than 850,000 times.
Implementing floodlight tracking ad tags showed us that users who viewed our ad went on to drive over $15,000 of new revenue for our client. Impression tracking ad tags leverage Google Marketing Platform's Floodlight technology to tie YouTube ad views to on-site conversions and transactions.
Easier Than Ever to Deliver Great Video Messages
The success of performance campaigns is oftentimes built upon a foundation of high quality, wide-reaching branding and awareness tactics. If well-executed, these awareness tactics will ultimately result in a greater volume of well-converting, low-CPC brand or product-specific searches.
With YouTube's impressive reach and the YouTube Video Builder, it's easier than ever to deliver a great video message to priority audiences. Some brands aren't yet sure if video advertising is right for them. The Bounteous media team loves using YouTube Video Builder to test ad ideas that can become full OTT or CTV ad creative.