Press Release: Adweek Names Bounteous in Top 10 Fastest‑Growing Large Agencies In The World for 2021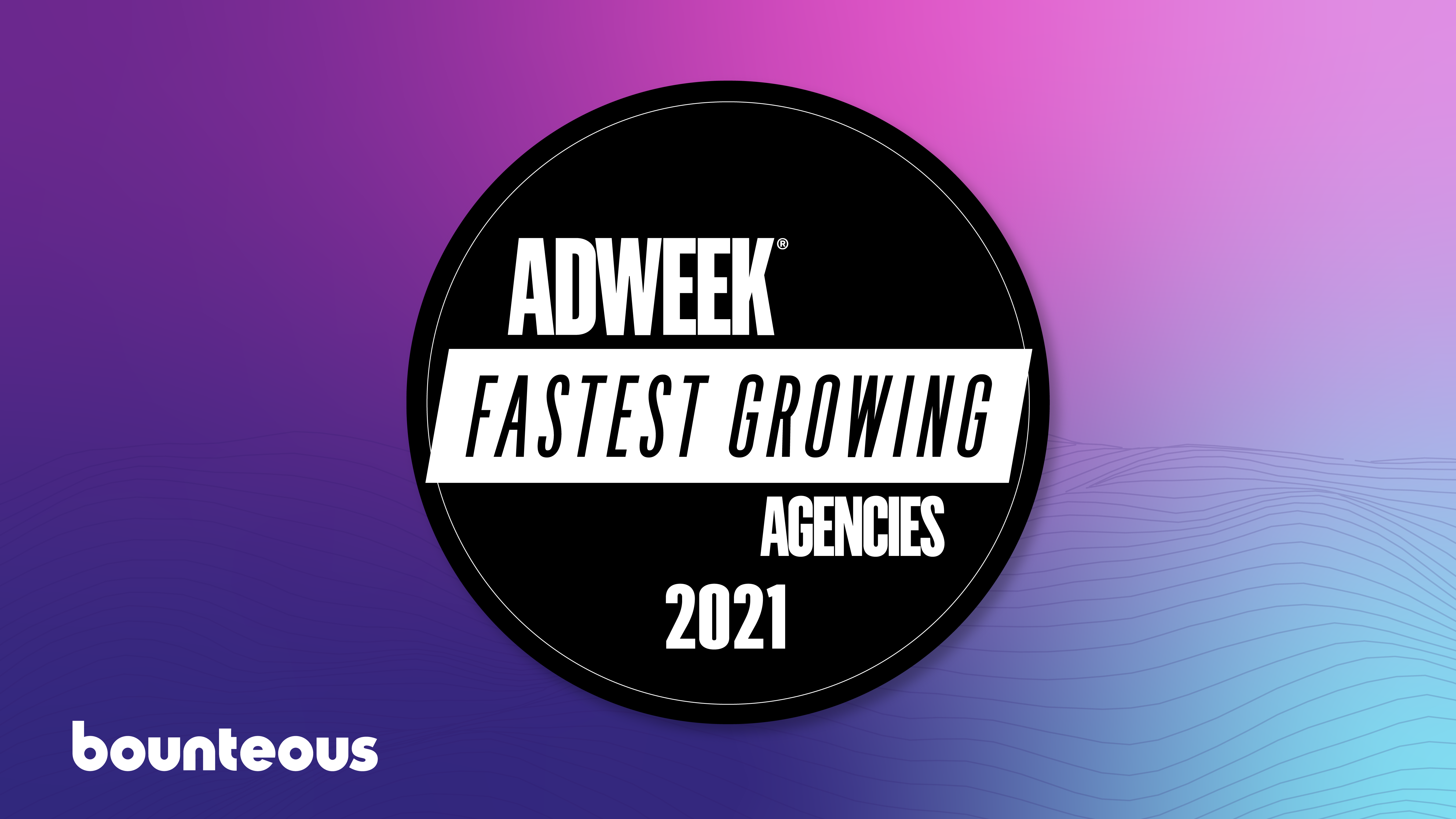 CHICAGO, IL—October 4, 2021—Adweek has again named Bounteous amongst the top 10 fastest-growing large agencies in the world for 2021. Bounteous' ranking on the Adweek 100: Fastest Growing list was based on exceptional three-year growth, fueled by global expansion and continued demand for its co-innovation offering.
Bounteous, a leading insights-driven digital experience consultancy, in September acquired Lister Digital, a full-service digital transformation consultancy with offices in Chennai, India, and San Mateo, California. The addition of Lister allows Bounteous to deliver on global demand for its co-innovation offering and execute strategic engagements across multiple continents.
"Bounteous continues to realize our vision of becoming the world's preeminent independent digital consultancy, and it's great to be recognized by Adweek in consecutive years for our growth and culture for clients and team members," said Bounteous Chief Growth Officer Dave Mankowski. "Our co-innovation partnerships are propelling large brands looking to attract, engage, and transact with their customers, and as a result, we're being recognized as a growing thought leader in the global agency space."
Bounteous appears on the 2021 fastest growing agencies list three different times: as No. 6 in the top for Large Agencies over 200 employees, No. 37 in the Top 75 fastest growing agencies by Percent Change in Revenue and No. 2 in the Top 5 for Midwest Agencies. Bounteous was benchmarked against other agencies for its new job creation, business model, value proposition, employee resource groups, diversity and inclusion programs, learning and development opportunities, employee professional development, remote work, measures taken to drive innovation, ensuring effective collaboration, and more.
Featured organizations of the Adweek 100 include holding companies, independent agencies, both global and regional focused, as well as organizations providing industry services across the spectrum from mobile to lead-gen. For more information on 2021 Adweek 100: Fastest Growing, visit https://www.adweek.com/fastest-growing-agencies/.
Bounteous is hiring in all departments for talent located anywhere. Visit bounteous.com/careers to learn more.
About Bounteous
Founded in 2003 in Chicago, Bounteous is a leading digital experience consultancy that co-innovates with the world's most ambitious brands to create transformative digital experiences. With services in Strategy, Experience Design, Technology, Analytics and Insight, and Marketing, Bounteous elevates brand experiences through technology partnerships and unparalleled platform expertise. For more information, please visit www.bounteous.com. For more information about co-innovation, download the Co-Innovation Manifesto at co-innovation.com.
For the most up-to-date news, follow Bounteous on Twitter, LinkedIn, Facebook, and Instagram.
Adweek 100 Methodology
The 2021 Adweek 100: Fastest Growing is ranked according to percentage revenue growth when comparing 2017 to 2020. To qualify, companies must have been founded and generating a minimum revenue level by 2018.
About Adweek
Adweek is the leading source of news and insight serving the brand marketing ecosystem. First published in 1979, Adweek's award-winning coverage reaches an engaged audience of more than 6 million professionals across platforms including print, digital, events, podcasts, newsletters, social media and mobile apps. As a touchstone of the advertising and marketing community, Adweek is an unparalleled resource for leaders across multiple industries who rely on its content to help them do their job better.