Press Release: Bounteous Included in Now Tech: Digital Experience Services In Asia Pacific, Q4 2021 Report by Independent Research Firm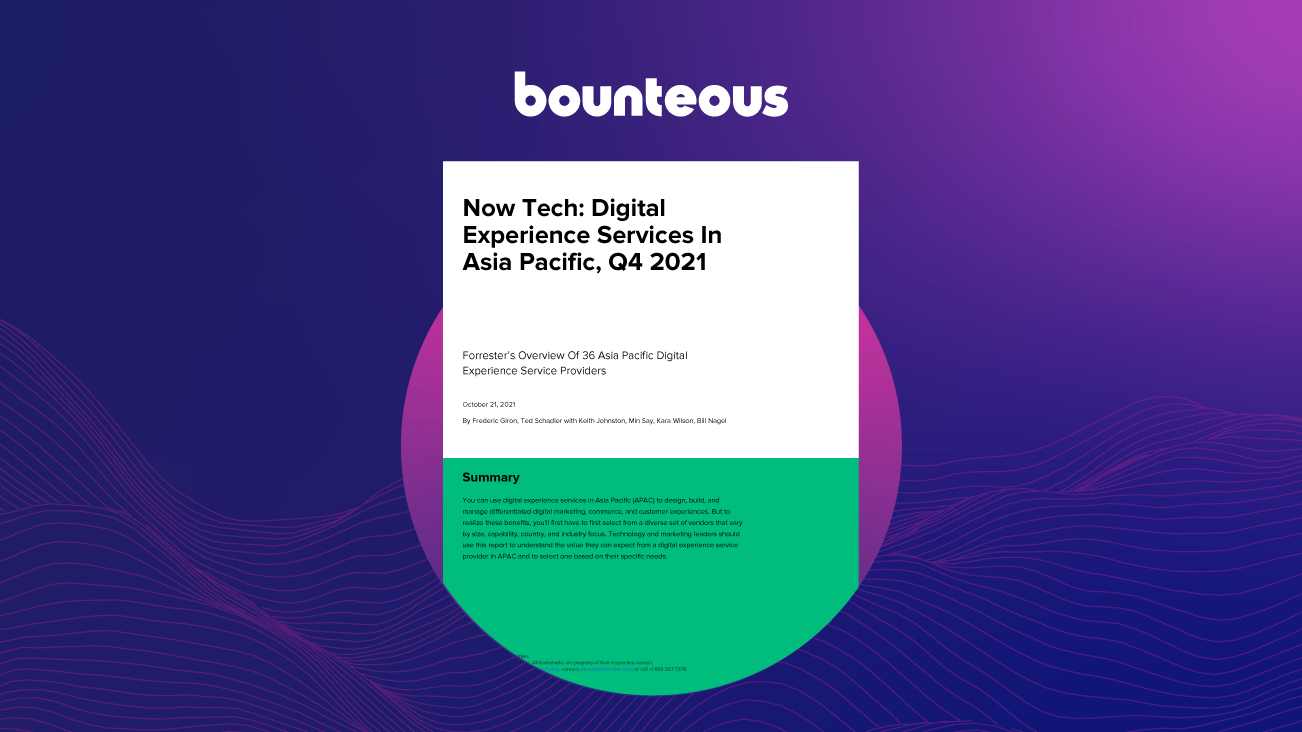 CHICAGO — October 29, 2021 — Bounteous, a leading digital transformation consultancy, is included in an overview of Asia Pacific digital service providers by Forrester Research, "Now Tech: Digital Experience Services In Asia Pacific, Q4 2021."
The report, authored by VP, Research Director Frederic Giron and Vice President, Principal Analyst Ted Schadler, is written for technology and marketing leaders to understand the value they can expect from a digital experience service provider in APAC and to select one based on their specific needs. The report lists digital experience service providers in Asia Pacific (APAC) by size, capability, country, and industry focus and how to leverage them to design, build, and manage differentiated digital marketing, commerce, and customer experiences.
Bounteous is a global leader in commerce and customer experience, with clients such as Caesars Entertainment, Coca-Cola, Domino's, and Mars. Bounteous expanded its global delivery capabilities offering with its recent acquisition of Lister Digital.
"We believe the inclusion in Forrester's report reflects our expanding global delivery capabilities to meet increasing demand for our Co-Innovation strategy with the world's most ambitious brands," said John Telford, SVP of Digital Solutions at Bounteous. "With over 1,000 team members around the globe, Bounteous has the scale to solve the most pressing digital needs of the world's largest corporations while remaining nimble enough to create custom engagements that enable our clients to achieve the state of data-driven results we call Digital Flow."
The Now Tech report recommends differentiating your customer experience (CX) with the help of service providers in Asia Pacific and select providers based on experience, capabilities, and fit. Bounteous is listed as a Small service provider, with less than 500 digital experience services headcount in APAC. Globally, Bounteous employs more than 1,100.
Forrester is an influential global research and advisory firm for business and technology leaders. Bounteous has also been listed in Forrester's Now Tech: Global Digital Experience Services, Q4 2021; Now Tech: Commerce Services, Q4 2020; and Now Tech: Digital Experience Agencies, Q2 2019.
The report is available online to Forrester customers or for purchase: https://www.forrester.com/report/now-tech-digital-experience-services-in-asia-pacific-q4-2021/RES176488
About Bounteous
Founded in 2003 in Chicago, Bounteous is a leading digital experience consultancy that co-innovates with the world's most ambitious brands to create transformative digital experiences. With services in Strategy, Experience Design, Technology, Analytics and Insight, and Marketing, Bounteous elevates brand experiences through technology partnerships and unparalleled platform expertise. For more information, please visit www.bounteous.com. For more information about co-innovation, download the Co-Innovation Manifesto at co-innovation.com.
For the most up-to-date news, follow Bounteous on Twitter, LinkedIn, Facebook, and Instagram.