Google Analytics 4: Custom Insights & Data Governance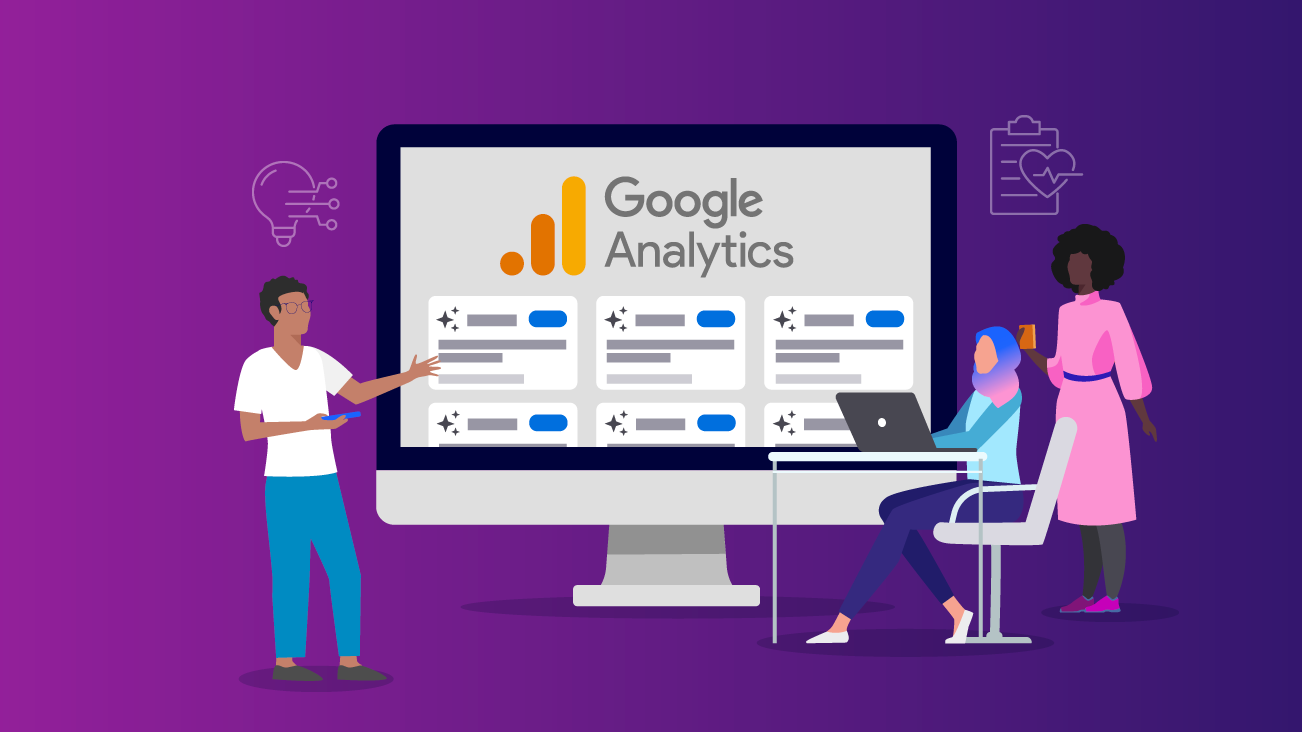 With Google Analytics 4's (GA4) new data model, your data will be enriched beyond what is being tracked and collected today, using predictive metrics and machine learning. The best way to get the full value of these new features is to think outside of the box and strategize how you can use them beyond what you are doing now.
One of those new features is Analytics Intelligence that offers Automatic and Custom Insights. Both of these insight types in GA4 (much like custom alerts in Universal Analytics) can be used to ensure data quality. That's a pretty straightforward use case for this feature, but with machine learning and predictive metrics, it can also be used for so much like gaining insights about your data quickly and in a way that goes beyond you, your team, and your organization.
What are Analytics Insights via Analytics Intelligence in Google Analytics 4?
Automatic insights are generated using your data (which can take some time to develop if you're new to GA). You can use them as they are, update them to fit your needs, or start from scratch. Custom insights need to be configured and can include anomaly detection for events, users, views, conversion, and revenue on a daily, weekly, or monthly level.
Note: There is a limit of 50 custom insights (whereas Universal Analytics doesn't have a limit that we've found), so you'll need to be strategic about what alerts and insight you want. Automated insights do not count towards the limit.
Beyond using custom insights for data quality, they can also be used to quickly and accurately answer everyday questions about your data like how Organic Search is performing compared to Paid Search and what conversion events are driving the most conversions this week compared to last week.
Bounteous Recommended Google Analytics 4 Analytics Insights
This Bounteous post has a list of all the +55 custom alerts we recommend and why for Universal Analytics (UA). The main point is to be able to flag data issues quickly by comparing data daily, weekly, and so on based on a set of conditions.
Here's a link to a spreadsheet that houses all of the analytics insights for GA4 and UA custom alerts mentioned in this post and more. Choose what works best for you or reach out to a Google Analytics consultant for guidance.
Once you get an alert sent to your email, you'll want to check GA manually and inspect the site to ensure the alert was valid. If it was valid, flag the issue to your IT/Web/Analytics team and let your analytics agency partner know (they may already know due to the alert and may already be fixing the issues). Document or annotate any flatlines for future reference and/or analysis.
How to Decide What Custom Insights to Create?
Whether it's for UA or GA4, custom insights are important for monitoring your data while you focus on other aspects of your job. There is no way you can sit and watch Google Analytics all day to make sure nothing bad happens while being productive at other tasks. This feature does that work for you so you can act upon insights rather than sift through data for hours to still not know what it means or what to do about it.
Depending on what is important to you and your business, custom alerts Bounteous recommends to clients will differ, as well as their cadence or thresholds. Here are some examples of why you'd used one versus another (or all the depending on your needs):
Daily Pageview < 1
At the very least you want to make sure your pageviews are tracking daily. If not, this signifies that your site might be down or something is severely broken. If pageviews aren't being tracked, it is likely that none of your other key events are either.
Weekly Ecommerce Revenue decreasing by 15 Percent
Certain metrics aren't healthy to monitor every day since they can fluctuate daily. A great example of this can be revenue which should have an eye kept on it but is best with some context and a larger date range for comparison. Day Over Day (DoD) fluctuation of revenue does not call for much concern compared to Week Over Week (WoW), which represents a pattern.
Monthly Paid Media Users increasing by 10 Percent
Most companies run paid media advertising based on monthly/yearly budgets. The performance of those campaigns is usually compared Month Over Month (MoM) and result in content, campaign, or budgeting optimizations for the next month. You need to collect enough data to give campaigns (and optimizations) time to work which might not be overnight or within a week (depending on your lead cycle). Comparing how many users a campaign or paid media tactic brought to the site is best analyzed using a larger time span like a month. 
Custom Insights may also be categorized and prioritized by type based on urgency and what can be done based on the notifications. Informative alerts can be nice to provide a high-level pulse check of your data. If you don't have the resources to fix certain issues, an Emergency Alert is great but may cause more alarm than is necessary, so an Early Warning alert might be better.
Informative
Example: Weekly Page_View Events - Decreased by >10%
Fix: It is good to be aware of engagement metrics over time, weekly alerts can provide indicators of trends to look out for if it persists over a longer period of time
Early Warning
Example: Weekly X Event Conversion Rate - Decreased by >20%
Fix: Review the conversion event itself to ensure it's functioning properly. If it is, there may be other external factors causing the decrease which is good to note for reporting purposes.
Emergency
Example: Daily Traffic Flatlined
Fix: Depending on the reason for the flatlined, at minimum a developer and/or analytics consultant should be the first points of contact
Note: Custom Insight configurations can only be seen and updated by the user who created them. Use your company email or an alias/group email to set up custom insights in case access to certain accounts may be lost in the future.
Custom Insights are great for the use cases above but one of the downsides to Custom Insights is that they aren't instantaneous and require at least a day's worth of data before users are notified of any issues. If your organization needs alerts sooner AND can act upon fixing issues quickly, another tool may be a better option.
Next, we'll discuss data quality and governance, data governance maturity, and how you can move from Nascent/Emerging to Connected according to Google's (and the Boston Consulting Groups's) Global Maturity Model. Bounteous will provide examples of Custom Insights that can be used within each stage of the model.
What Is Data Quality Vs. Data Governance? Why Are They Important?
Data quality is often measured by accuracy, completeness, consistency, timeliness, and accessibility whereas, data governance is the management of data that helps to uphold the quality.
These two concepts have to go hand-in-hand if an organization wants to make any data-based decisions. The more these two concepts are strategized and built out, the more mature an organization can become based on the Global Maturity Model.
Data Governance Maturity Model
There are many factors that are used to score companies along with this Maturity Model and being mature in one area doesn't mean you are mature as a whole. Companies can be Nascent in analytics and Emergent in marketing, with very few companies ever reaching Multi-Moment as that goal post is always moving as the industry changes every day.
No matter where you are in the model, you need to be focused on what your next steps are and how they will propel you forward in the Maturity Model, leading to further efficiency and effectiveness of your company's efforts towards its goal(s).
Maturity Model and Custom Insights
Where your company is (or wants to be) on the Maturity Model dictates the type of data you have access to and what you can do with that data. If you are Nascent, you might want to automate anomaly detection and fix issues the minute they occur (traits of Multi-Moment) but it may be impossible to do so because you haven't built the infrastructure/foundation to do those things. But you can definitely build towards that goal.
Nascent
Companies in the Nascent phase have basic data governance and some clean data that they can trust and use for decision making. As they are building up their analytics and striving to advance, they need to invest forethought and effort into ensuring data health. Adding custom insights to ensure there are no drastic changes to their site without their knowledge is a step in the right direction.
Emerging
Companies in the Emerging phase are building on top of the Nascent practices, not just having data governance within the analytics/marketing team, but across the organization. They may have also invested in enterprise-level tools like Google Tag Manager 360 (GTM360) to create Zones and permission rules when it comes to pushing tracking or have a QA/Staging/Dev environment that they push tracking to before pushing changes to a Live/Production environment.  Custom alerts are more reactive at this point, adding another layer of preventive measures or foolproofing in case tracking causes things to break or needs to be troubleshot.
Connected
Companies in the Connected phase have data governance down pat with a detailed process in place and have the capability to use custom alerts/insights to proactively identify and fix problems to get data back on track quickly. This is very important because at the Connected level there are a handful of departments within the organization that rely on this data for decision making, not just the marketing or web team.
Multi-Moment
Companies in the Multi-Moment phase have tried and true processes in place to the point where rules/logic can be written to automate data governance with web tag audit tools like DataTrue or ObservePoint. Their teams are not only able to address issues but they are able to get in front of them depending on how they set up their alerts and have a process in place for future-proofing fixes. This type of company is ahead of the curve compared to other companies and relies on real-time updates across numerous data sources and departments within an organization.
Safeguards for Your Google Analytics Data
Whether you are in Google Analytics every day or not, whether your organization is nascent or multi-moment, and whether you can fix data issues or need to ask for help, custom alerts are important. There are nice safeguards for your Google Analytics data, help you stay on top of trends, and can help you think outside of the box to fix or improve your site/traffic like never before. 
It can seem like a lot but you can start with checking out the automated insights GA4 has provided based on YOUR data. See if they meet your needs and go from there!