Press Release: Bounteous Hires Seasoned Digital Commerce Expert Jon Reily, Expanding Bounteous Commerce Capabilities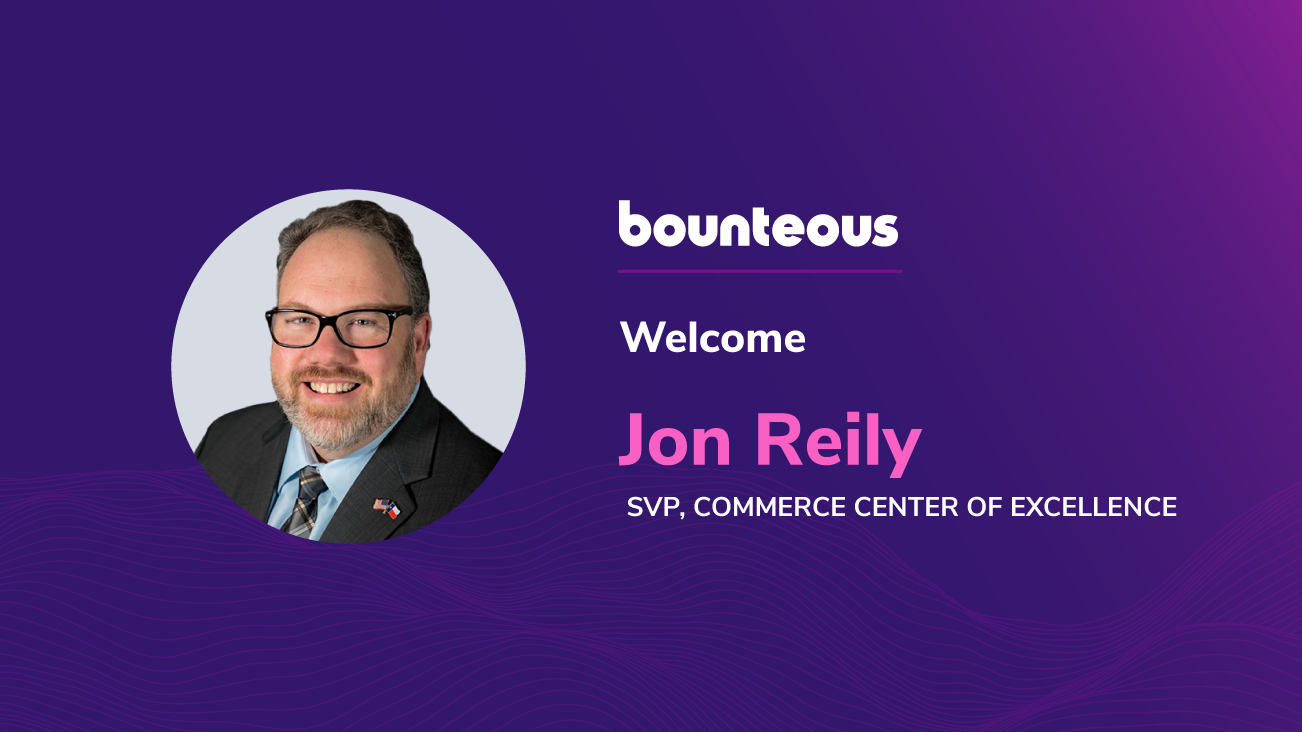 Veteran of Publicis Sapient and Amazon brings 25 years of industry experience as co-innovation consultancy bolsters commerce strategy capabilities
CHICAGO – May 11, 2022 – Bounteous, the digital innovation partner of the world's most ambitious brands, today announced the appointment of Jon Reily to lead its Commerce thought leadership and strategy team. This hire comes as the consultancy builds upon its history of bringing co-innovation to commerce across industries for brands like Caesars Entertainment, Coca-Cola, Domino's, and Wingstop.
A successful industry futurist and trend forecaster, Reily is a 25-year commerce veteran who founded and sold two successful companies in the first dotcom boom of the 1990s. Before joining Bounteous, Jon held senior executive roles at global marketing powerhouses Dentsu and Publicis where he advised Fortune 500 companies and top global retailers how best to transform themselves digitally to stay competitive in an increasingly technology-focused world. Previously, Reily was a senior leader at Amazon.com, where he re-invented how Amazon sold and marketed their first-party manufactured devices, such as Kindle Fire and FireTV, and helped create a multi-billion dollar business division within Amazon.
In his new role, Reily will be driving Bounteous' commerce offerings to deliver seamless commerce experiences across B2B and B2C companies. Bounteous' recent commerce highlights have included marquee direct-to-consumer commerce sites, international and scalable commerce solutions, and composable commerce architectures. To create these more effective customer experiences, Bounteous combines a wide variety of specialties, including strategy, marketing, platform implementation, and operations, informed and inspired by Bounteous' co-innovation methodology and digital expertise.
"Jon has been a thought leader and deeply respected strategist in the global digital commerce space for nearly a decade," said Bounteous CEO Keith Schwartz. "He will be a tremendous asset to our clients as we partner to innovate and create winning commerce strategies and digital experiences."
"We are in a period of change we have not seen as a society since the industrial revolution," said Reily. "Fundamental changes of how we interact with commerce, the brands we use, and how we acquire those products, are occurring every day and no one can predict where the end-state will be. Bounteous is fast becoming the leader in this space, and I'm excited to join the team as we co-innovate the future of commerce with the world's most forward-thinking brands."
About Bounteous
Founded in 2003 in Chicago, Bounteous is a leading digital experience consultancy that co-innovates with the world's most ambitious brands to create transformative digital experiences. With services in Strategy, Experience Design, Technology, Analytics and Insight, and Marketing, Bounteous elevates brand experiences and drives superior client outcomes. For more information, please visit www.bounteous.com. For more information about co-innovation, download the Co-Innovation Manifesto at co-innovation.com.
For the most up-to-date news, follow Bounteous on Twitter, LinkedIn, Facebook, and Instagram.