Press Release: Great Place to Work® Recognizes Bounteous as a Best Workplace for Professional Development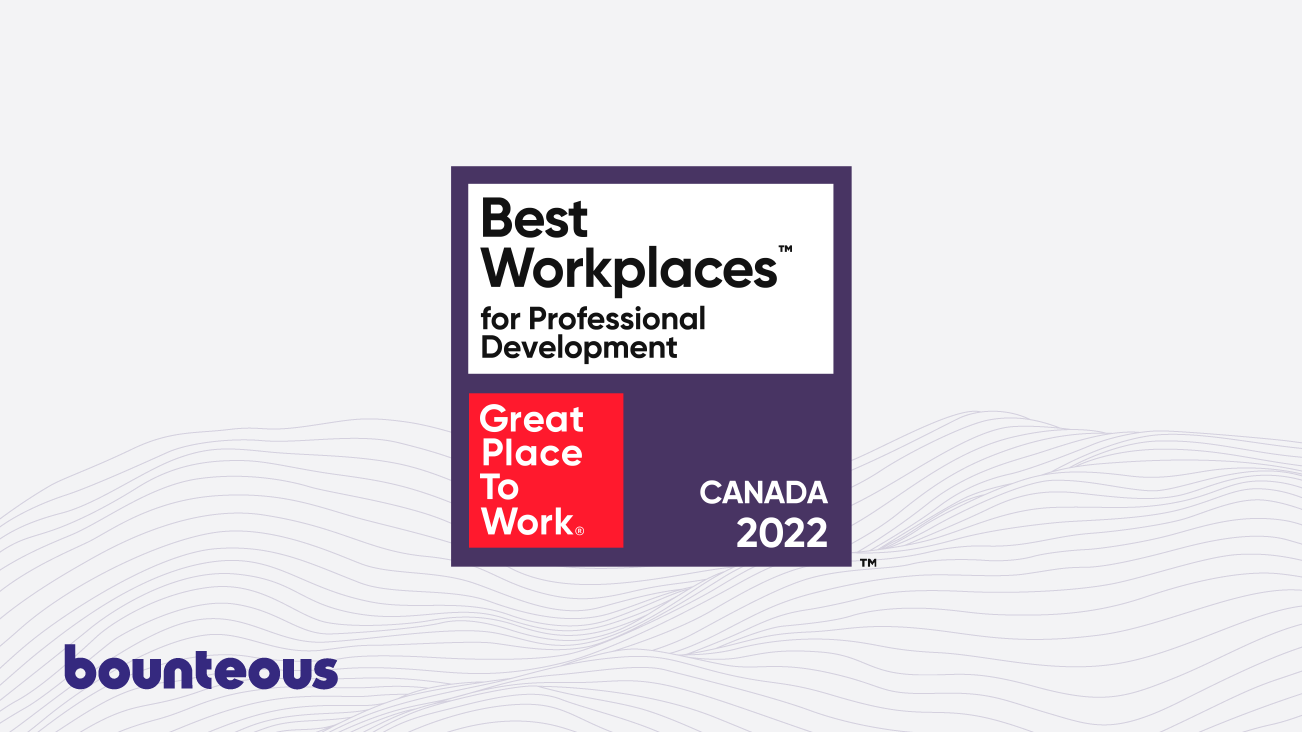 TORONTO, Canada — July 6, 2022 – Bounteous, the digital innovation partner of the world's most ambitious brands, has been credited by Great Place to Work® as one of the 2022 Best Workplaces™ for Professional Development, a new list based on direct feedback from employees of the hundreds of organizations that were surveyed by Great Place to Work®.
Bounteous received this recognition following a thorough review by Great Place to Work®. To be eligible for this list, organizations must be Great Place to Work - Certified™ in the past year, with a minimum score of 80% on the Professional Development Index, and a relative level of complexity based on the number of employees.
"At Bounteous, our approach to Learning & Development is a shared accountability among our team members, their career coaches, and the organization as a whole," said Melinda Ramos, VP of Learning, Development and Diversity. "Development is provided in various, easily accessible ways, to accommodate different learning styles and needs. ​Here you design your future; perfect what you own, seek opportunity, earn responsibility, and invest in yourself. We provide the framework, but you supply the drive. We're empowering Bounteans to take charge of their professional growth at Bounteous and know that they have a support system in place from day one."
Bounteous hires team members who not only have the skills for today, but who have the passion to elevate and gain the skills needed for tomorrow. Bounteous promotes an inclusive work environment for all and is hiring in all departments for talent located anywhere. Visit bounteous.com/careers to learn more.
About Bounteous
Founded in 2003 in Chicago, Bounteous is a leading digital experience consultancy that co-innovates with the world's most ambitious brands to create transformative digital experiences. With services in Strategy, Experience Design, Technology, Analytics and Insight, and Marketing, Bounteous elevates brand experiences through technology partnerships and unparalleled platform expertise. For more information, please visit www.bounteous.com. For more information about co-innovation, download the Co-Innovation Manifesto at co-innovation.com.
For the most up-to-date news, follow Bounteous on Twitter, LinkedIn, Facebook, and Instagram.
About Great Place to Work®
Great Place to Work is the global authority on high-trust, high-performance workplace cultures. Through proprietary assessment tools, advisory services, and certification programs, GPTW recognizes the world's Best Workplaces in a series of national lists including those published by The Globe & Mail (Canada) and Fortune magazine (USA). Great Place to Work provides the benchmarks, framework, and expertise needed to create, sustain, and recognize outstanding workplace cultures. Visit us at www.greatplacetowork.ca or find us on Twitter at @GPTW_Canada.
Learn more at greatplacetowork.com and on LinkedIn, Twitter, Facebook and Instagram.